Women wearing suits today is nothing remarkable, in fact it's quite common in the office and the fashion world. But in 1966 when Yves Saint Laurent (1936 – 2008) launched Le Smoking suit, the statement was a fact.
Early Years of YSL
Saint Laurent was a french fashion designer and yes, founder of the fashion house that holds his name. He got his passion for fashion from his mother and as a 17 year old he started working for Christian Dior. At the young age of 21 he took over the fashion house when Dior passed away. He soon left Dior to start Saint Laurent, one of the world's leading fashion houses of today.
Though Saint Laurent today is leading within the boho-chic, flirting with dark romance, fashion, the early years of the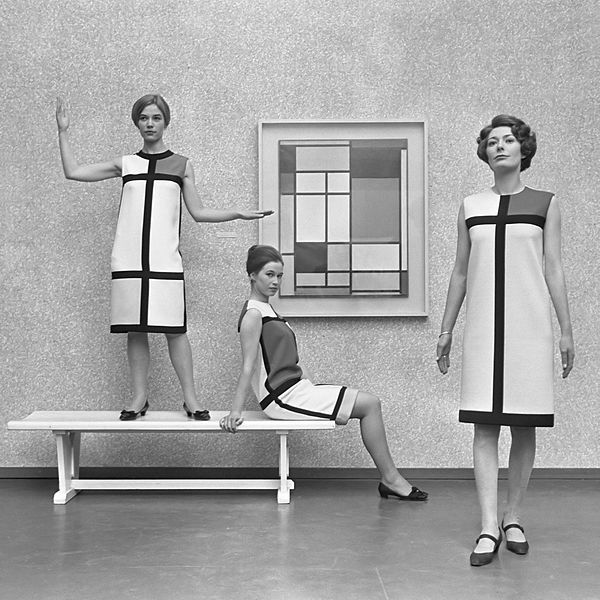 fashion house was all about invention. Saint Laurent loved art and culture and often drew inspiration from the creative world. One of the most famous creations is the Mondrian dress (to the right) which remains iconic to this date. Another piece of work that's signed by YSL is Le Smoking, one of the world's first suits for women that reached an iconic fashion status.
Le Smoking
Saint Laurent believed in design that empowered women's position in society, and taking a traditional set for men and turning it into a chic wear for women, reflected this view. When the suit launched in 1966 it was met with skepticism and not all was too keen on the liberation of women through fashion. More traditional restaurants and hotels banned the suit, but that didn't keep the most fashionable people from purchasing the tuxedo. When Le Smoking was featured in Vogue, shot by Helmut Lang its story, as an immortal fashion piece, was marked and today the timelessness in the photo is striking (see the photo below).
Influence Today
The suit has since inspired fashion designers and fashionistas. The actress Diane Keaton is one in particular whose love for the set has been distinct since the 1970's. Another famous actress that's pulled off a classic tuxedo was Anne Hathaway when she hosted the Oscars in 2011. But mind the tuxedo as a fancy wear, women around the globe wear the suits daily. A statement from one YSL 50 years ago that women do can wear the pants, and pull them off perfectly!