Folks, I haven't had that much time this week so I'm keeping it short today: but still a personal post as April is ending on Sunday. (and a #monthlymirroroutfit, lol). Without further ado: here are 5 random facts about me:
I'm left handed

which I'm so happy about. Haha don't ask why, but apparently only 12(?) percent of the population are lefties, so feeling all unique and everything *not really*.


Not really a beauty person

: For someone who quite often talks about beauty in different ways: I've never had my hair dyed, I've never done my nails at a salon. Neither have I done lash extensions or brows or anything similar. Haha going for the natural life here! And oh, my ears aren't pierced. Which is kind of crazy as I own earrings and I adore the statement.


This summer:

If everything goes accordingly, I'll take a course in trend analytics this summer. Not a fact perhaps, but putting it out in the universe: like hello, pretty please, let it happen!

Faux designer (?):

The only reason I feel like  I'm not a fashion designer is that I'm terrible at sewing. I haven't got the required patience for all the steps. If I come up with a new clothing piece in my mind I want it to pop up in front of me immediately. I don't want to measure, cut a draft, pin it on the fabric, make a hem, sew slowly etc, make adjustments. I want it to be done quickly and I want it to be done now! Hence that: I do sew occasionally but the result is often a disaster.

Another school related thing:

Except The Fashion Folks, I study. Not only one, but two separate degrees (yes, my ambition is outdoing itself). Regarding the first one, I have yet to decide if I'm going to go for fashion theory in general or fashion history in specific. You need both for both, but it's time to decide the specialization part! Thoughts? Experience? Let me know kiddos!
And here's this month's mirror selfie. Find previous months here and here (it's a thing now). This was me yesterday, out and about. Went for the jumpsuit in a burgundy shade that yellow and navy blue triangles creating a print and – an almost- same colored jacket. I decided to break off the purple life with the oversized sunnies. It looks hot, I do realize, but I had no top or leggings underneath the jumpsuit, so it was only a thin layer! And terribly sorry for the quality, bad combination of a dirty mirror and my editing program screwing things up. 
Folks! Hope you've had a lovely April and that May will bring all things love, light and chocolate to you all! Thank you, as always, for the love and support this month and with all things TFF I've so far planned for May: it might be the best yet! Have a darling weekend!
Mia, Xx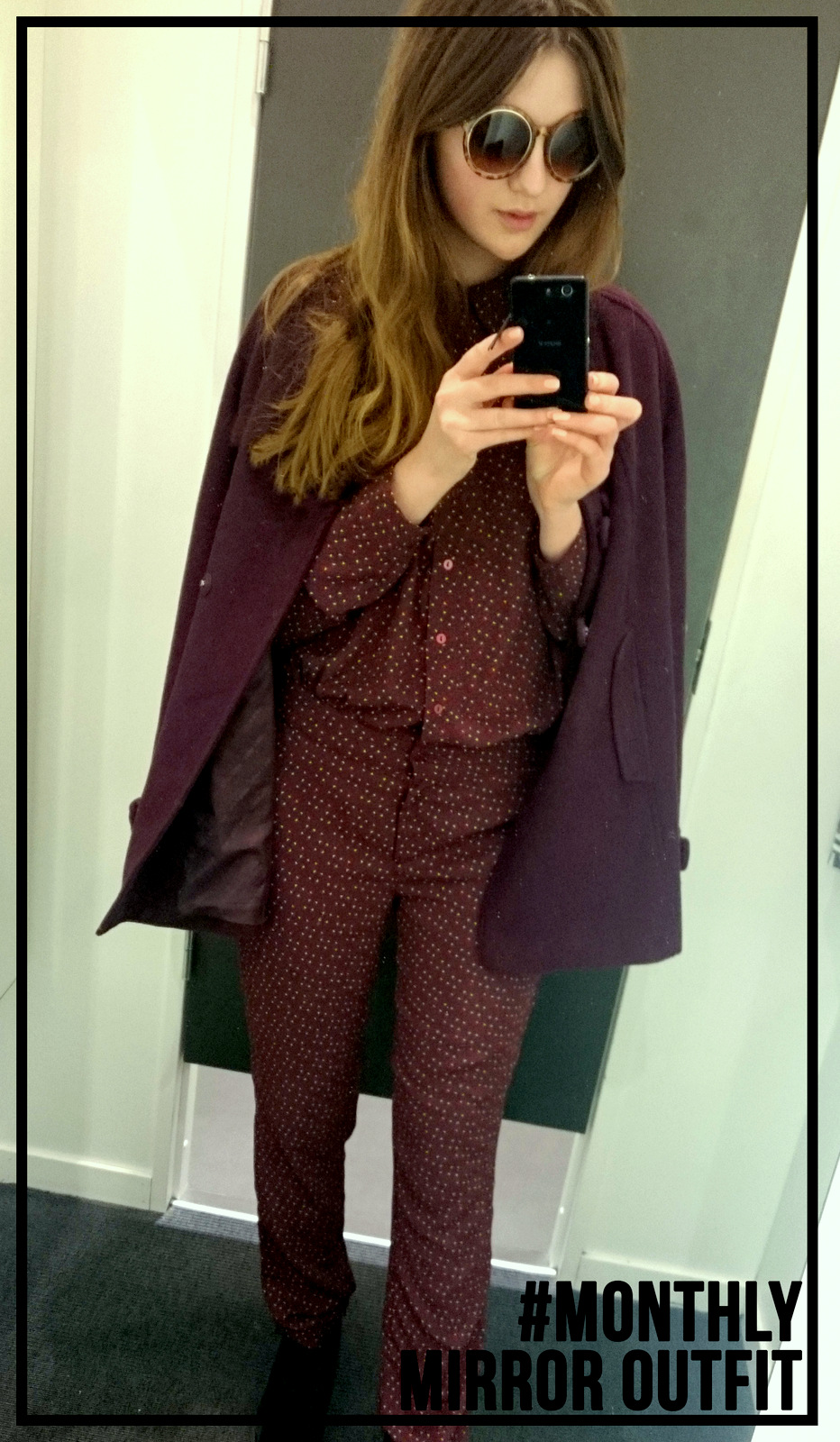 Did you like this post? Hit the share buttons below!