Folks! This series is inevitably coming to an end, which is crazy. I think there'll be about two more posts that relates to this subject, but this is the last one in the context of history. Other than that, we've finally reached present time. And oh my is it hard to summarize this properly. But, here we go: Fashion History: 2010-2017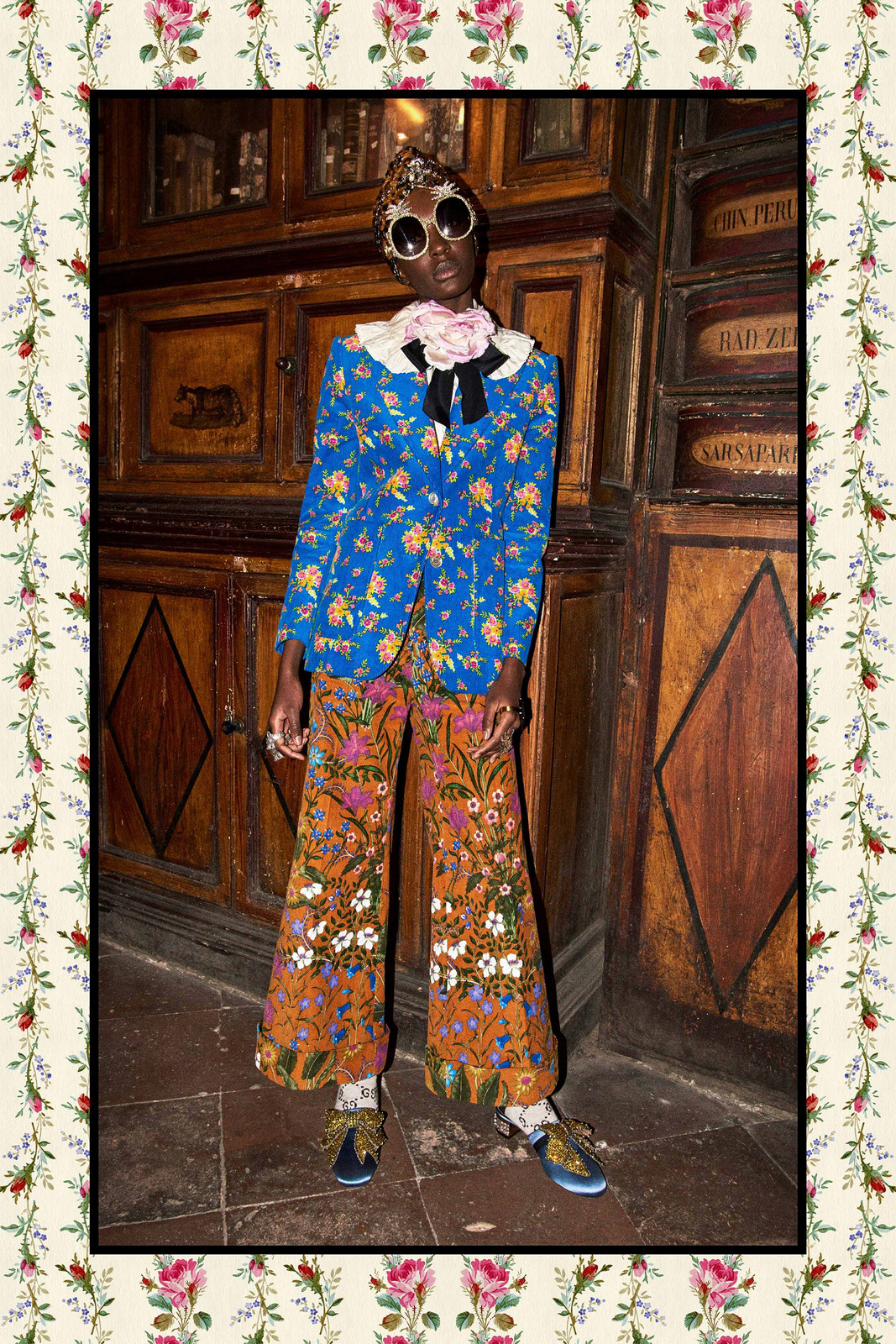 Courtsey of Gucci
The Society during 2010-2017
The most central thing about society today is the digital era. Even though internet and social media existed before our current decade, it have exploded in past years. The social media platforms are no longer in the early development stages, but the very peak of it. Companies, private persons and other organisations are not only existing irl, but have several communication channels through social media. Books, paper magazines and dvds are no longer the go-to choice for news and entertainment; but e-books, online newspapers and streaming services as Netflix and HBO.
We've digitalized the way we live our lives and the line between privacy and public(ity) is blurring. We document our lives like never before and likes/followers are the new way of being "socially approved". The documentation, demonstration and interaction with people's life pushes boundaries even further and social media is full of different followings. Like the hashtag #girlboss for all the female and pink entrepreneurs. Or #fitlife that underlines that fit is the new healthy. I swear people have never consumed more avocados, smoothie bowls or salads than before (and also shared it).
Facebook, Instagram, Twitter, Snapchat and Youtube are all insanely popular and something billions of people interacts with every single day. Facebook felt more central in the early years, a position Instagram soon overtook. Youtube is the more growing platform at the moment with every other fashion blogger going for the video format. Youtube celebrities such as Zoella, Tanya Burr, PewDiePie, Jenna Marbles and so many more, are influencing people (mainly teenagers and young adults) globally with their views of life, beauty hauls, challenges and all things clickbait.
Bloggers are not as big as they used to be, but the sharing of one's fashionable life is done on easier channels like Instagram/Youtube. There's a great understanding in that too, as it's easier to have all in one place rather than find bloggers on different url:s (how annoying to have to put that effort in, eh right?). Since fashion bloggers/beauty bloggers were mansplained to not be considered serious jobs (even though they're making the big bucks) people started to use the title "influencer" as a way to re-brand and re-define what it means to talk about what you like and a few thousands might listen. The information overflow is making it harder for anything to breakthrough, which makes "go viral" the new "overnight success".
The style of 2010-2017
Oh gosh, I have no idea how to summarize this properly as every other style seem to be trending these days. I do realize that fashion hit a new (low) point when the 90s came back and the early 00s are slowly making their return as well. And this is where it gets interesting and discussions I've had with you on countless occasions: is today's fashion anything new? No it isn't but yes it is. We've worn the styles before, but we've never styled them this way before. We've worn the clothes before, but we've never channeled them this way before.
To give some examples: Yes, people wore the off shoulder style in the 19th century with the statement sleeves. But not as blouses but decorated gowns. Yes, people wore midi skirts in the 40s, but not in contemporary styles as silver metallic but brown and green. Yes, people wore leather jackets in the 50s. But not in popping colors and embroidery.
And that's how it goes, we take elements from the past and mix them with current trends to create something new. It's a fashion world of eclecticism. Some elements from different decades are mixed to create something new, which in itself creates an illusion of a fashion that is going backwards, when it's indeed is moving forward. Even though the fashion today feels like a space of acceptance of different styles (it partly is)  there are some styles that are more distinct and defining than others. I've roughly sectioned it to these, where the instablogger is where the mainstream fashion is centered. Jeans, sneakers, a blouse, a leather jacket and a statement bag? Yeah, pretty much so.
Instablogger
The best part about the general instablogger is their aim to strive for individuality and attempt to create something new with the current trends. But the world of Instagram is fast paced and within a few weeks every other blogger is trying the trend. The core in an instablogger's wardrobe are fashion essentials, but often with a safety-zone twist. You have the mandatory jeans, often distressed or some embroidery or subtle embellishment. You also have the blouse or shirt in a bright color, often off shoulder with ruffles.
The leather jacket, or bomber jacket, is a must to any outfit and works as the ultimate go-to piece. As of late years, often with embroidery or patches to keep it interesting. Sneakers as in Adidas or Nike are also common and fishnet tights or socks to contrast the sporty style. A statement bag is a must whether you can afford the luxury labels or not. Céline, Gucci and Chanel are without a doubt leading that game. The overall outfit is rather colorless, only embracing some dove shades as navy blue, forest green or blush. Red, yellow and pink are however popular for accessories as bag, shoes or sunnies.
For the summer year, other important wardrobe staples are the romper, the maxi dress and the midi skirt. Preferably in a fun print, with a bohemian touch, and more likely to be more colorful. The sleeves as in statement sleeves with ruffles are the latest and every other clothing piece is working the style. Except having endless of photos of similar outfits, photos of food, coffee, quotes, flatlays or flowers are insanely popular and common. The overall feeling is quite fresh, clean, neat and soft with a bit of an edge.
Kardashians
I rarely talk about the Kardashians (and co) in terms of fashion as I have nothing to say nor add. But they have indeed inspired a whole generation of people with their minimalistic, glam, street style vibe and 90s feeling. This is the other part of Instagram with perfect makeup, pale colored clothes, overlined lips, long lashes and 50 shades of matte lipsticks. The style is really simple yet glam with a lot of tight pants and matching tops. Often monochromatic looks with khaki green, beige, blush and white being popular choices. The bomber jacket, baseball cap and sneakers are a must. Satin is a popular fabric and so is (faux) fur. Chokers are also an important feature!
The style is often sans embellishment and print, with focus rather being on the body's silhouette. It has the feature of regular street style with hoodies, sporty outfits and comfort in center but it goes more glam with the monochrome, the blush and the elegant makeup and hair. It's also within this style that the 90s have made comeback and so goes for the early 2000s.  I don't need to pin down their insta feed, saying "selfie" (and snapchat filters) is enough.
Street Style Pro
The Street Style Pro look  is close to the ones of the instabloggers, but turned up a notch of two. The outfits are even more artsy, more designer and more unique in that sense. We have Olivia Palermo, Aimee Song, Chriselle Lim, Mira Duma and Chiara Ferragni to mention a few. They have their own style that is easy to identify without seeing who's wearing the clothes. As stated, this style is similar to the ones of the fashion blogger but the fashionistas take the outfits a step longer. The details are more  of a statement, the clothes often have a fun twist and the styling is perfected. For instance, if denim is popular, Ferragni would most likely wear patched denim with a matching jacket and some crazy bag. If the midi skirt is trending, Palermo would probably wear it with a designer jacket in a fun cut.
And same goes for the rest of these girls, they take current trends and they take it a step bolder. Often expensive designer wear and pieces that are more of fashion than everyday style. They are often working more closely with the fashion industry and do designer collabs with the big brands. Their style  feels a bit "more is more" too, perhaps not the ones I mentioned but the less known street style pros. Think Gucci or Louis Vuitton, that "more is more" style. They are somewhat the top of the hierarchy. As I've done with the ones above: these fashionistas feeds' are most likely to incorporate random designers and interiors no one can afford. And always  be travelling and constantly be on the way to a new destination.  
Spotlight of 2010-2017: Eclecticism
I roughly pointed out three styles of our time, but the best thing about the time we live in now is the embracement of eclecticism. Even though you might wear more vintage clothes, or you wear full on 90s, you are more accepted than before. In the earlier decades of the fashion history it was crucial for the societal status to where fashion within the frames of the current style. If you lived in the 50s, you mainly looked like you lived in the 50s. You wore the whole "uniform" and didn't mix elements. You wore the skirt, the short sleeved shirt and matching cardigan, you didn't think of going for sequins from the 20s.  Although it's easy to define someone's outfit as accurate of today, so many could almost be put in other decades and fit in perfectly. And that's okey.
Also the fact that designers are borrowing styles from previous decades, makes it more accepted to dress more eclectic. To take some influences of the boho style and add some edge by the leather jacket. Or take the distressed denim and go for a lace crop top. Fashion of today is about contrasting different elements from different styles and create something new from it. And that's where the fashion fun is if you ask me. Take the best (or worst) of the best and find your own style within that mix of styles.
As you may have noticed too, I don't bring up designers here as I've done in previous decades (or in the 2000-2010), why? Because designers don't have that sole influence any longer. There are way too many designers, opinions and perspectives of fashion for one designer to influence a whole generation like Dior did in the 50s. But some designers are ofc more influential and some from the 10s have been: Balmain, Gucci, Isabel Marant and Chloé.
Transition to 2020s
You know when you were a kid and you thought that the future fashion would be a true embracement of space age fashion? Like all white, all silver metallic, all minimalism, all motionless materials? Well, we ain't going that way: yet. I think we'll keep the eclecticism for a while and keep on trying to find different styles within styles. But honestly though, I wouldn't be surprised if we in a few years time would see the comeback of more homogenous styles where one style is more distinct. I mean, creating contrasts in an outfit is the main styling rule there is today. That won't be so for another 10 years, something ought to change and it might go back to more distinct styles with clearer differences.
But then again, how boring wouldn't it be to begin to limit ourselves from choices? I hope the somewhat democracy within fashion will remain, but above anything, individuality will take more place. More space for the creative mind and less space for looking like everyone else, with or without the peer pressure.
Folks! That was a wrap on the fashion history: 2010-2017! Incredibly hard to try and grasp our generation, but a summary is better than nothing. Next week will be about…….the future! Yes, a post about 2017-future! Who knows what it'll be about, but see you in the future (lol) on that one! Xx
Did you like this post? Hit the share buttons below!