Now this is a fun one folks! I know it's been a lot of tips and hacks lately, like A-Z Fashion Ideas, 7 Beauty Hacks That Will Change Your Life and most recently the post yesterday. But if you're tired of reading about beauty hacks and tricks, you seriously gotta stop commenting that you love the posts and they're one of your favorites, lol! However, as a natural extension to the A-Z fashion post, here are A-Z Beauty Ideas!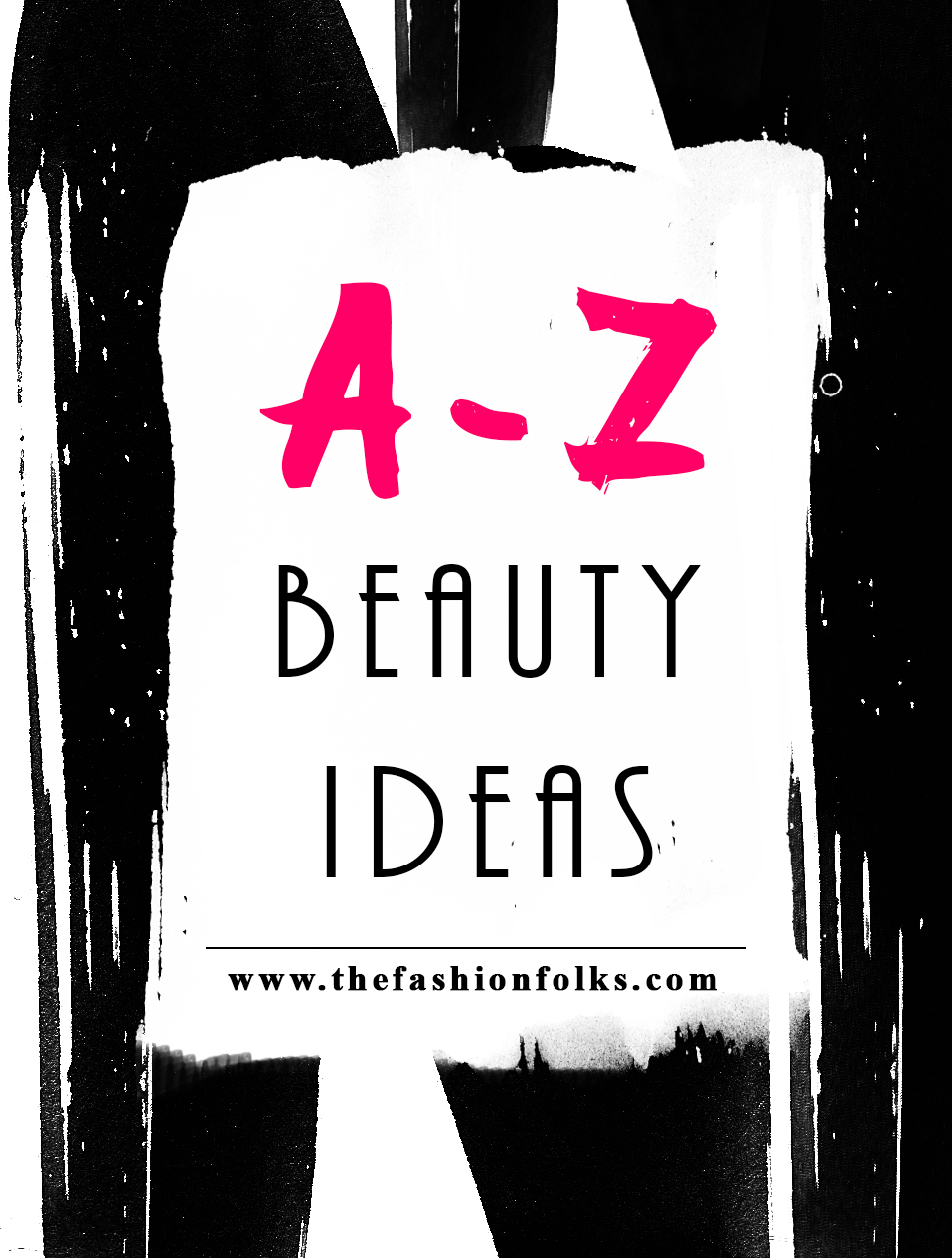 A-Z Beauty Ideas
A – A high ponytail is not only chic, but it will make you look more energized too. With all the tight hair, you'll also probably feel more energetic. It's kind of a win-win.
B – Buy a matte nail polish top coat instead of buying every specific color in matte. Same result, but a lot cheaper.
C – Concealer, instead of doing it as a U under your eyes, apply it as a V. This will brighten up the area better!
D – Don't forget to remove your makeup before bed. Some people swear by this (I do!) but some are not that specific. However, it's crucial for a healthy beauty game. Invest in some makeup removing tissues if you're lazy. With tissues or pads you can easily get the makeup off and watch a Youtube clip at the same time.
E – Eyeshadows are lovely and adds some fun detail to the makeup. If you want to stick to one color but still get an intense look, do one color but in two shades. A lighter shade to go over the lid, a darker shade for the crease, by the corner of the eye and also under. One color, but still a smeyse!
F – Foundation or concealer first is a common debate in the beauty world. I think doing foundation first and then improve with concealer wherever you need its the best way to hack it!
G – Give your head some massage when applying your shampoo. This will not only make the shampoo get applied more properly, but also be beneficial for growing longer hair.
H – Honey will be your friend if you want to do a mask but have nothing home. Just apply honey over your washed face, let it be for 10 minutes and wash it off with water!
I – Iconic makeup looks are always fun to do. A cat eye is never wrong or why not a smokey eye? Read S for more on a perfect smoke!
J – Jolly Christmas? Add the holiday vibe by adding the glitter. Eyeshadow, eyeliner and nails! What's more Christmas-ish than shimmer and sparkles?
K – Key parts of your beauty routine should be wash, clean and moisturize. You'll get pretty far by doing it daily. I know I repeat this constantly, but oh so true!
L – Lips can be made more plump-looking by applying a brighter lipstick in the middle of your lips. Match it with a darker one. You can also do the same lipstick but apply some gloss in the middle part, this will reflect the light and make them look more full.
M – Mascara can be applied and done in several ways. Curling, applying a coat, add some powder and apply another coat is a foolproof way for fuller lashes. What am I talking about? Read this post.
N – Not to forget, if you're looking extra tired. Apply some highlighter under your eyebrows to make them lift. This will make you look more awake!
O – Over the top makeup? A simple rule to avoid this (though there are countless of exceptions), is to balance your eyes and lips. If you do heavy eyes, keep the lips more natural. If you do statement lips, keep the eyes more low key.
P – Perfume is favorably applied on your wrists, behind your ears, on the neck and be your elbows. Remember though, if you apply it on all places, keep the dose small!
Q – Q-tips are perfect for removing makeup. They're also genius for making dots on the nails, or removing excessive nail polish.
R – Red lips are perfect for the Holidays. To avoid them feeling boring, try different shades of red. It's quite the difference from dark red to bright and almost orange red. Gorgeous nonetheless!  
S – Smokey eyes can be smoking easy (word game on point). Do a slightly diagonal hashtag by the outer corner of your lid. Take a brush and blend it! Make sure that it fades towards the inner corner of the eye.
T – Take your finished fishtail braid and pull the sections apart. This will make it look fuller and give it a boho touch.
U – Use a sponge to create an ombre effect on your nails! Mix the nail polish with some water to get a lighter effect!
V – Vaseline is loved by many and can be used for so many different things. If you want a more organic alternative, coconut oil will do the trick!
W – Washing your hair in warm water is the way most people do it. When you're done however, end the shower with washing the hair in cold water. This will add some shine!
X – Xtra shimmer? Invest in a highlighter that's barely pigmented and add it where you want your face to catch the light!
Y – You can do your eyes and eyeshadow before doing your base. By doing it this way, you can easily brush off the eyeshadow that's fallen down and not having your base messed up!
Z – Zebra print (back at it again with the Z) for your nails? Apply small irregular strokes on your nails with a toothpick!
Folks, that's a wrap! I think I did pretty good! Covering all letters and keeping it short is not too easy hahah *sigh*. Well well, leave a comment below on a beauty hack you love!