Folks! Time to talk more specifically about the fall trends 2017. First out is the dark floral print that is trending this season. Or how about some melancholic, dramatic and dark romantic prints that defines the very idea of fall fashion? Here's how to work dark floral prints fall 2017: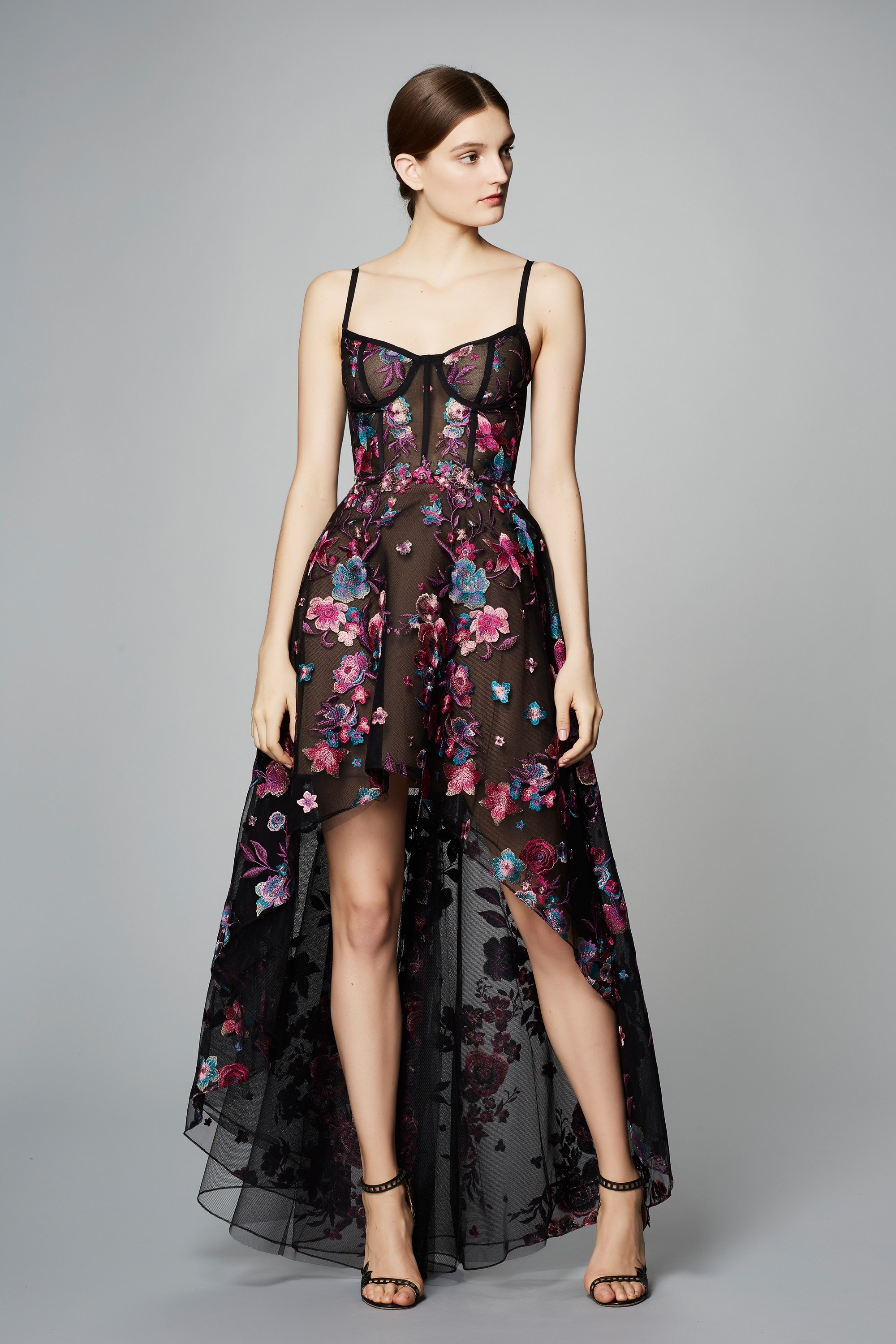 Courtsey of Marchesa Notte | Pre-Fall 2017
Dark Floral Prints Fall 2017
The best part about the floral prints are that they come in so many different styles. Whether you prefer to take it retro by some surrealistic flowers or dreamy with fairy tale shades, you ought to find something you'll love. The thing the floral prints should have in common for fall 2017 is to be in darker colors. A dark base color accompanied with dark flowers. Valentino were one label that showed darker floral prints in shades of wine red and brown. Kenzo showed a black and pink combo whilst Gucci went for black and red.
How to work the dark florals
There are mainly two things I'd think about when matching the dark floral prints. The first one is to match the colors of the print with the rest of your outfit. That's the best and easiest way to add colors to your outfit without going awkward with the matching.  Pick one or two colors from the print and let it be reflected in the rest of your outfit. If you have a burgundy/pink/red thing going on, choose a top in that pink shade to make the outfit brighter. If you want to keep it more subtle, go for a darker color from the print. It's a foolproof one folks!

The second thing, with fall fashion in mind, is to add some texture. I don't know where the secret lies or what the magic really is, but dark floral prints works perfectly with statement materials. I'm talking typical fall materials of (faux) leather, fur, suede, knit, lace and silk. Perhaps due to dark prints tendency to lack movement, these statement materials will add some energy and life. Also denim is a trustable material that balances the heavy florals pretty well!
Three Outfit Ideas
Dark florals and a knitted piece – I'm thinking a midi dress with a knitted vest over! The knitted vest (which is a piece so many of us usually own), can favorably be in a hip length to create a dynamic look. Secure the vest with a belt to add some structure or add a hat to contrast the presumably flowy materials!

High-waisted Jeans and Statement Sleeves – The trendy statement sleeves aren't going anywhere anytime soon which is why they'll most likely soon pop up in dark floral prints.  Balance the cute and dreamy style with some classic denim. The high-waisted jeans will create a chic silhouette and if you tuck in the blouse partly, this will obviously enhance it further.  A crop top is another great piece in a dark floral print that would work terrifically with the jeans!

OTK Boots and A dress – This combo is a fun fashion statement yet something that a shy fashionista dare to pull off as well! Go for your dress in a dark floral print (knee-length is ideal) and let your OTK boots work as tights. It'll be a fun mix and contrast between the materials but a fashionable statement to make. Go for black ones if you're uncertain but OTK boots in a tan color or grey will make the statement pop further!
Folks! How will you be working the dark floral prints fall 2017? Are you going subtle on this one or embracing it like a maxi? Let's chat in the comments! Xx