If you have yet to love and embrace velvet, perhaps this post will change your mind. Velvet made a major comeback last year and grew into our hearts as a fabric to count on for seasons to come. As with all trends though, it's important to make them your own and it's fun to keep finding new ways to pull them off. So here's some ideas on how to wear velvet in 2017!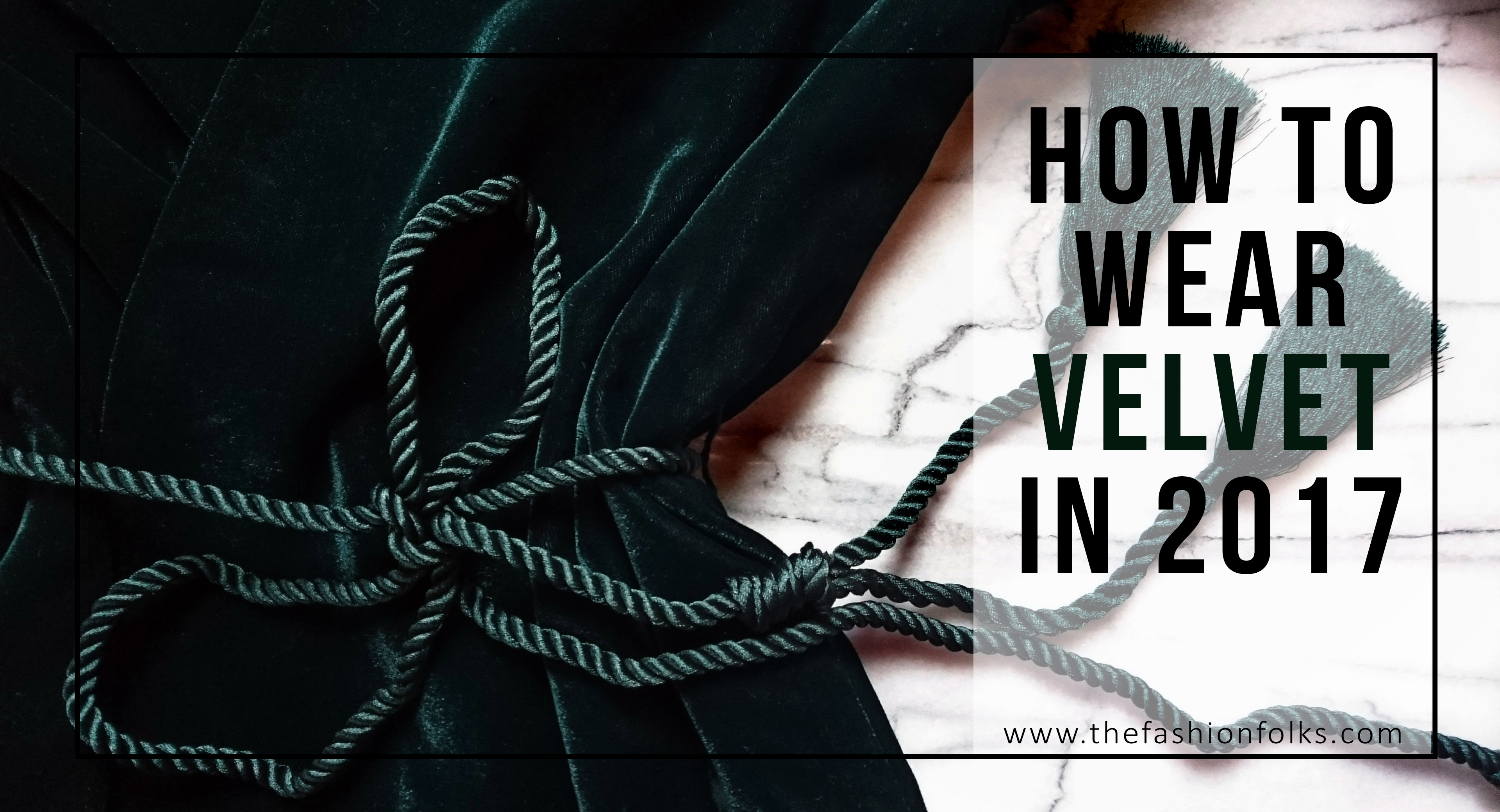 Colors of Velvet
I don't know how many times I've talked about colors and velvet but I could do a study in it if I could. There are few fabrics that manage to highlight color the way velvet does. Clothes that are made of cotton are cute in colors, but velvet is next level on that front. Velvet manage to make any clothing piece look luxurious.  As we all already know, dark green and velvet is one of the best combinations, and among them are midnight blue, red, dark purple and also pink. On IG last week I discovered and shared the genius combo of yellow and velvet. The point is that if you feel tired of seeing the regular colors of velvet, find pieces in a new color that excites you. It makes a huge difference.
Styles of Velvet
We all seemed to agree last week that velvet shoes in pink is one of the gems this season. Except velvet going big as shoes (and highly impractical), we've seen chokers, dresses, tops and pants. I bought a couple of dark green flared pants in velvet last year and this is where I should say that I've been wearing them all the time, but I can't find them and haven't since early fall, so….that was a success (things you share *sigh*). Other than that, I've been seeing some killer maxi dresses in velvet and jumpsuits – both genius combinations. I also love the idea of a scarf in velvet and a velvet blazer can never go wrong. So if you're curious about exploring alternatives for velvet, go to Instagram or Pinterest and check the hashtags!
Velvet x texture
As if velvet wouldn't be genius enough with the ability of highlighting colors, the texture is a hero when it comes to pairing it with different textures. As the texture of velvet is notable as it is, it becomes a chic statement when done with contrasting texture. You all are probably more than familiar with how velvet feels, it's soft and heavy at the same time. This makes it a perfect match for edgier materials as denim, leather and vinyl. It's luxe meeting street. And I don't need to declare my love for clash of contrast again, but LOVE it. A denim shirt with velvet pants (if I only could find mine), leather pants with a velvet blouse or a vinyl skirt with a velvet blazer. You see how it goes? Take a statement texture and pair it with the statement of velvet – and there's your level of velvet inception!
Folks, how will you wear velvet in 2017? Drop a comment! Xx
Did you like this post? Hit the share buttons below!