Do you know what's fun folks? Stripes are fun. As all trends comes and goes, stripes are and remains the best friend of anyone's wardrobe. So yes, stripes are fun. They add a classic touch, a statement or a subtle style to any outfit – regardless of what your personal style look like. So here are 16 ways to wear stripes 2017, because….well, because: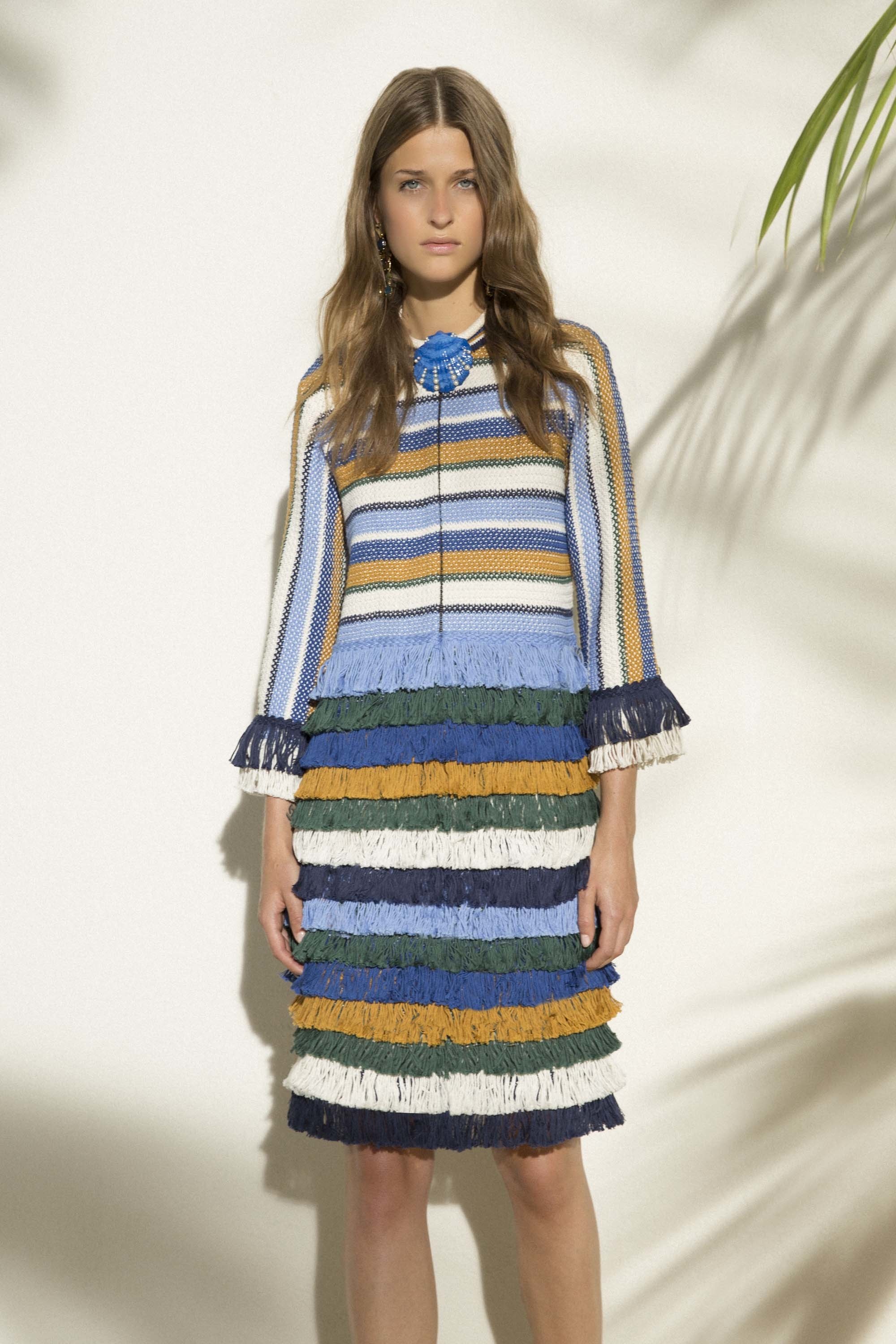 Courtsey of Tory Burch
Wear Stripes 2017
Black and White stripes with denim

Perhaps one of the most iconic looks there is and definitely one that won't leave the spotlight anytime soon. I don't really know why this is so iconic but black and white stripes are a classic, denim is a classic. Classic + classic = iconic? I mean, chocolate + strawberry = iconic, so why not stripes and denim?

Stripes with leo print

Another stylish combo but with an edgy twist: leo print. The symmetrical style of the stripes are a great contrast to the natural style of the leo dots. A sweet mix of geometry and nature which gives a fashionable result. Don't be afraid to go for black and white stripes to the classic brown/beige/black leo dots. The color combo is better than it sounds.

Color blocking stripes in contrasting shades

One of the hottest trends this year is to go for color blocking stripes. The colors should be contrasting and create a print on their own. Read more here!

A striped scarf

A scarf on its own is great for adding life and movement to an outfit. A striped scarf adds life and movement but also some print which levels up. Add a striped scarf to either a neutral outfit or have a printed piece and contrast with the stripes.
Stripes with stripes

This combination is great for anyone who feels like stepping up the fashion game. Try two different styles of stripes that contrasts each other. Or go for stripes in different colors for a fun effect, even better if they share the same background color.

A knitted striped sweater

If you have yet to own a knitted striped sweater, how on earth have you managed? A knitted sweater is cozy as it is, and stripes add a classic and stylish pop. A fashionable alternative is to layer it over a contrasting shirt or dress. You're welcome!

Stripes with dots

Similar to the stripes and leo print, regular dots are also chic to contrast with the stripes. It's a nice symmetry to go with stripes, but also a fun contrast of straight lines and round shapes. Why not a dress of dots with a striped scarf?

A striped shirt

If you don't own a striped shirt, are you even serious about your fashion game? A striped shirt (I'm talking about the subtle ones) is a modern classic piece for any person out there. It gives a proper impression and comes with endless of styling options. Like preppy done with buttons up and a bow or casually with rolled up sleeves etc.
Black and white stripes with tan

I'm apparently obsessed with tan as I've mentioned it in every other post the last weeks. Well, tan and black and white stripes, is another classic combination that will never fail you. An excellent opportunity to pull out that faux leather skirt or faux suede tan pants. Prints and statement textures are always a great idea. The warm tone in tan balances the sharp contrast of the black and white stripes.

Vertical Striped Pants

I think this style of pants is growing in trend and I love it. The vertical striped pants elongate your legs which gives some height to your outfit = perfect opportunity to match with voluminous tops etc.

Stripes with plaid

I could also have called this post "stripes with classics" as stripes with plaid is a fine aging combination. A bit of a fall feeling to it,  but nevertheless a chic one. Try a plaid shirt and layer with a striped sweater. Let the collar, the hemline of the shirt and the sleeves hint!

A striped coat

I don't even own a striped coat and boy' do I want one. Coats are often a statement on their own, so yes to going full on statement with some stripes too. Why not colorblocking stripes and preferably in a midi length. Can you see it??!!
Stripes with florals

And florals are also another great contrast to go with stripes. The natural and the "inconsistent" movement of the flowers are lovely with the predictable ones of the stripes. Try a mix in the same color scale or contrast completely!

Black and white stripes with popping colors

Popping colors are great with white and sometimes great with black. So popping colors with b/w is a great combination as the color pops beautifully. Hot pink, orange, red, yellow, green, blue – any color you can imagine!

Vertical stripes with horizontal stripes

Another fun take on stripes with stripes is to go with different stripes in different directions. Go for horizontal stripes for the top or legs and contrast with the other direction. It creates a chic effect and works well without adding accessories. Aka effortlessly chic!

Stripes to red lips

Continuing my theme within this post of stripes and classics: red lips are a must to stripes. Yes folks, embrace that navy life (lol, the fashionable idea of the navy life). Pick a navy blue striped top and add the red lips. Another idea is to go for orange lips, which are also a classic!
Folks! How are you working your stripes 2017? Leave a comment below! Xx
Did you like this post? Hit the share buttons below!