It was fun talking about the gingham print last week in this series, so why not continue with another print today? The leopard print 2018 is all about that 90s street style vibe, but still (ofc) works with the classic elements! Here's the leopard print 2018: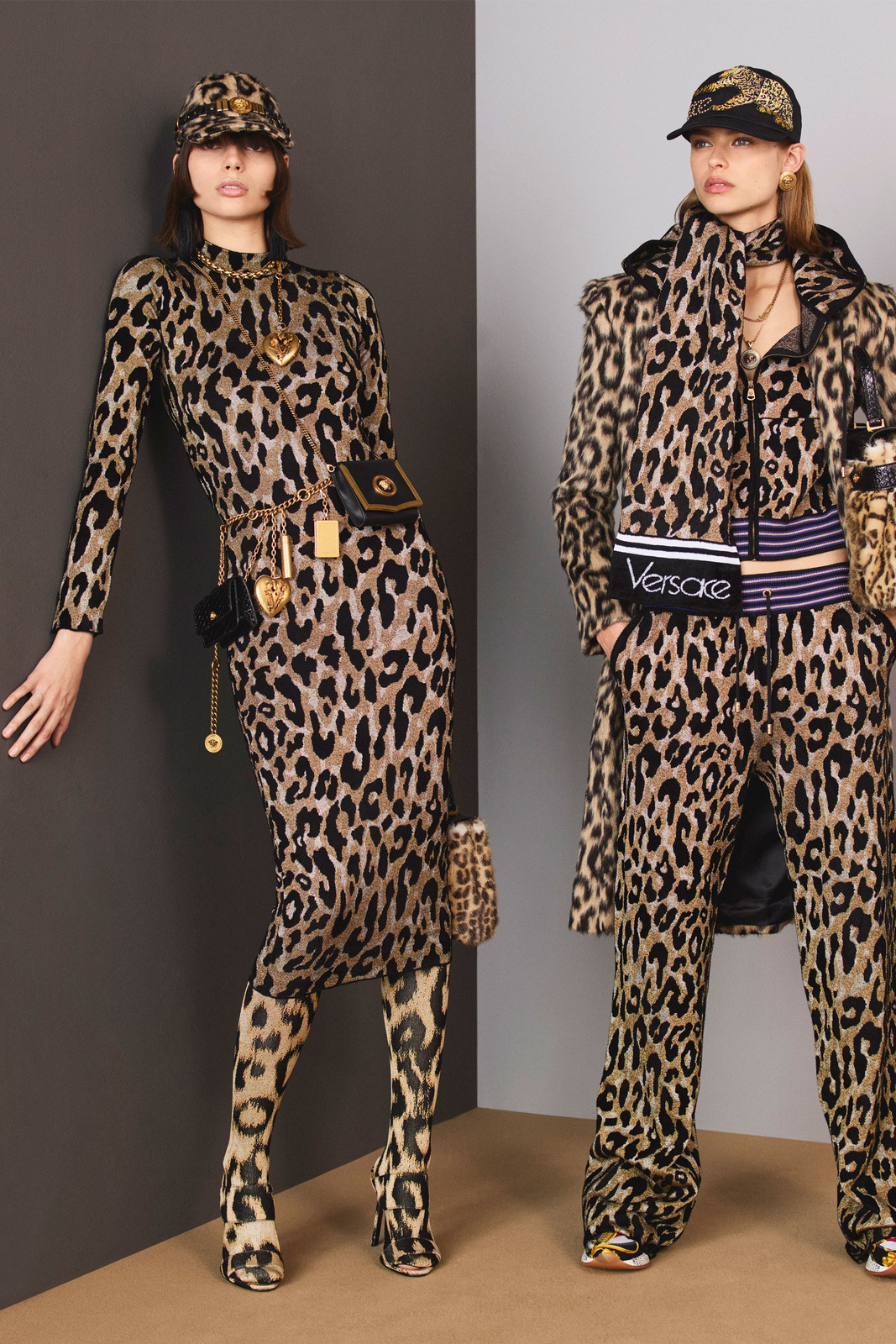 Courtsey of Versace | Pre-Fall 2018
Leopard Print 2018
With White
One of my top styling tips when going for the leo print is to pair it with white. As the leo print, color-wise, can come off as quite heavy it's often favorable to lighten the outfit up with some white. If you want to go for a more preppy look, a white shirt with a leo skirt, or bag, will work in the office context. A more casual way of approaching the combo is to go for a white dress  in lace or croche, with some leo shoes or a scarf!
With Purple
This one is for the 90s street style dorks, but leo with a bright purple (such as lavender, lilac) is one time capsule indeed. I'm not sure why these two works as well as they do, but perhaps it's the cold tone of purple that complements the warm style of the leo print. Anyways, this outfit is stylish to do when you want to add an edge to your purple outfit. Perhaps with a fierce pair of leo boots or a clutch. I think you can also go for a leo top and go for purple nails/makeup if you want to keep it subtle.
With Camel
The classic style of the leo print is warm and works well with other earthy shades. One color in particular that's a nice match with the leo print is the camel color. The pale shade works in a neutral way with the leo print, which won't create any harsh or uncomfortable contrasts. Adding the camel color to your leo print is kind of like going for a white t-shirt with blue denim, it's as neutral as it gets! You can also pick out any other shade in your leo print and choose it as a match!
With Florals
Right after stripes, florals with the leo print is my favorite print mix. One golden rule of mixing prints is to pair prints that are completely opposites. This goes for the leo and floral prints as the two have little in common and they won't compete about the same spot, if you get me. This is ultimate on days you don't want to care too much about the styling as these two are fine on their own. If you want to try this one, but you're uncertain, find two versions of the prints that share a color of two. That way to transition from one print to the other won't be that statement making.
With Patent Leather
I did suggest pairing gingham with patent leather last week, but I must say that I like patent leather for the leo print too? It's something with the neutral style of the patent leather, yet with a twist, that highlights patterns. I'd say that polka dots and stripes are also favorable to pair with the material. Anyways, back to the leo print, the two will create that bold and fierce street style look of the 90s! Perhaps a clothing piece in a patent leather with a leo bag or the other way around? You can also create that 90s vibe by pairing leo with denim! Xx
Folks! How are you wearing the leopard print 2018? Let me know in the comments! Xx