As summer is going strong with sunny days, let's keep the articles of summer going strong too. I've already talked a bit about some of the trends this year, but how about talking about them from a perspective of staples? Some of the best trends this summer are wearable staples that are more or less timeless! Here's a list of the wardrobe staples summer 2019: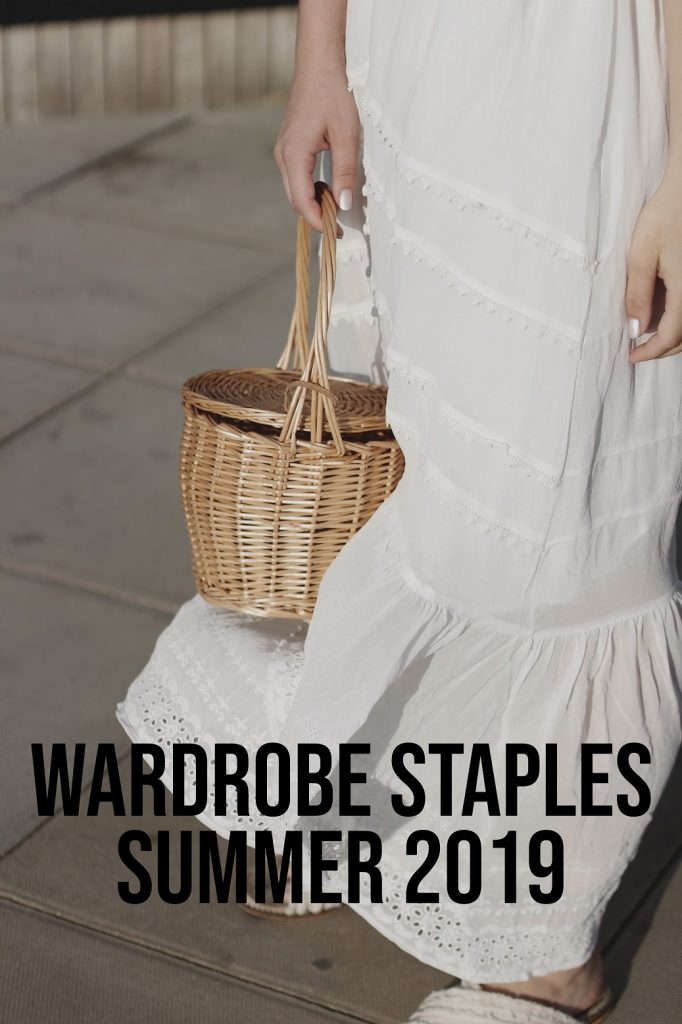 Wardrobe Staples Summer 2019
White Dress
So the LWD is a must in the wardrobe through the year if you ask me, but it's unquestionably a favorite for summer. White, when done in a sheer material, creates a rather delicate and refined combination. Kind of embracing that summer romanticism we all love to dream about on cold November nights. A white dress is what you can wear casually with a pair of sneakers and more glam with some heels or edgy with a pair of boots. Do your LWD with red lips, some leopard pattern and statement sunnies – and you got yourself a pretty trendy look! 
Patterned Skirt
A patterned skirt is a great and easy way of adding more energy to your outfit without too much styling fuss. A floral skirt with a white t-shirt and your pretty much ready to go. What you do is that you pick a color from the print and choose it for the top. A snake print skirt can favorably be done with relating shades of beige, brown, camel and even orange. It's simply about creating a more cohesive outfit by "pulling" the colors together. Read more about how to style your trendy skirt here.
Slippers
So I practically live in my slippers as soon as summer arrives. They're just the perfect mix of being comfortable, fashionable and timeless. I pair them with culottes, skirts, shorts, midi dresses and maxi lengths. A pair of slippers in a neutral color (perhaps black or tan), will be that fashion friend you can turn to when you need whatever shoes to go with your outfit. Slippers are also trendy this summer, so you'll  be timeless and trendy all in one! 
Graphic Tee
One way you can spice up your t-shirt life is to choose t-shirts with a print. Perhaps a cool logo or a text or a picture you like – just something that elevates the t-shirt. The key thing is to style it as a regular, one-colored t-shirt, and you'll get the fashionable effect from maximizing with different prints/colors. Perhaps a patterned skirt with a graphic tee to make the most out of it? A graphic t-shirt can also add a bit of an attitude to an outfit (especially if you go for a black/grey one in a vintage style). That's why they're fun to pair with more elegant pieces, such as pleated skirts or patterned culottes! 
Multifunctional Scarf
The scarf is one of the trendiest accessories this year. As talked about in this article, they can be used in several different ways. I think this is the time to invest in a scarf in a bold color or pattern as it will add some life to your outfit. For instance, if you wear a white dress, a floral scarf in your hair can make the outfit more interesting. A scarf can also be done around the neck, the waist and attached to your bag. It's a pop of life in a simple outfit! 
Folks! What are your thoughts on these wardrobe staples summer 2019? Let me know in the comments below! Xx