Spring is around the corner and I get more and more eager to ditch the winter clothes and head into spring fashion. Although fashion is always evolving and trends are always changing, I'm pretty confident to say that many of the trends we're seeing this spring started one, two, years ago. Yes, I'm definitely talking about puffy sleeves, blazers, florals, pastels, layered jewelries, chunky sneakers and so on. With that said, here's an article to remind you of some of the best wardrobe staples spring 2020. Nothing is really new, so there's a high likability you already own these items!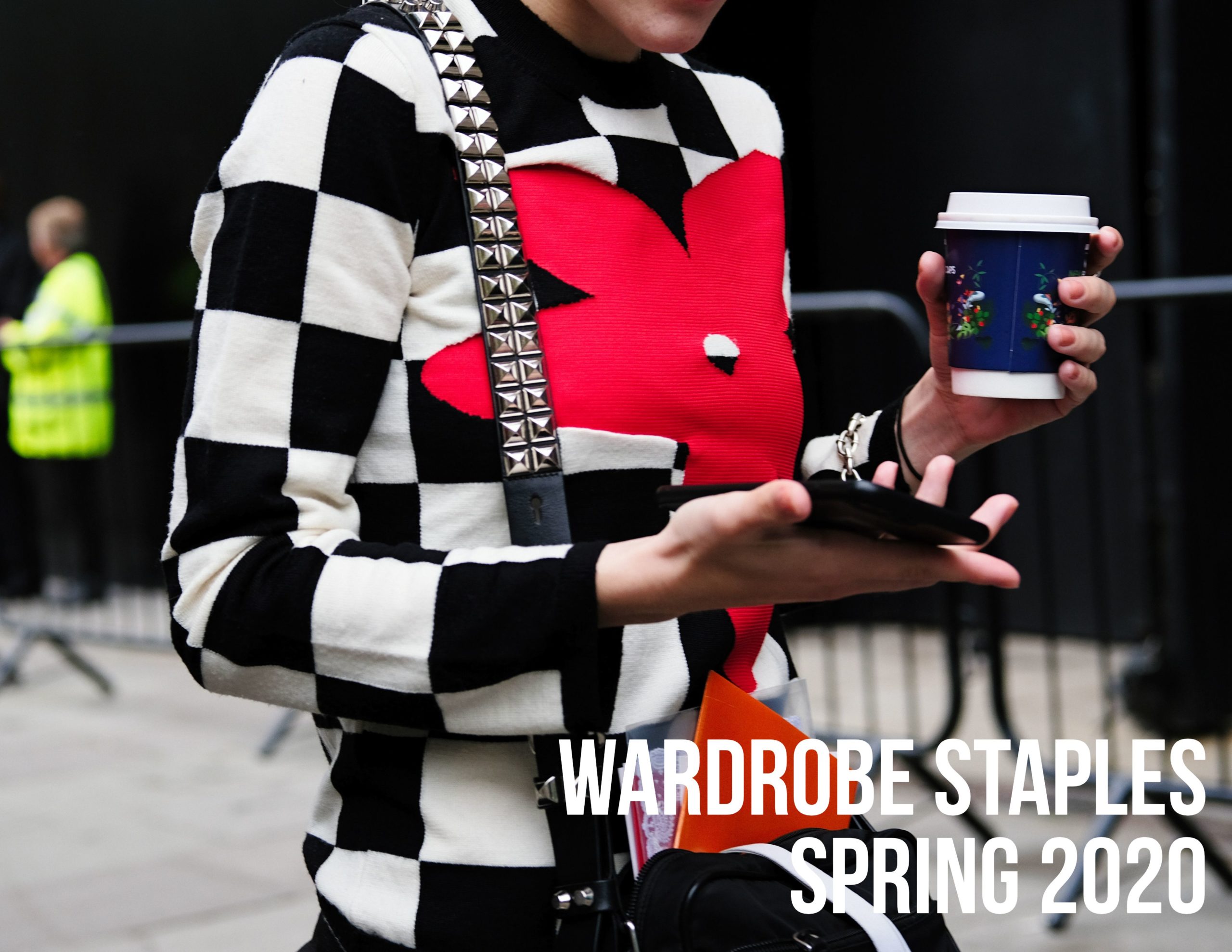 Wardrobe Staples Spring 2020
Blazer
So the blazer is of course a must! A blazer can either be considered as a formal "sweater" or a light jacket. The blazer is great to wear when the days are getting warmer or when you want to make your outfit more formal. For instance, if you're wearing a pair of jeans and a t-shirt, a blazer to finalize the look will make it more formal. A blazer is also stylish to pair with a patterned midi/maxi dress. Also love the idea of a midi skirt, a t-shirt and a blazer for a casual chic look! A black blazer is always a good investment, but a grey one in a glen check pattern is another staple. Beige, blush and mint green are chic alternatives for anyone who wants to infuse some color.

Blouse
I was first thinking about specifying the style of blouses that are trending this spring, but honestly: there are a lot of trendy styles of blouses 2020. The crop top blouse is one chic style, the wrap blouse is another as well as the semi-transparent blouse. Silk blouses are also popular as well as any blouse with statement sleeves. With this said, whatever blouse you own – work it this spring with your jeans, your midi skirts, your high-waisted pants and so on. Add a pair of boots or sneakers for some edge or some flats for a more simple look. A blouse is also chic (and trendy) to layer with cardigans and blazers.

Silk Skirt
If you don't own a silk skirt, don't you fret. A simple midi skirt or a wrap skirt will work as well this spring. The thing with a silk skirt though, is that it's easy to style, comfortable and a great match for spring fashion. A silk skirt works in any color or pattern there is. It's also at its best when it's done sans detail or with a simple slit or diagonal cut. Wear your silk skirt with a simple white t-shirt, chunky sweater, blazer, delicate blouses or crop tops (aka all the items that are trending right now). Silk skirts in beige, leopard pattern, copper, mint green and blush are good styles. But whatever silk skirt you might own, play with the styling! Do monochromatic in color, in texture or go for complete opposites. 

Basic Tee
Another one of the wardrobe staples spring 2020 is of course the basic t-shirt! The basic t-shirt is of course always a good idea, so if you don't own at least one in white and one in black: this is a good time for investment! The basic t-shirt is great with jeans, blazers, skirts and so on. I especially like the idea of doing a t-shirt with a blazer. It's a perfect mix of being formal and informal at the same time. The basic tee is also great to layer with a chunky knitted cardigan. I don't think I need to give more styling tips on how to wear the basic t-shirt as it goes with anything and kind of anytime!

Simple Shoes
Don't get me wrong, I love boots and chunky sneakers but I'm also so happy to be able to wear more lightweight shoes soon. Slippers, flat sandals, sliders are all examples of more simple shoes that are chic to wear with jeans, midi skirts, silk skirts and dresses. They're comfortable and fairly neutral in their style. If you want to be more elegant, a pair of kitten heels or a pair of heeled sandals are great alternatives. Especially if you go for an embellished style! The flat sandals are especially great if you're having a day of errands and needs to stay comfy!

Folks! Do you have any favorite of these wardrobe staples spring 2020? Let me know in the comments below! And hey, have a lovely weekend and stay safe! Xx