Folks! It's time for the first review from the fashion weeks September 2022. Although the schedule of the fashion weeks has been far from normal since the beginning of the pandemic, things are slowly getting back to normal. Although NYFW has a tendency to feel a bit…lacking, I must say there were some collections that were full of gems. Carolina Herrera's SS23 collection is an example of that, as well as Michael Kors' and Tom Ford's. But, what caught my attention straight away was Ulla Johnson. So, here's a review of Ulla Johnson Spring 2023: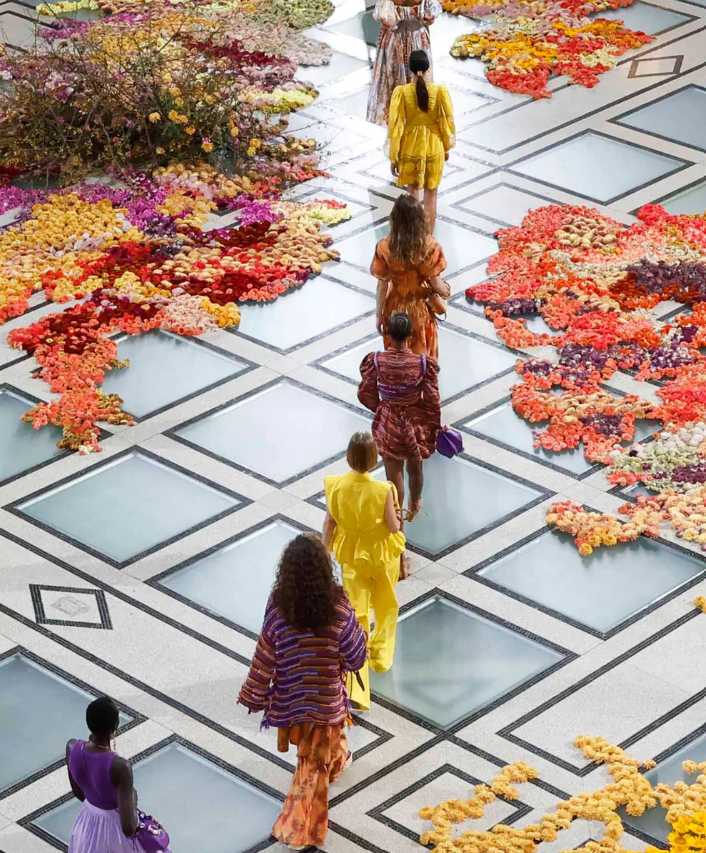 Ulla Johnson Spring 2023
I've talked a lot about Ulla Johnson in the past years, she's really established herself as the new it-designer of New York. A lot of this is due to her ability to create dresses that are wearable, comfortable and captivating. I've always placed her somewhere between Isabel Marant and Valentino, balancing perfectly between bohemian chic and bohemian luxe. Ulla Johnson Spring 2023 is a collection that follows the design idea of her previous collections. It's full of voluminous dresses, ruffles, maxi lengths, stripes, florals and knitwear. It also has some 1970s references, which makes the collection feel relevant with the comeback of the 70s.The target group feels like women on a travel tour in Europe, alternatively chic in the city (specific, I know!). If you love a more refined, chic, bohemian style, this collection will speak to you!
Thoughts On the Collection
When reviewing a collection, you can adapt different perspectives. Should I analyze this from a perspective of wearability? Or should I put emphasis on the storytelling? Or is it about being entertained? Ideally, all three perspectives would fit in one collection, but unfortunately wearability and entertainment are seldom fully compatible. Hence, it's easier to focus on one perspective in order to understand and analyze the collection. I personally prefer to focus on wearability, as it's closely related to sustainability, which is what the fashion world desperately needs more of. However, for this collection, I do feel that Johnson found a favorable mix of entertainment and wearability. More or less every look felt interesting, and it was one of those moments where you didn't know what to expect for the next look, but you're curious, as you know it'll be good. 
I often praise Ulla Johnson for her Bohemian maxi dresses, and I have to do it here as well. This white dress is fresh and captivating, as well as this yellow one. I love this minimalist and voluminous pink dress, it's such a gem. The color combination in this dress, and this one, feels very refreshing. My favorite dress might be this yellow gem though. The colors mixed are gorgeous, but my favorite part are the crossed bands creating a halter-neck effect. I also appreciated the knit work, such as this gorgeous monochromatic look and this one.
When a collection stays true to an idea, it's often interesting to challenge it with some opposing elements. As for this collection, some denim has been incorporated to make it less "sweet". I do think it would be favorable to see some leather details too, to push the boundaries even further. Also, more typical "luxe" elements such as pearls, Alice headband or blazers would also have been interesting details. But of course, it's highly subjective of me to prefer a fashion that's more eclectic. Overall, this is a collection that's gonna be appreciated by Ulla Johnson's target group. It's wearable, it's bohemian, it's refreshing – and it's easy to like and appreciate. Also, adore the 70s' references.
Folks! What are your thoughts on Ulla Johnson Spring 2023? Let me know in the comments below! Xx