Okey so two things about this article is weird. First thing is that I had to write 2021 instead of 2020. Like, is it already time to start thinking about next year's fashion? And secondly, the fashion weeks will obviously not happen as usual this fall. My first idea was to try and keep the articles as normal as possible (with one review and summary per city), but honestly, the fashion shows are a bit all over the place. Marc Jacobs, Michael Kors, Eckhaus Latta and Proenza Schouler are for instance four  brands that are scheduled for a later showing, and how can I summarize New York Fashion Week without some of the most brilliant designers of the city? Well, I can't. But I thought I'd stick to the weekly reviews and figure out the summaries as I go. If you have any suggestions, please let me know. 
Well, with all of this said. Here's a review of Ulla Johnson Spring 2021! See the full collection here.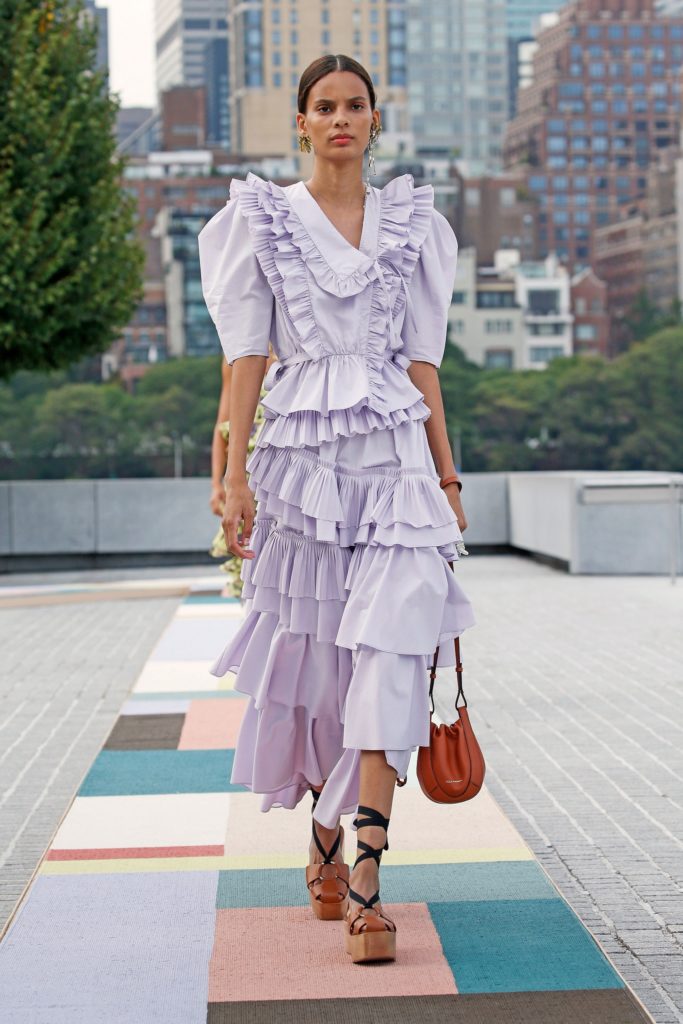 Ulla Johnson Spring 2021
I don't think a fashion week has passed without me mentioning Ulla Johnson every single time? At least not the past two years. This is definitely a sign that she's good, from my subjective perspective, but also that she has a high level of consistency. Although she stays close to her bohemian, wearable, folklore vibe – she still manages to present interesting, innovative and captivating collections. Ulla Johnson Spring 2021 is no exception. The collection is full of vibrant details, wearable colors and temporary details. It's like a more approachable version of Valentino's best Bohemian days (if that makes sense).
The collection is also influenced by the 1980s, with the oversized sleeves and emphasized shoulders. The use of ruffles as a major detail is recurring in almost every look. The color scale is pretty toned down, with few exceptions of more intense colors. Blue, green and purple hues are dominating the collection. The collection also includes some pieces in lace, denim and knitwear. The go-to pattern is undoubtedly the florals, with few pieces embracing more geometric patterns. But even the geometric patterns manages to look Bohemian with the washed-out colors and ruffled details. Belts, earrings, shoes and bags are also contributing to the more down to earth style.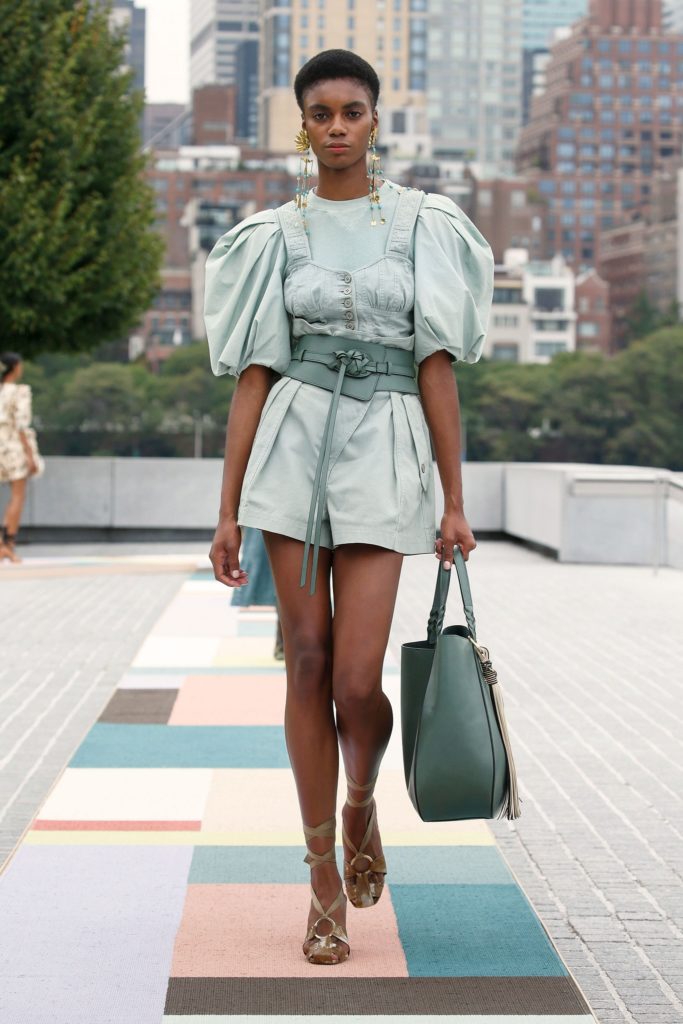 Thoughts On the Collection
What's great about this collection is that it shows how statement pieces can be done in a wearable way. The statement bohemian style is less intimidating than a statement fashionista style, as the colors, details and patterns are more discrete and less intimidating. For instance, it's easier to pull of a color scale consisting of brown, olive green and burned orange than one of magenta, Klein blue and sunny yellow. It's also easier to wear prints that are more subtle and vintage, than modern and statement. What I like about wearable "statement" collections is that they inspire people to be more bold in their fashion life. Suddenly, it's not that intimidating to go for statement shoulders as it's well integrated with the rest of the clothing piece/the outfit. A smooth transition between wearability and statement is the way to go for a more bold, but wearable, fashion life. 
When it comes to looks I like in specific, my heart definitely beats extra for this knitted, patterned, midi dress. Love the color scale and how the spacious sleeves are balanced with the v-cut and the ruffles emphasizing the waist. I also think this lavender dress is beautifully done. Perhaps a bit messy, but it's well-balanced with the volume. The 1980s vibe is definitely there, but also some vague 1930s day dress references. And hey, love it with the shoes! I also love this outfit. It's a lot of happening with the belt, the layering, the bag and the earrings but it all works thanks to the monochromatic style. Love the idea of working voluminous sleeves with a belt defining the waist. Such a chic idea when it comes to playing around with volume and definition. Lastly, I'm crushing big time on this layered, white, dreamy look. If you think early 1900s but done modern, with some influences of the kimono style – you're thinking right! Perhaps this wasn't the intention, but that's surely the eclectic mix that crosses my mind. I love it with the layered vest dress and how the belt keeps it in place. Really chic that the belt matches the stripes of the dress. Also, gorgeous with the matching bag of course! What I love the most about this though is how the layered ruffles are balanced with the minimalist, straight, cut of the vest dress. Such a chic way of mixing styles. 
As I said earlier the collection is wearable, but it's still probably a bit too much for the most casual minimalists. The styling is also quite specific which means that it's not sure that you'd get the same effect of the outfit if you pair it with other pieces. It's a lot of details contributing to the vibe and getting the mood right. This challenge the wearer to be innovative with styling, which can be a good thing but also requires more of a person. A good thing though is that a majority of the clothing pieces are interesting enough on their own, so there's definitely potential to interpret the clothing pieces in a new way, if that's what's wished for. In general though, it's a good, entertaining collection. You know what you'll get, but at the same time, each and every look is interesting in its own way. But with all of this said, it would be interesting to see Ulla Johnson mix things up a bit for the fall 2021 collection. What do her clothes look like more upbeat and modern? Or with touches of Rococo or the Victorian style? How does it work more minimalist or more edgy? That's something I'd be interested to see!
Folks! What are your thoughts on Ulla Johnson Spring 2021? Let's discuss in the comments below! Xx