We're not ones to back down for a fun fashion challenge. And as we always seek to develop the fashion life, trying new things that might be out of the comfort zone is always a go. However, trying new things is not always the most obvious and easiest thing to do. Quite often, one end up feeling insecure as new things takes some time getting used to. BUT, we have, as always, some ideas on how to try something you're unsure about and do it successfully!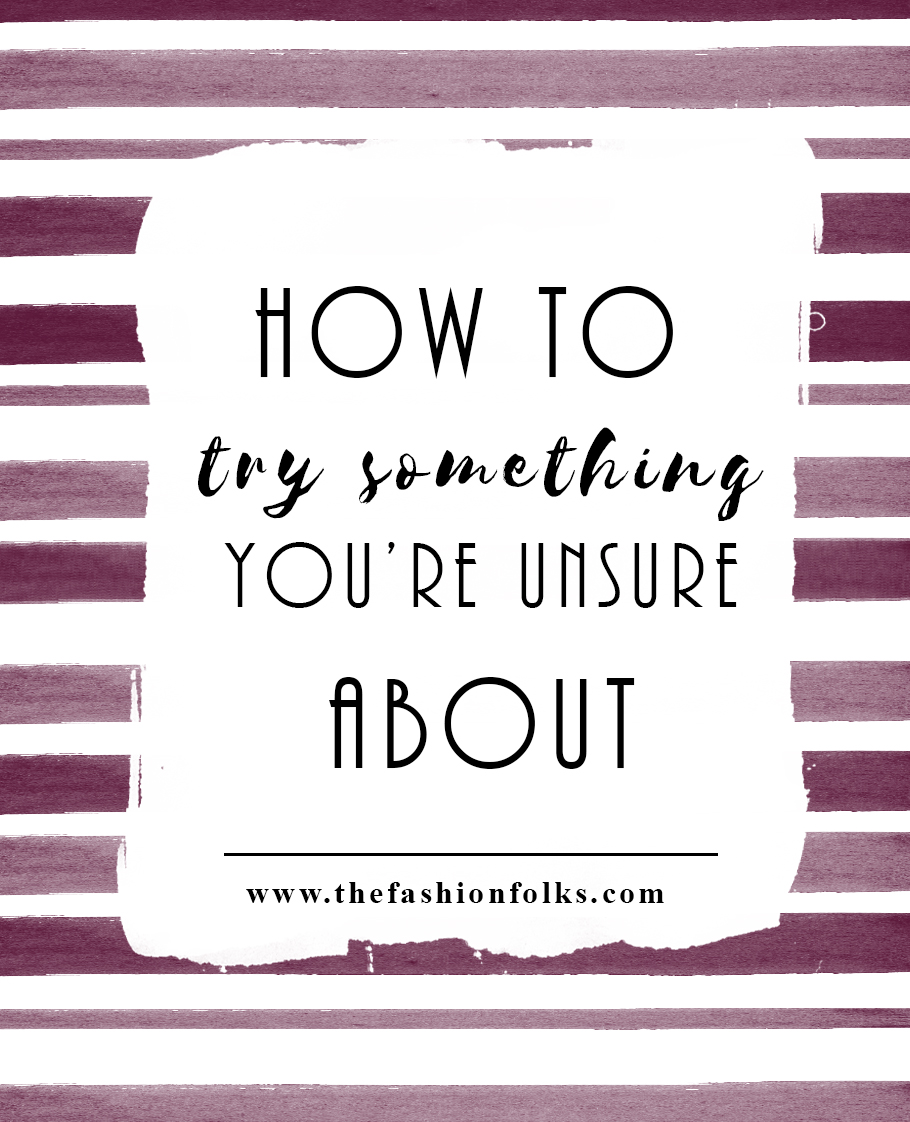 Why you should try something new
So some of you might not even be sure why you should level up your fashion game to begin with. I mean, the LBD is always a safe card, the jeans you've had for years never lets you down. I know. But we've talked about this on numerous occasions and what it always comes down to, is that it's fun. And the only way for fashion to stay fun is by finding new ways of it.
The idea behind trying new things is to find a balance between fresh and comfortable. That you try something that you're confident in, but add something that is fresh and new for you. And by doing so, finding pieces that might work for you. Frankly speaking, a lot of the buys are not always a home run, but in search for the score, you'll have fun and you'll most certainly develop your style.
Try These ideas
Begin in your comfort zone
Yes folks! Try what you're uncertain about in your comfort zone. This might be in your house, with your family or your friends. But testing boundaries in environments you feel safe in is a great way of starting. You won't have to think about judgemental stares or be painfully aware that what you're working might not be right for you or the moment. Perhaps it's not a good idea to try that new blouse for a work interview as you'll be nervous/uncomfortable enough as it is. Instead, try it when hosting a dinner for you friends. You know they won't drag you down with your new piece and if you're at home and you hate it, you can always change. Same goes the other way, if you find that you love your new piece and it suits you perfectly, it's ready to be worn whenever.
Get an honest opinion
One thing about trying new things, especially when you're uncertain about them, is that it can be hard to decide whether it's a piece for you or not. Even though your opinion is the only one that counts when it comes down to your style, getting a new perspective might be a good idea. Someone that gives you another idea on the piece, may it be bad or good. And not that person in your life that always gives the positive feedback, but that person that is honest. Preferably someone with an interest in fashion too, or at least a sense of style! An honest opinion will give you a better idea.
Work it with things you love
Similar to trying the piece within your comfort zone, you should also wear it with pieces that's within the zone. The only way to get a good sense whether the piece is for your style or not, is by wearing it with your style. Trying a new piece with another new piece is not the best way of doing so. Instead, go for the jeans you love and pair it with your new item. Does it work? Does it fit? Incorporating a new piece with things you already love is the quick way of finding out if it will work.
Finale Note
The same way that changes in life takes some getting used to, the same way does a new item. Sometimes it's a hit at first glance, other times, not so much. These are the pieces you want to give some chances and different looks. So even if it didn't work as you had wished in the first and second outfit, try again. Getting used to something new is always challenging but ever so rewarding!
Folks, these were our tips on how to try something you're unsure about. How do you work a new fashion piece in your life? Hit us in the comments!