So here's a fashion secret for you:  It's all about the details. When an outfit is magical,  you can most likely find the answer in the details.  Whether the details are balance of colors,  buttons of choice or an emphasised silhouette – it's where the magic happens. So, here are some trendy  fashion details at the moment! And if I may say so,  they're all pretty good!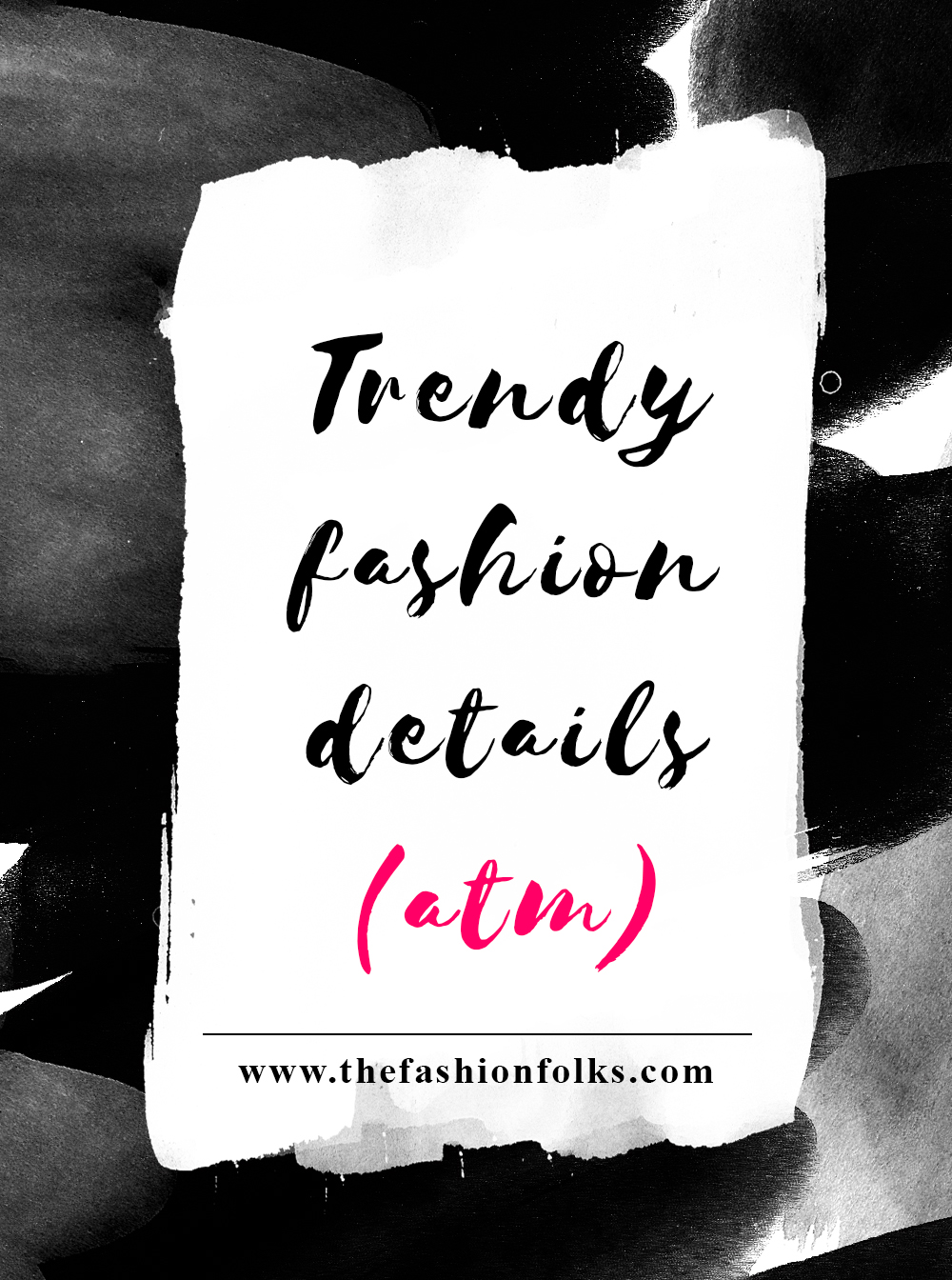 Fishnet (with denim)
So this trend has exploded the last couple of months and is pretty much on every other blog and Instagram page. The trend is more or less to wear ripped jeans and work a pair of fishnet tights under. There's a nice contrast between the geometrical lines of the fishnet and the unshaped holes of the jeans. Some people also do this trend with jeans and a crop top, letting the fishnet "cover" the belly. This trend is pretty 90s, pretty grunge and comes with a good dose of edge! And pssst, doing fishnet socks with sneakers are also a hit!
Defined Statement Sleeves
We did see a lot of different versions of the statement sleeves during 2016. Another trend that's evolved is to do statement sleeves with a bow/scarf/piece of fabric creating the statement (see below). This trend is quite the chic one and a lovely development from the regular statement sleeves. Playing with more details is always a nice way of elevating one's outfit. This is also a great example on how you can create your own statement sleeves, without needing to buy a specific top for the trend! All you need is a blouse and something to define the sleeves with. 
Embroidered Clothes
This is also a trend that evolved in 2016 and  I hope we'll see more of it in the months to come. Embroidered clothes are not only a fun statement, but a great way of embracing a more detailed fashion life. Doing floral have been popular for quite some time, but embroidered pieces with text and cute details are growing bigger too. (Like hello cute jeans I posted on IG yesterday). I loved embroidered details with denim in particular, there's a nice and unexpected contrast between the elements. Embroidery standing for sophistication and denim being more rough.
Mini-buttons
YES, YES and YES. Talk about wasting people's lives in 2017, but I don't care. The fashion history dork within me is head over heels for this trend. Thankfully it's heading bigger and I couldn't be more happy about it. Mini-buttons are the new statement buttons this year and are placed on sleeves, blouses and dresses. They take forever to do, but they are kind of worth the pain. Why I said the history dork in me loves this, is because this was one of the most popular trends of the Edwardian fashion/early 20th century. Where women's blouses consisted of tiny buttons all the way from the hemline to the high collar. Too cute, too annoying but too much fashion good to ignore. 
Folks! What trendy fashion details do you love and embrace atm? Drop a comment below! Xx
Picture above is not property of The Fashion Folks
Did you like this post? Hit the share buttons below!