I talked about the summer trends 2021 in this article, but what about the trendy details summer 2021? I'd say that they're in general are pretty playful and rich in details and colors, and more than anything; influenced by the 90s and early 00s fashion. Here are the trendy details summer 2021: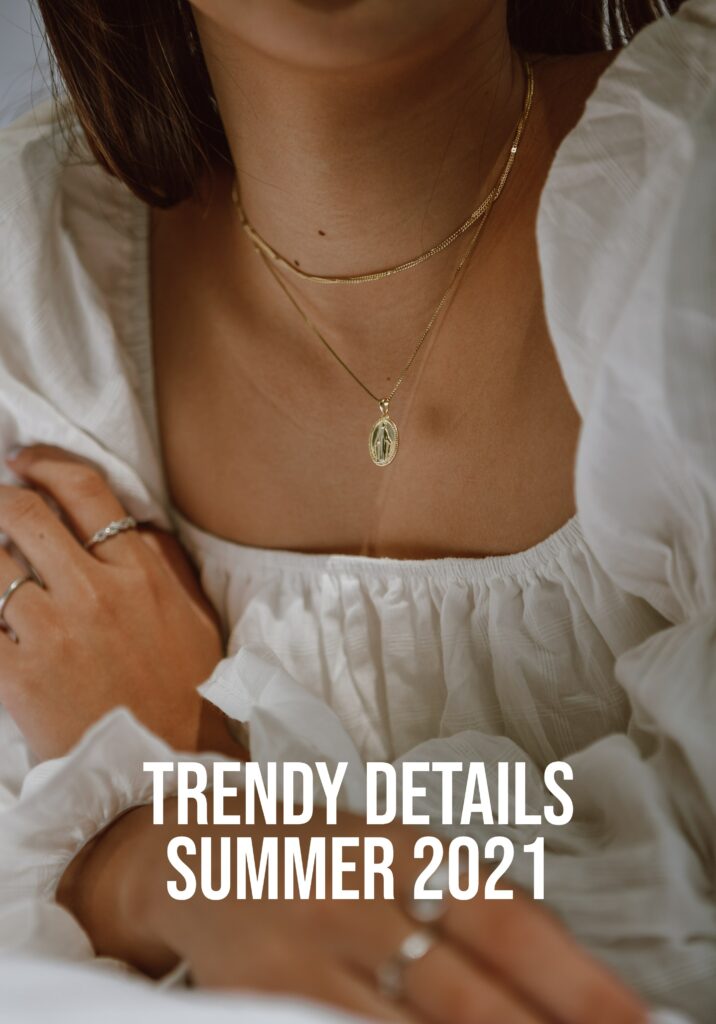 Trendy Details Summer 2021
Platform Sandals
The platform sandals are insanely trendy this year. Think about your sporty, functional, sandals but done with a statement platform sole. This trend has been popular to do in a plastic/rubber material, but leather versions are growing in popularity too. The platform sandals are fairly comfortable to wear and perfect to pair with a flowy statement dress or a stylish pair of culottes. 
Colorful Headbands
I've talked a lot about the trendy headbands before, but here we are again with another summer of trendy headbands. The hair barrettes are also trending, of course; so whatever you do this summer make sure to style your hair too. What I love about the colorful headbands is that they add a splash of color to your look, and they also reconnect your hair with the rest of the outfit. This will create a more cohesive and put together look. 
The Baguette Bag
I talked about my, hehe, dislike of the baguette bag in this article. But well, despite my feelings towards this 00s' statement bag, it's a fact that it's more trendy than ever. The baguette bag should favourably be done in a pastel color, and in a more rectangular shape.
The 90s Sunglasses
Another retro trend this summer are the 90s sunglasses. They're everything you've ever imagined the 90s fashion to be about. There are two version of this trend. One is without the frame, and just the tinted glass. The other one are with statement frames, often done in a plastic, semi-transparent, material and done in pastel colors. Red, orange and a darker green are also frequent versions of this style.
Folks! What are your thoughts on these trendy details summer 2021? Let's chat in the comments below! Xx