What about the details spring 2021? Well, I'd say that there are plenty of trendy details right now that are contributing to a fun and fashionable fashion. I've talked a bit about four of them below. Here's an article on other trendy details spring 2021: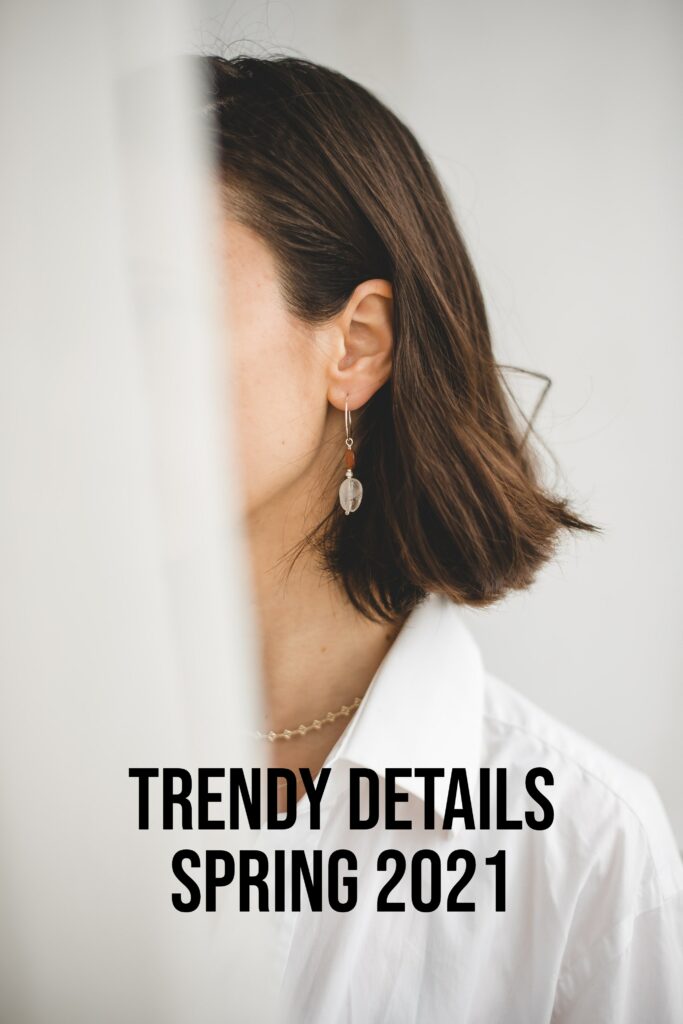 Trend Details Spring 2021
Useful Belts
I think belts might be making a big comeback. More specifically, the style of belts that are defining your waist and hips with. The style of belt you add to create a more voluminous and dynamic outfit. The belts can favorably be paired with midi and maxi dresses, preferably matching the boots or the bag of the outfit. You can also add a belt to your blazer or your jacket or vest too! It's all about being creative with your alternatives. 
Chunky Boots
The chunky boots are also major for spring. I'm talking about the kind of Wellington boots but done in a leather (or faux) material. This style of shoe has been commonly done in black, beige and white; often paired with more preppy minimalist clothes. I think the way to style them is with either knee-long or midi long dresses and skirts. It can of course also be a good idea to work them with fitted pants and jeans! Perfect on rainy days!
Gold Jewellery
If you wear jewellery, congrats – this is your season. Especially jewellery in gold is popular, often paired together for a bigger effect. Layered necklaces, rings and earrings are especially common. What's great about this trend is that it's quite timeless, so go ahead and wear it as usual! If you want to mix it up however, it can be a good idea to work it with necklines that displays the necklace or tops in favorable colors. A beige top with some gold necklaces sounds like a beautiful idea. Here's a full article on how to wear jewellery. 
Colorful Sunnies
And lastly, the colorful sunnies are a must! Not only colorful frames, but also colorful glass. You know that plastic 90s design? Well, that's what's trending. I don't think this look is here to stay, so if you're not absolutely head over heels, you can definitely sit this one out. If you do own a pair though, it's a lovely idea to match it with your clothes. Even better if you match it with a patterned top or dress, as you'll create that lively, bubbly, vibe. Lovely one to embrace for spring!
Folks! What are your thoughts on the trendy details spring 2021? Let me know in the comments below! Xx