Yeah yeah, I have the #TrendAlert articles I do regularly, but as we transition into new seasons we all need some extra inspiration, right? New ideas and new ways we can go on about our style! So here's an article on trendy details spring 2018: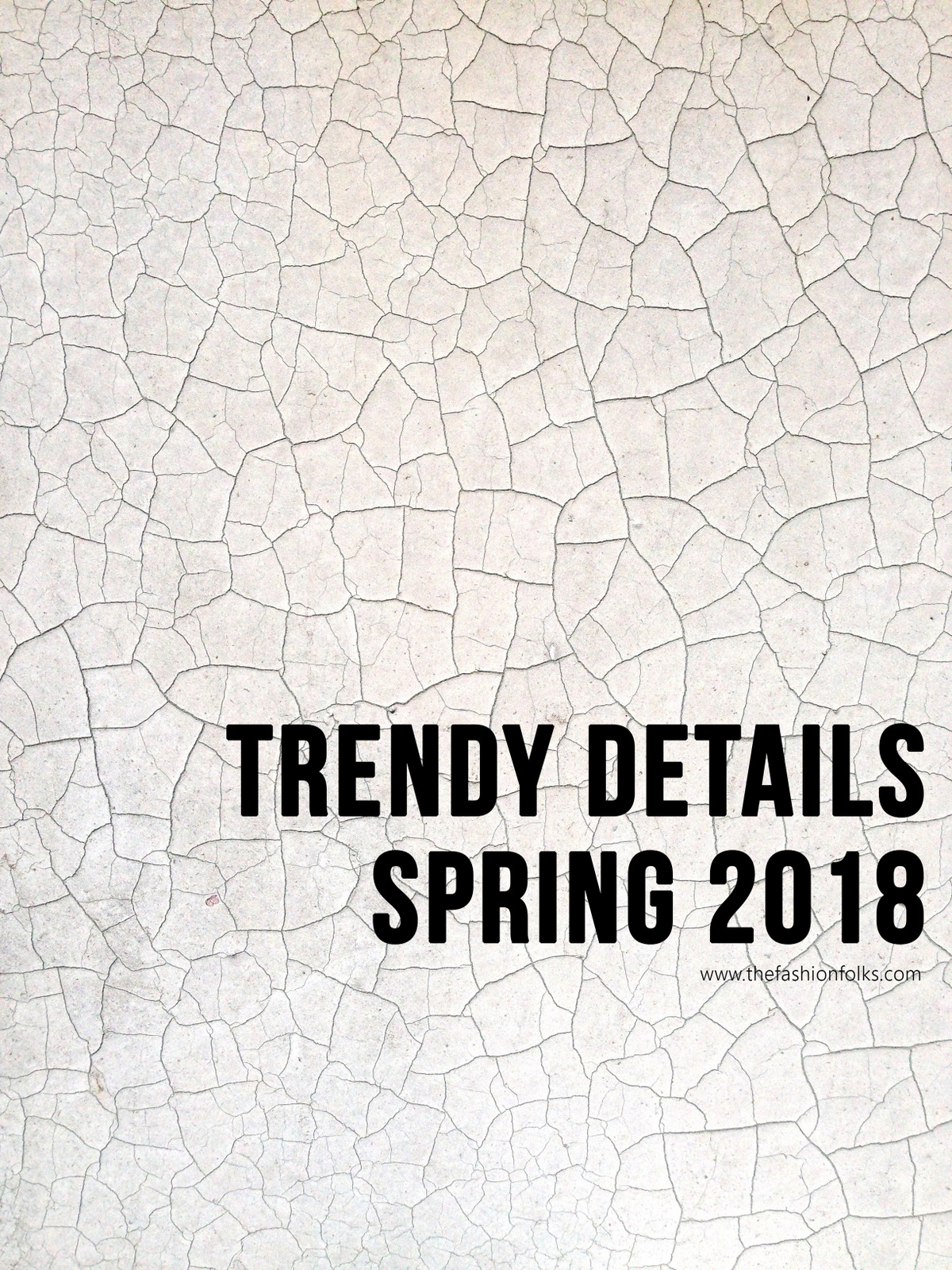 Photo by Vincent Burkhead on Unsplash
Trendy Details Spring 2018
Transparent Elements
I talked about this trend the other week but it's way too interesting not to mention again. The transparent elements are about see-through clothing pieces. Popular atm when done as jackets, accessories or blouses. This trend is chic to layer with your regular style and let the transparent material make a statement. That is, go for the outfit you intended and throw on the trendy jacket as the final piece. Or, go for a simple tank top or skirt and layer the look with your dress/top. Just remember that the transparent trend might not be the most appropriate one to wear on certain occasions!
Straw Accessories
Each and every year this bohemian trend is making a comeback as it gets warmer.  As a fan of distinct materials, I think this style is a favorable one to break off your regular style with. An interesting material to contrast with denim, (faux) leather and so on. Perhaps the straw bag is the most popular at the moment, but I'm sure we'll see a lot of straw hats as we get closer to summer. As the straw material often is light colored, it's also a simple one to match with popping colors as neon pink, Klein blue, sun yellow etc!
Shades of Purple
I wasn't too convinced with purple being the color of the year, especially not the darker shades of it. But as with all trends that are growing stronger slowly, I'm absolutely crushing on the lighter shades of purple. Especially matching them with other pastels or primary colors as red and blue. I do like lighter purple with darker purple too, it's a favorable monochromatic look. Purple is also chic and "fresh" (sorry not sorry), with white or silver. Either bring out your purple clothing pieces or add some purple accessories. Start with the pastel shades if you want to take it easy.
Statement Prints
I talked about the statement prints earlier this week and I'm crushing big time on them all, so I'm definitely mentioning them again. The statement prints are favorable for a number of reasons, they're surprisingly easy to style as you don't have too add too many elements or details to the look. Find a print you like and let it elevate your style this spring! You can catch the #Trendalert here to get more ideas!
Wrap Pieces
A popular clothing piece that's been in style for some seasons now is the wrap top/dress. It's  a perfect mix of the 1970s style (DvF wrap dress you know) and today's contemporary style of the wrap style, ruffles and shirts all in combination. The piece is one for summer/spring indeed and is favorable to choose in a print or color. It's something with the simple style that enhances the colors/prints. The wrap pieces have been popular in the floral print or with stripes. You can also go more basic with a white one or a wrap piece in a light blue/white stripes style.
Folks! Which one of these trendy details spring 2018 is your favorite? Let's me know in the comments and have a lovely weekend! Xx