So what about the accessories summer 2020? Well, summer is definitely the season for going light with accessories. Focus on one or two areas, but don't overdo it with everything at once. With hot temperatures, you want to keep it light and easy. With that said though, there are definitely some chic and functional accessories you should give a try!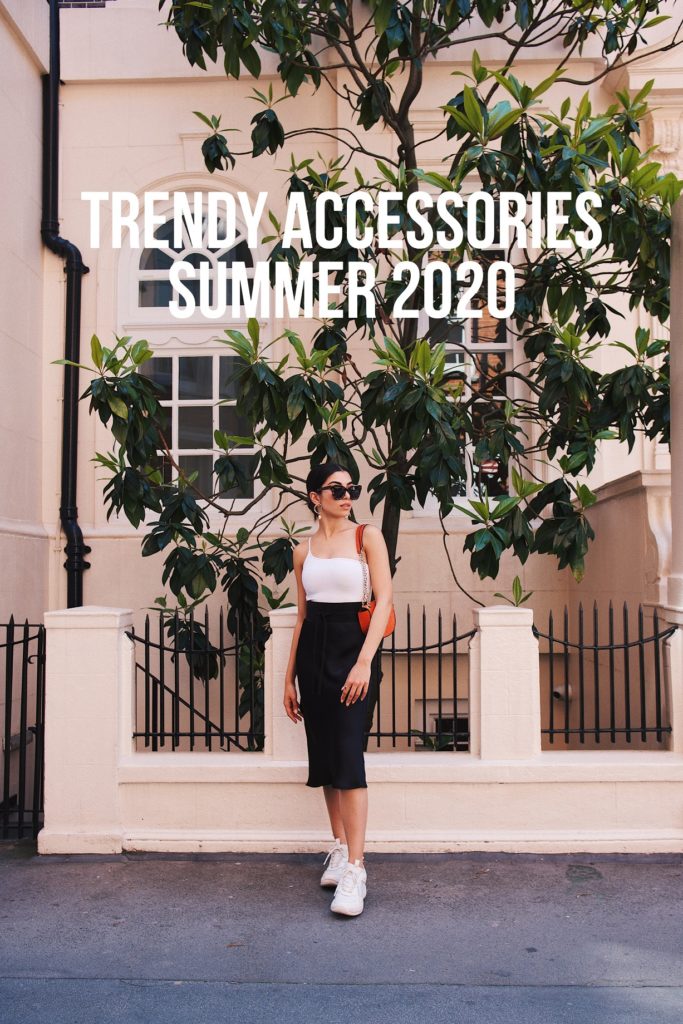 Trendy Accessories Summer 2020
Layered Necklaces
A trendy thing, that's been a trendy thing for quite some time now, is the idea of layering necklaces. Preferably thin, metallic, necklaces in different lengths. This trend has been common to do with crop tops, puff blouses, turtlenecks and regular t-shirts. I think layering necklaces is really cute if you want to make your outfit more personal, but not make a loud statement. Really chic if you're working a v-neck! 
Crossbody Bag
The crossbody bag is honestly a game changer! It's wearable, comfortable and terribly chic. Fair enough that you might not be able to carry as much as you usually do, but honestly, having your hands/arms free is just the best. Especially if you're out running errands or travelling. I think investing in a patterned or colorful bag is key if you want to make your style more dynamic. I also wrote in this article about centering your bag in the outfit so it'll be more in the spotlight.
Headbands
As for the hair, well obviously headbands gotta be on this list. They are major this season, both soft headbands in bright and popping colors and patterns, but also Alice headbands in velvet and embellished styles. Headbands are great if you want to add something extra to the outfit without having it interfering with the rest of the outfit. Also really practical when it comes to keeping your hair out of the way.
Pearl Earrings
Regarding earrings, pearl(y) earrings are really trendy this summer. Especially in combination with gold or other shimmering details such as seashells. I think the trend is quite interesting and fairly timeless. It's a fun way of adding something more luxe to your outfit (OBS it doesn't have to be real pearls), but still keeping it classic. 
Colorful Sunglasses
Lastly, colorful sunglasses are also trending this year. Both sunnies with a colorful glass and with a colorful frame. I think the ones with a colorful frame are more timeless than the ones with colorful glasses. Mainly due to the fact that colorful glasses are definitely a reflection of the 90s fashion trend that's happening at the moment. But honestly, when it comes to sunglasses, whatever you own is good enough. Just make sure that it's UV-glass!
Folks! Do you have a favorite from these trendy accessories summer 2020? Let's chat in the comments below! Xx