I know that when you asked for more posts on fashion history, you didn't necessarily mean the fashion history of yesterday. But here we are and this subject is ridiculously fun! Some speculation in how our contemporary fashion will change into becoming an epoque of history. I mean, it's inevitable, truly. Here's some thoughts on what trends we'll remember in 10 years: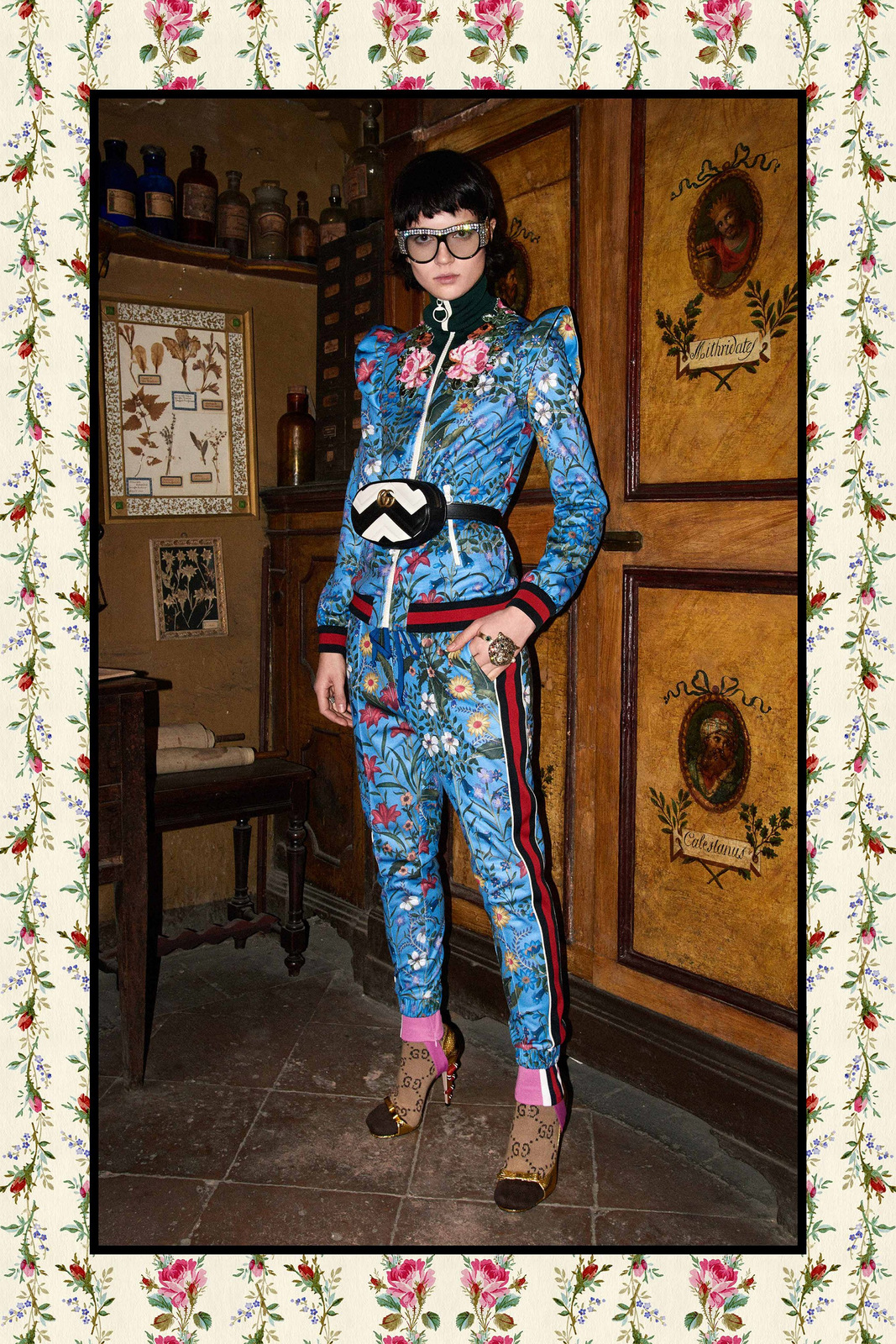 Courtsey of Gucci | Pre-Fall 2017
The Style of Today
First of all, let's pin down what the style of today is about. To keep in mind is the explosion of bloggers or social influencers the past years that have changed the fashion game. Today you're more specific about what your favorite bloggers have been wearing lately rather than a celebrity, right? That in combination with the accessibility of social media, and the tendency of everyone working the same trends, the contemporary style of today is quite easy to point out. You just have to scroll your feed and you'll easily spot a pattern of clothes, style, accessories and even attitude. What the influencers are wearing tricks down to what the everyday person is working.
The last few years, including 2017, the style has been embracing quite the street style vibe with pops of glam. There's a mix between elegance and edge, street style and luxury. Often a balance between a luxurious fabric (as the velvet last year) and an edgy contrast in shape of a clothing piece (like the leather jacket). A common look to work is a fancy pantsuit with a more edgy baker boy hat or a cute midi dress with leather OTK boots. You get me? A mix of elegance and a contrast of street. The silhouette has been rather loose, and if defined it's been about the waist or the dropped waist. Color-wise black, grey and white have of course been dominating. Accent shades have been blush pink, velvet green, mustard yellow and the shade of the season is red! The textures have been about denim, leather, velvet, suede and now fur.
The Clothes of Today
With all fashion epoques there are is always some clothes that are defining the era. With the ever growing amount of influencers and social media, there's quite a lot of clothes to choose from. There are however some elements that are more basic and clothes the majority of us probably have. These clothes (as of today) include a leather jacket, a blouse, a pair of jeans, a knitted sweater and sneakers. It is when you add trendy details to the clothes, and specify them,  you create the contemporary and defining look. For instance, a blouse can be a paisley style from the 70s and not look that contemporary. But if you do it off shoulder and add the ruffles and statement sleeves, the preconditions have changed. You have a timeless clothing piece (paisley blouse) with contemporary details in combination (off shoulder, statement sleeves and ruffles).
And those combinations are what will make up for the trends we will remember today. We won't remember a leather jacket, but we'll remember the oversized leather jacket with teddy details and statement zippers. Except these clothes of combination, there are – of course – also other elements that pops up and defines the era.  Looks that are quite specific and difficult to look past when summarizing a decade. We have the cringeworthy low waist of the early 2000s with visible underwear (ehhh, say what?). We also have the crazily high platform shoes from the 70s, or the hourglass figure from the 50s. And what do we have today? Well….
Some Specific Statements
Fur Slippers – The Gucci-style of shoe popped up awhile  back and is highly popular among fashionistas. They are a true love or hate issue with their quite specific style. Fur (often real) on the inside of a shoe?  The shoes are often combined with fishnet tights or denim to contrast it. We all will surely remember this look as it's a true "for real?"- kind of moment.
Baker Boy Hat – This style of hat has been growing in popularity over the summer and is everywhere these days. Perhaps the hat itself will not be remembered as something of 2010s, but definitely in combination with other contemporary elements. The puffy style adds a favorable contrast to all the ruffles, prints and luxurious materials going on.
Statement Sleeves – The statement sleeves were major last season and are still going rather strong. Oversized sleeves, bell sleeves, trumpet sleeves, ham sleeves or whatever your prefered style is called. The statement sleeves aren't anything new for our modern fashion, but when done off shoulder, for a blouse or with ruffles – the sleeves are a factor of what we wear today.
Gucci Belt – Gucci has been a major fashion influencer the past decades but especially so the last seasons. Except influencing the fur slippers, the Gucci belt has also left a lasting impression. Either defining the waist, or placed by the hips, the belt should be visible and make its statement. Though the style changes every now and then, the visible monogram remains remembered!
Rough Jeans – Perhaps this one barely qualifies but for the past years the rough jeans look has exploded. Rough jeans as distressed, or with patches, or uneven hemlines have been everywhere. Often done in a boyfriend/mom jeans style, with a high waist and loose silhouette it's been ultimate when going for an edgy look. The rough jeans in combination with an off shoulder top is a combination to remember!
Folks! What trends will you remember in 10 years? Let's have a discussion in the comment section below! Xx