One of the best things about a new year is arguably all the trend reports and sneak peeks of the upcoming fashion. I know I've stated this on countless occasions, but trends should indeed serve as inspiration and not guidelines of how you can dress this year. This is perhaps extra true year 2019 as the fashion is quite experimental compared to previous years. In one way, this means that you have a terrific opportunity to dress more bold and expressive – on the other hand, maybe you're comfortable where you are and only want to pick out a few elements. However, with that said, here's a trend report on the fashion trends 2019! (Check out this preview I wrote in October if you want more!)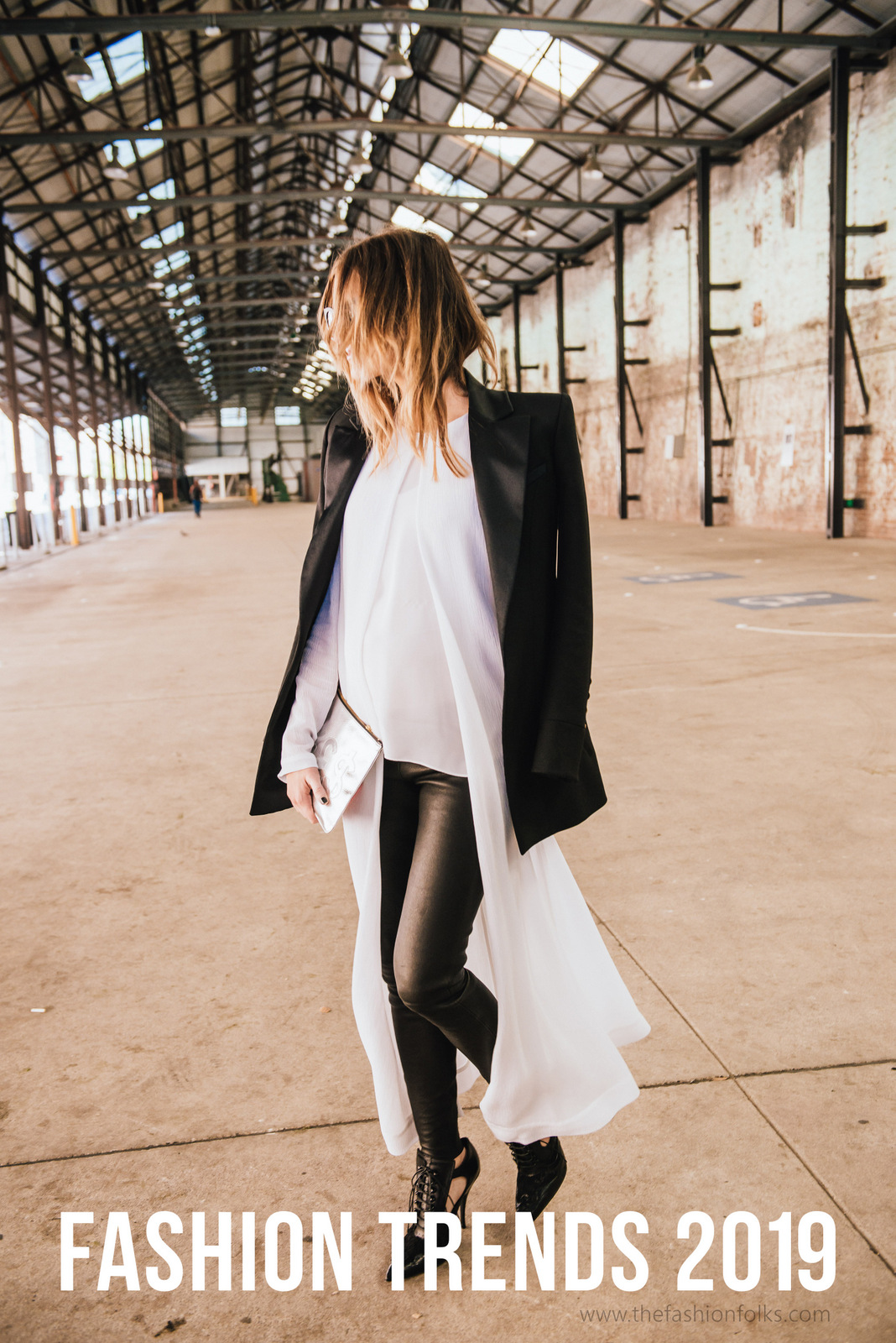 Fashion Trends 2019
Pleated Pieces
Pleats are never out of style really, but there are seasons where they are extra trendy and 2019 is a year like that. This year, pleats are done for shirts, skirts, dresses and scarves. Often done in sheer fabrics and light colors, the pleated pieces this year feels representative for the more sophisticated 1980s fashion. The pleats should contribute to your outfit's volume if you want to go for the extra trend touch. Givenchy, Fendi and Gucci are some of the designers that went for the pleated design for the SS19 season.

Monochromatic Colors
Pretty sure you're all getting tired of the monochromatic colors, but guess what – the fashion designers aren't. 2019 is the year we'll continue dressing in one statement color from top to toe. Some say that yellow will be the ultimate color for that homogenous look, whilst red was the most popular one for 2018 and coral is named the color of the year. Lavender and pink was also popular last year and will continue being influential in 2019 too. The most important thing to remember with this trend is to choose a color that you're comfortable with. Feeling confident in your outfit is one of the most important ingredients for a successful outfit – like, obviously! Prabal Gurung, Anna Sui and Brandon Maxwell all worked the bold, monochromatic looks!

Voluminous Look
This one is fun if you ask me! Playing with volume is probably one of the most challenging ways of getting dressed, as it requires that you're comfortable with working all that volume. I'm talking about oversized blazers, puffy skirts, chunky sweaters and other clothing pieces that have a tendency to "drown" you a bit with its fabrics. Well anyways, the voluminous clothes are a result of the 1980s trends that is influencing fashion atm. It's not too specified what kind of voluminous clothes you should work, but more about getting the whole look spacious. Layering up with oversized clothing pieces are one way you can accomplish this look, but also focus on accessories like blanket scarves, oversized bags and heavier shoes. Some designers that went for the voluminous looks are Gucci, Balmain and Valentino!

Artsy Fashion
If the voluminous look is a fun trend, artsy fashion is equally if not more fun! I love to explore fashion from a more artistic perspective and this way of fashion express that indeed. The artsy fashion 2019 is not subject of something specific, but more capturing an overall feeling of expressing yourself freely. What I mean by that is that you should dare to go for all the extra details, colors, patterns and styles. Embrace the more is more look, whatever that means for you. Perhaps it's about going for more than two prints in one outfit, as I wrote about here, or maybe this will be the year you embrace the statement colors. The idea to implement is that nothing is too much as long as it is what you want. Maybe, if you want a more specific idea, I'd say that the 1980s "more is more" idea can be a good one to follow! But let me get back to this subject later, cause it's an exciting one to explore. Versace, Marc Jacobs, Gucci and Delpozo will give you some good inspiration!

Folks! Which one of these fashion trends 2019 is one that you'll try? Let's chat in the comments! Xx