You know what we need folks? We all need a proper dose of vitamin these days. And I'm not talking about vitamins for the body (I'll leave that to the food blogs), but vitamins to the fashion life. To our style, to our outfits. Vitamins are inevitably a sort of energy, something that makes the outfit pop. Popping things in a fashion context are energizing colors and prints. One color in specific, that is a vitamin injection, is orange. It's the color of orange the fruit, energy and optimism. Best part about it is that it's also is trending this fall. Here's how to work orange fall 2017: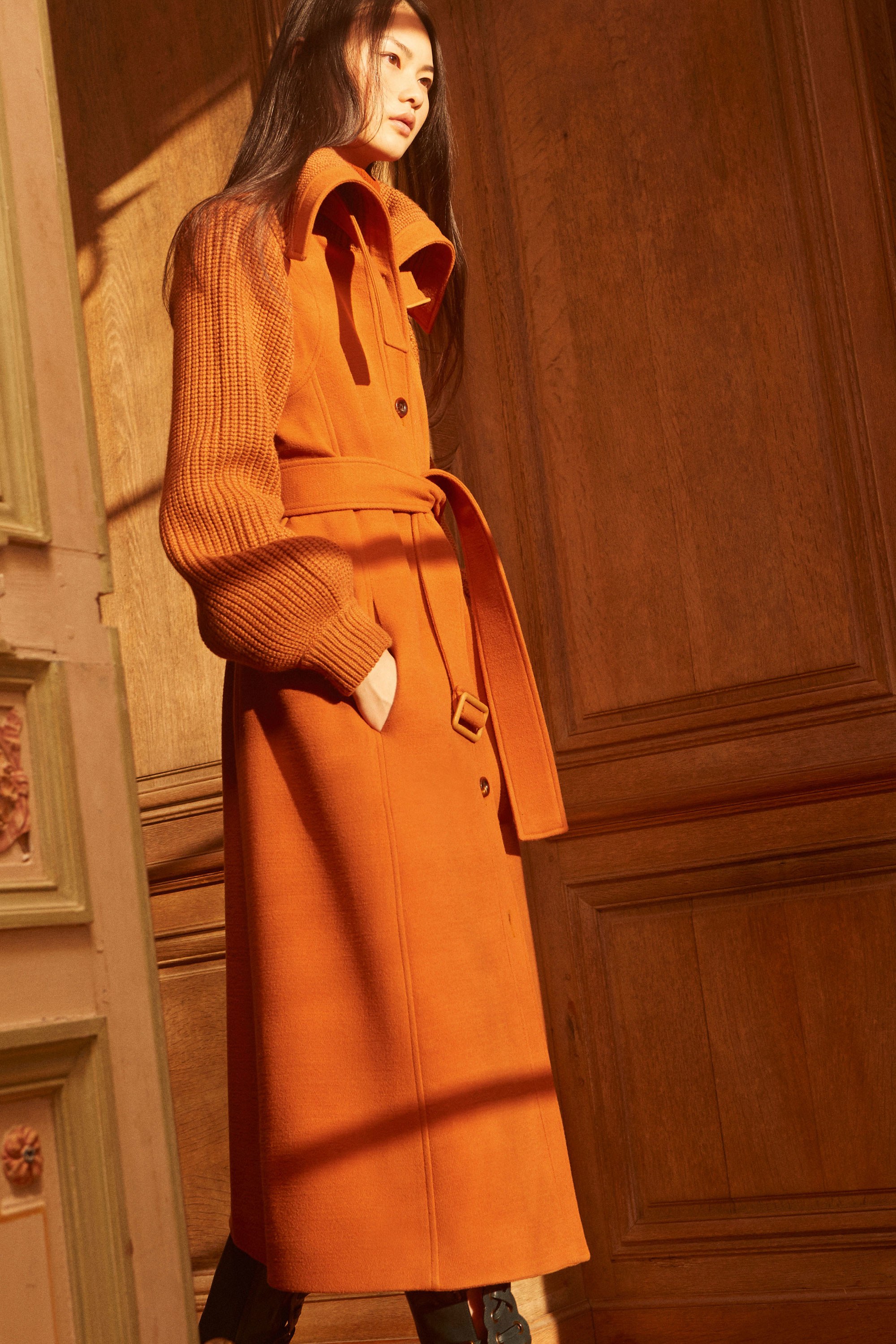 Courtsey of Chloé | Pre-fall 2017
The trending shade of orange
The shade that's trending 2017 is the red orange/blood orange shade. Some mandarin orange has also been spotted, for instance in DvF's Resort Fall 2017 collection. Delpozo also worked a brighter orange whilst Victoria Beckham worked the red orange and so did Max Mara. Orange has mainly been done in monochromatic outfits,  going orange to top toe. Mixing orange with the hottest color of the season, red, has also been a popular go-to look for the designers.
How to work orange
The best part with orange is that it works so well with neutrals as well as with other popping colors. It highlights, complements and intensifies. The neutrals are a fool proof way of working with the energizing color.  Go for a neutral base and make the outfit pop with accents of orange. Navy blue, grey and white are all specifically favorable to go for. Black is quite the contrast, but works nonetheless. Tan is a tricky one but can be fun if you dare to go for a clash.
As for other colors to pair with orange, a forest green is a match made in nature (lol, just think tropical flowers and the green leaves). Yellow is a fun one when thinking citrus and pink is a perfect bland that actually neutralize them both. Blood red is a perfect color for orange, especially fun to do as a texture contrast.  Blood red faux fur with orange leather is insanely fashionable but fun!
Three Outfit Ideas
Orange With Red – Following the hottest color combo from the runway (see Max Mara), a red and orange combo is a fierce and fashionable look for fall. The two colors intensifies each other and embraces the fire shades of the leaves. Go for red pants (faux leather/suede would be the dream) and match with an orange knitted sweater or turtleneck. Don't be afraid to mix the textures!
Orange With Gold – Go for an orange base and accentuate the shade with details of gold. The two in combo creates a very luxurious and sophisticated impression, something that the rest of the fall fashion works so well with. You know, the (faux) fur jackets, the silk tops and the lace dresses? All of them are sophisticated, luxurious and works well with one another, including orange and gold. An orange top and gold earrings or a statement necklace is an easy yet chic go-to look!
Orange With Navy Blue – Fall is a great time for the navy style with its coats, knitted pieces and neutral colors.  As mentioned earlier, orange in combo with navy blue is a perfect match. As the navy style can be quite colorless, orange will add a perfect touch of energy and add life to the outfit. It can be something simple as an orange bag, scarf or gloves. Go for the elegance and energy!
Folks! How do your work orange fall 2017? Do you dare to go trendy with blood orange and red or do you keep it subtle by the accessories? Drop a comment below! Xx