As much as I love this trend alert series, I'm fully aware that it's not really in line with the more sustainable perspective I aim to keep here at The Fashion Folks. That's why I'm always a bit extra happy when I write about a trend that's actually a timeless clothing piece. Don't get me wrong, I love this series from its perspective of new trends too. I think new trends are absolutely necessary to maintain the creative and playful development of fashion: but new trends every other week is not sustainable. Anyways, that's a discussion for another day. Today's article is about the universally beloved white t-shirt 2019!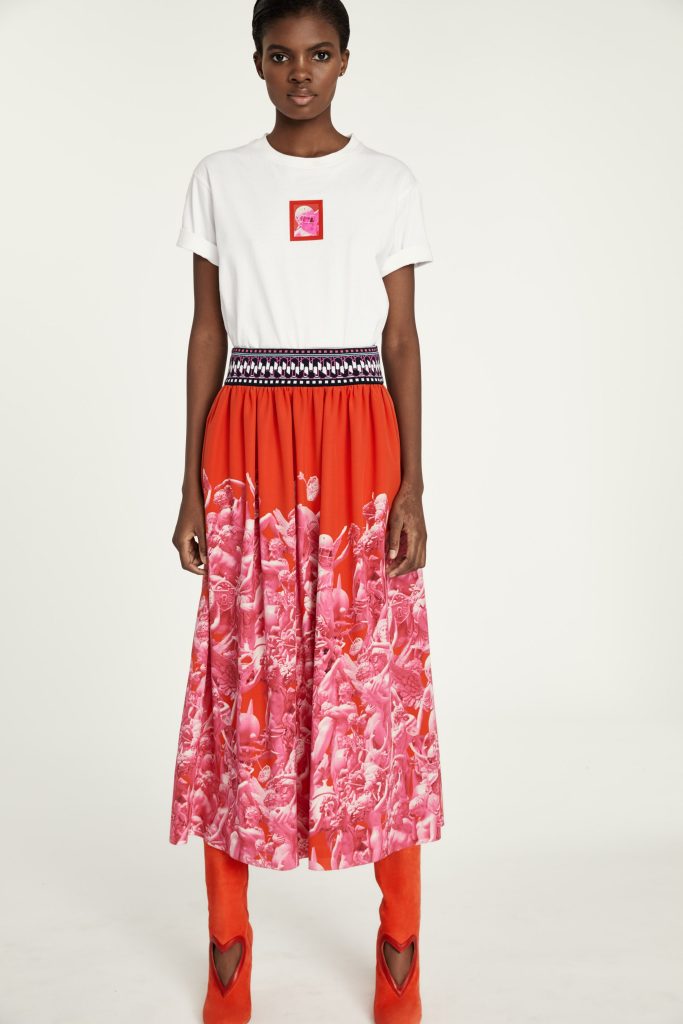 The White T-shirt 2019
So what about the white t-shirt 2019? Well, it's pretty much done as normal with lots of denim, black and patterned pieces. It's also been done as the typical 90s style of layering it with a cami dress or top. The white t-shirt has also favorably been paired with high-waisted pieces, which adds a nice structure to the outfit. What I like about the white t-shirt 2019 is also how it's been used to make formal and preppy pieces more casual. Pairing your midi floral skirt with a white t-shirt is an example of this. The neutral style of the tee adds a more street style vibe to the more refined floral skirt. Another popular combination is matching your white t-shirt with a blazer. 
How To Style It
Maybe I'm too generous with my words when I say this,  but it's hard to get the white t-shirt wrong. In fact, I'm pretty sure that the majority of the outfits that involves a white t-shirt are stylish in one way or another (don't challenge me on this one though ;)). As mentioned above, I enjoy the ways that the white t-shirt is styled. Both when done in a neutral way of denim, black and neutralizing patterned clothes. Doing your mom jeans with a white t-shirt tucked in is a fashionable example. Make it extra trendy with some chic sunglasses and slippers. A black blazer with a white tee is timeless and chic. I'm also a big fan of making difficult clothing pieces more wearable with the white t-shirt, utilizing its neutrality. For instance if you have a pair of pants in a statement pattern, try and balance it with a white t-shirt. Or if you wanna layer a cami dress/top, the white t-shirt is a great option. 
Street Style Inspiration
As for the dose of inspiration, here's one to get us going. Love the first outfit with the baggy jeans. So effortlessly chic with the sneakers and the sunglasses. Way to go if you wanna look chic instantly. The layered cami leo dress in the second outfit is really good too, love how the leopard dress becomes more wearable with the white t-shirt. The edge that the red leather skirt adds in the third outfit shows how statement materials makes the look more interesting. The dramatic skirt in the fourth picture is well-balanced with the neutral white t-shirt. As said earlier, love the idea of going for a dramatic piece and pair it with a simple tee. The fifth outfit is really 1980s in one way, but also shows how that trend can be done in a wearable way through the cropped t-shirt, the edgy glasses and pointy shoes!

Folks! What are your thoughts on the white t-shirt 2019? Let's chat about this iconic clothing piece in the comments below! Xx