I know folks, there are certain clothing pieces with a timelessness that stretches over the seasons and they are therefore not to be considered as trends (but classics) – but, every now and then some of these staples are peaking in their popularity and so is the case for the white dress summer 2018. It's everywhere and I'm totally here for it!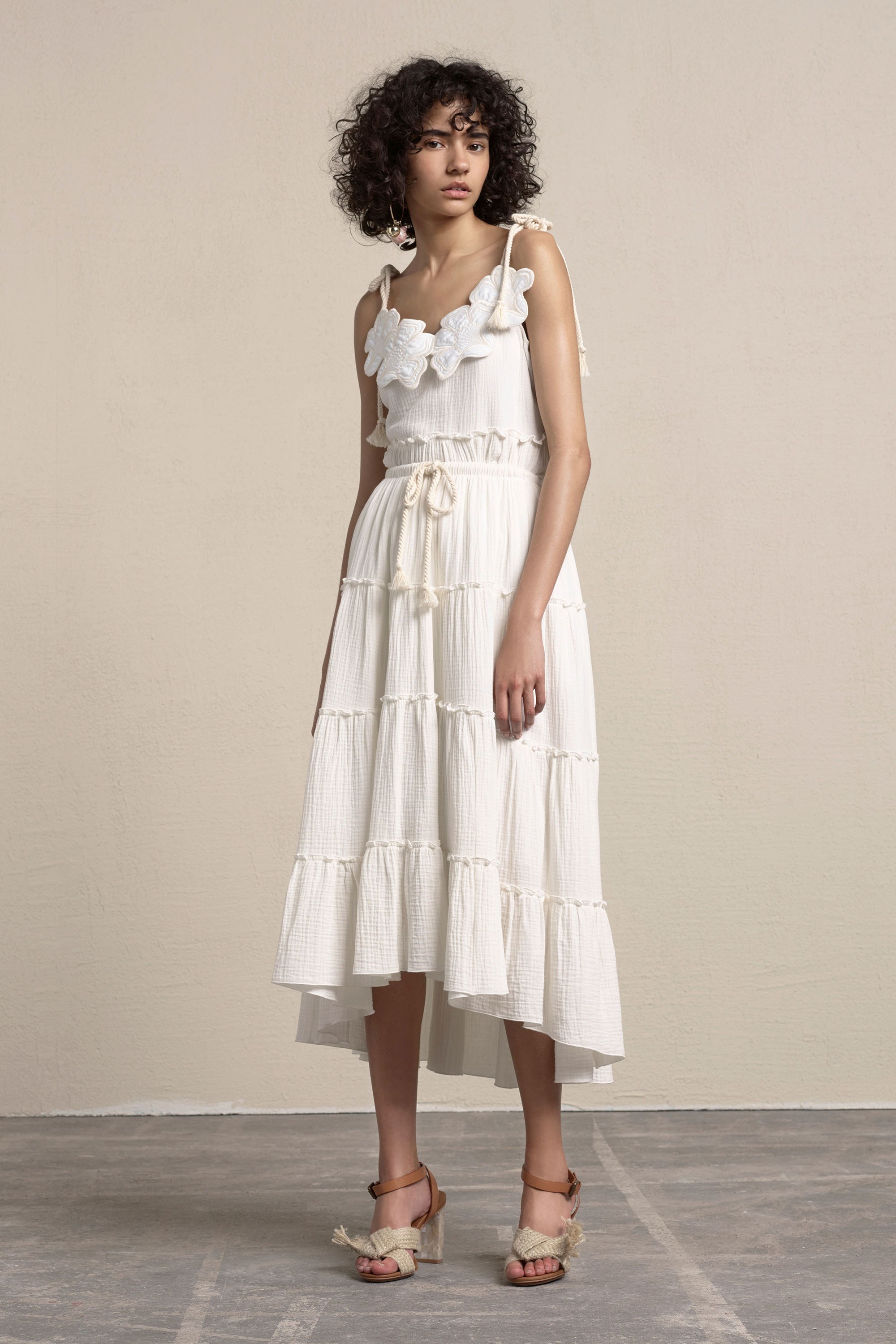 Courtsey of See By Chloé | Resort 2018
White Dress Summer 2018
The white dresses this summer are all about the sophisticated bohemian style. It's often done in the midi length with a loose or semi-loose silhouette. In focus are details of pockets, sleeves, buttons and contrasting materials that creates a pattern. Definitely a lot of lace, but also linen and prints of polka dots and gingham. What characterizes the white dress summer 2018 is that it requires little or no styling, which makes it a great choice for a go-to look. A go-to look is comfortable and convenient when you're in a hurry or when you're too tired to pick together a whole outfit. In other words, a white dress and you're good to go! White is ultimately a great 'color' for summer as it's clean, chic and crispy (more adjectives on C please!), so it will definitely give you that summer vibe.
How To Style It
As already stated, the dress sort of does the styling itself. What you can do however is to focus on the accessories to either keeping it casual or making it more glam. A pair of stylish sneakers are a good choice on days you know you'll be walking a lot or you just want to keep it comfortable. Some slippers will give that resort vibe whilst a pair of heels will work for a night out. As white is neutral, don't forget to try and add some prints or splashing colors. Like some yellow, orange, green – or other shades that adds to the summer vibe. As for material, I think the straw material will add a nice resort vibe whilst some (faux) leather will give you an urban chic look.  In other words, pick the accessories after context and you'll surely be stylish with your white dress. Be bold and choose statement shoes, bags, hats and scarves. A white dress is sort of like a blank canvas – you can add whatever you like and it will 9 out of 10 times work!
Street Style Inspiration
Lastly, here's some inspiration! The first look is fierce with the contrasting yellow belt. Love the match of the deep red in the second look and the stylish boots in the third look. See how pretty it is with layering transparent materials too! The off shoulder look in the fifth look feels trendy and upbeat and stylish with the necklace!
Folks! How do you wear your white dress summer 2018? Let's chat in the comments! Xx