As spring is progressing, I try to cover as many spring trends as possible here on TFF. One fashion trend that's been in the spotlight the past seasons is the turtleneck. The high neckline was for long out in the fashion periphery as it was too closely associated with what was then an unmodern 90s fashion. A few seasons ago the turtleneck found its way back and is today a trendy wardrobe staple (if I may say so). Here's a trend alert on the turtlenecks spring 2019: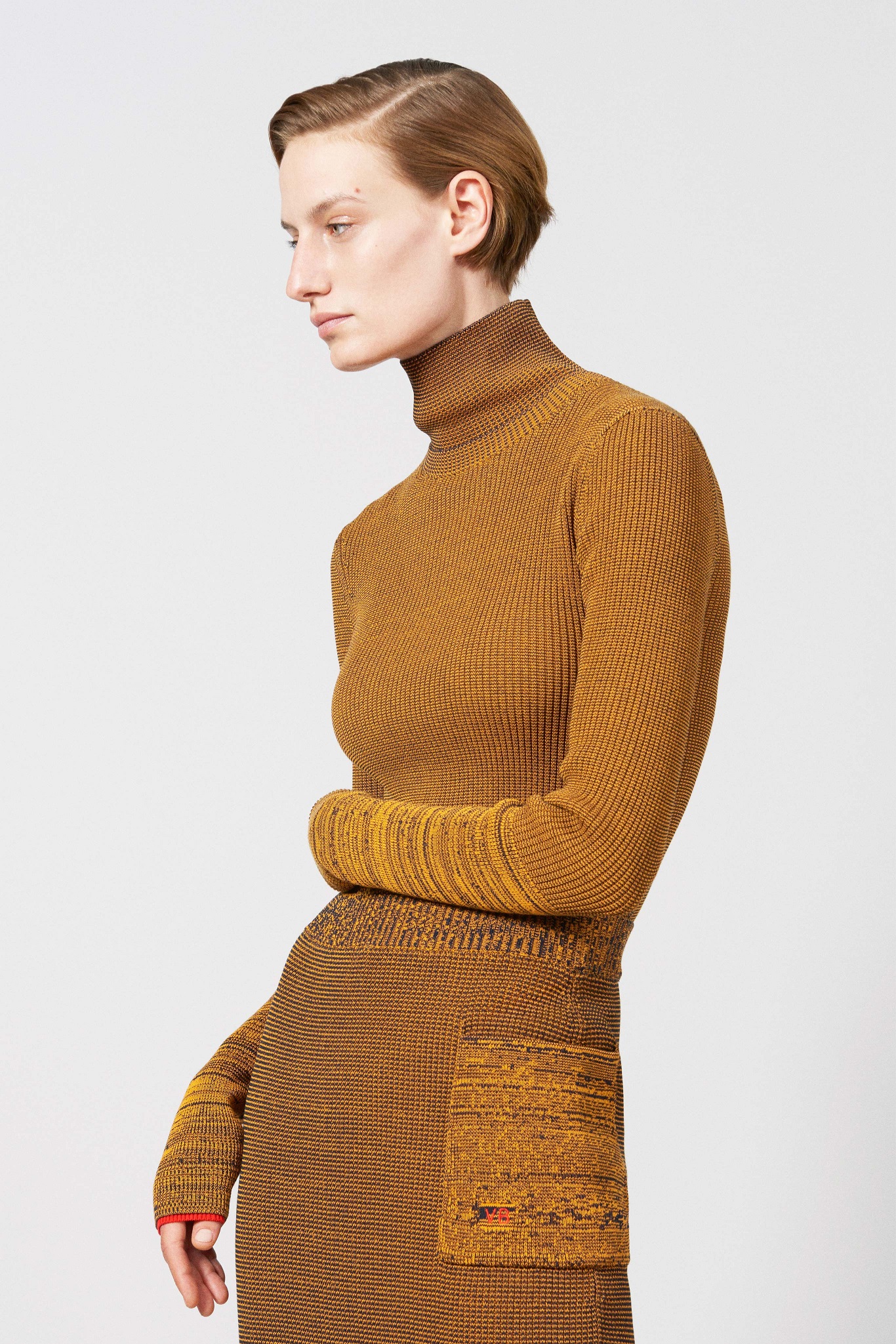 Turtlenecks Spring 2019
So what about the turtlenecks spring 2019? Well they're quite uncomplicated. Frequent in black, white and beige it's fairly simple from a color-perspective. Most common as tight and in classic materials such as cotton and viscose, it can be compared to being an elegant version of a basic t-shirt. For spring 2019 it's also popular to do sweaters and blouses with a turtleneck and not to forget dresses, especially midi dresses. I would say that turtleneck spring 2019 is most common as a singular color and not in print. Except the basic colors, some red, pink, green and orange has been fairly popular!

How To Style Turtlenecks
The turtlenecks are great from a styling perspective as they're favorable to layer. Go for them under dresses, shirts, sweaters and jackets and you'll have a layered look ready to go. I also think the turtleneck is chic to pair with clothes that are high-waisted as it adds to the balance of the silhouette. Perhaps a pair of 70s jeans with a turtleneck blouse? The turtleneck can also be chic to pair with same colored jackets and cardigans with an opposing texture. Going for two clothing pieces in the same color but different materials adds a nice cohesivity with some intensity to your outfit. Going for a darker turtleneck in one color and a sweater in a lighter color, or a shirt, will also create an interesting outfit. As for more detailed styling; do your hair up and go for some statement earrings. It will balance the symmetry of the upper part of your outfit. Layer your turtleneck with a skirt with some ruffles or one with an asymmetrical cut can also be a good idea. In general though, when it comes to basic clothing pieces they are often a good alternative when it comes to neutralizing and balancing statement clothing pieces. Perhaps go for your turtleneck with some patent leather, a crazy print, statement dresses or bold accessories!

Street Style Inspiration
And from the streets we have a lot of stylish outfits that are great sources for inspiration. I love the layered look in the first outfit below. So chic to layer a black turtleneck with a classic white shirt. Love the use of the set too, it makes the outfit more framed. The second look is a cozy one with the knitted sweater. Great one for spring and the transitional fashion with the skirt. The third look is lovely with the beige knitted dress. Trendy with the color and comfy with the knitted look. Love the layered dress in the fourth look. Such a good contrast to focus on different colors. Love the simplicity of the fifth look with the denim, the black turtleneck and the statement boots. This outfit shows how you can work statement boots in a wearable way. It's just to neutralize them with some basic clothing pieces!

Folks! What are your thoughts on the turtlenecks spring 2019? Let's chat in the comments! Xx