Folks! I included the transparent elements in my article last week on the spring trends 2018 and thought the trend could get an article on its own. It's definitely not a trend for everyone and, with all due respect, it's probably not one that's here for the long run either. But, it's a trend, it's challenging from a styling perspective and if you like it, I think you should go for it! Here's a trend alert on transparent clothes 2018: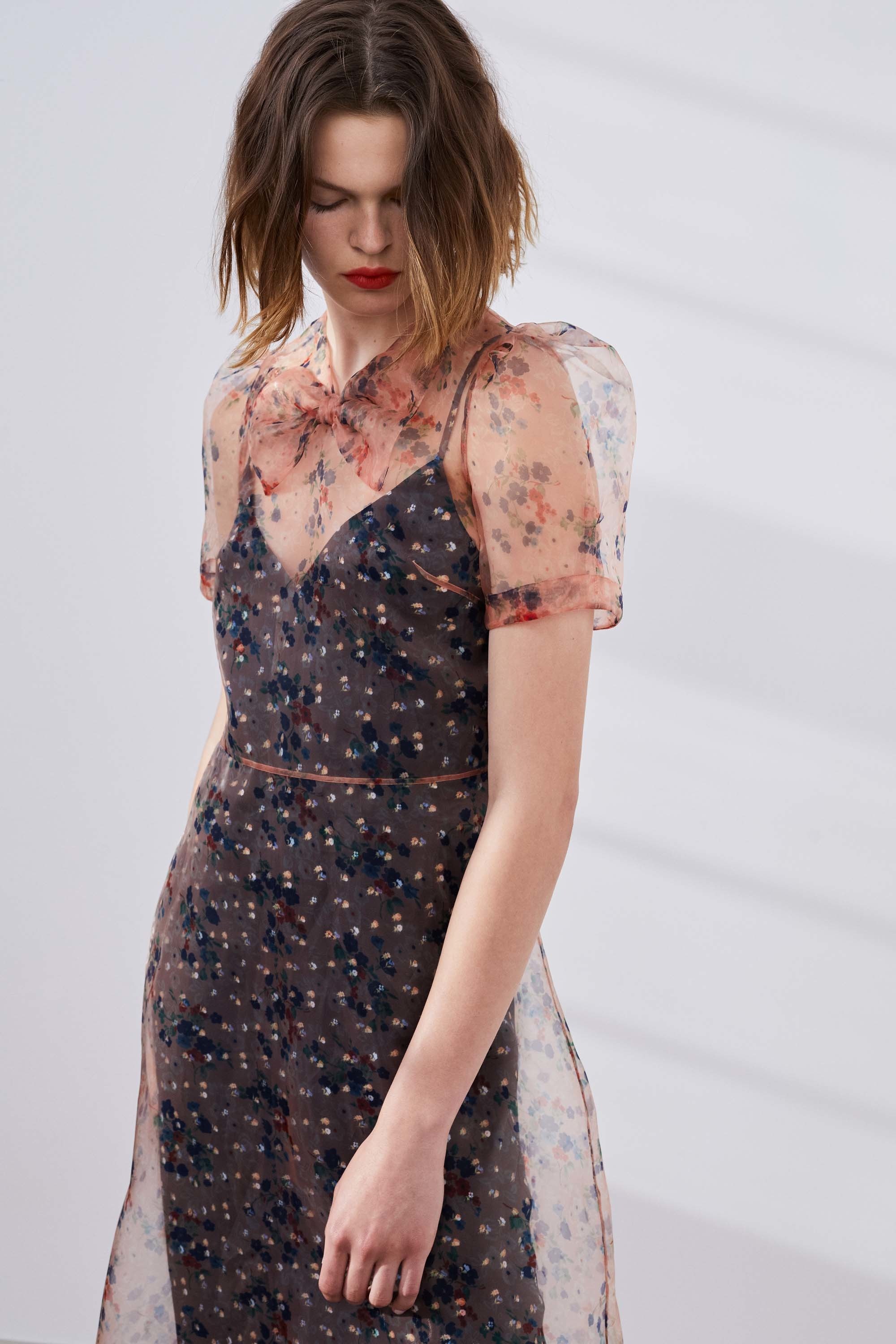 Courtsey of Jil Stuart | Resort 2018
Transparent Clothes 2018
Don't take me by my words when I say this but it feels like this iconic look of Calvin Klein sort of set off the current transparent trend? Since then it's been an explosion in plastic clothing pieces and accessories, sheer materials and see-through pieces. Transparent materials have existed before that too, of course, but it feels like it's more than ever these days. A specific style of this trend that's been popular is to go for transparent accessories, especially shoes or a bag. Going for visible underwear, with a sheer top over has also been a popular version of the style. And most recently, a transparent jacket as the final layer of an outfit has been increasing in popularity. Often done with the raincoat vibe but also kept simple with mesh or organza. Calvin Klein has done the trend and so have Chanel, Valentino, Fendi and Emporio Armani!
How To Style The Transparent Elements
There are two ways to think about the transparent trend when it comes to styling. Either you care about the fact that it's transparent and adjust your outfit accordingly, or you just go on with the regular style. Regarding the first option it's about matching with the clothes that will be visible under the transparent clothing piece. Perhaps you want to go for a bralette or a cami top if you're working a sheer top! The other way to go on about the styling is just to use the transparent piece as the final layer in your outfit. Go for whatever you thought about wearing and let the clash be what it is. This can favorably be done if you're working a coat in a transparent material or you have a see-through dress! Chic and fashionable contrast to go for the jeans, a cami top and a transparent maxi dress if you ask me!
Just remember that transparent clothing pieces might not be the best if you're working a dress code for a specific occasion. So just make sure that you're working the see-through style when it's appropriate to do so. I don't know about you but showing up to your office with visible underwear is yet to be socially acceptable! A compromise can be to go for a clothing piece with details of transparent materials, such as sleeves. It's also a great way to start embracing the style!
Some Inspiration
Lastly, here's some inspiration and fierce street style outfits to be inspired by. I love the style of the first outfit as it's quite a simple, ordinary outfit, but with the fun twist of the transparent jacket! The second look is also insanely chic with the light skirt and the cozy sweater, a lovely example of how to contrast materials. Love the transparent bag too,  a chic pop to the outfit!
Folks! What do you think about the transparent clothes 2018? Let me know in the comments! Xx