This might be one of the best trends, or styles,  I know. I've had a crush on metallic since forever and especially silver metallic. Fun fact: I made my own shift dress in a silver fabric for  New Year's Eve a few years ago. It looks kind of chic but it's of terrible quality as I have no patience. However, back to the subject: I have and forever will have a crush on silver metallic both for fashion and makeup. Here's what silver metallic spring 2017 looks like: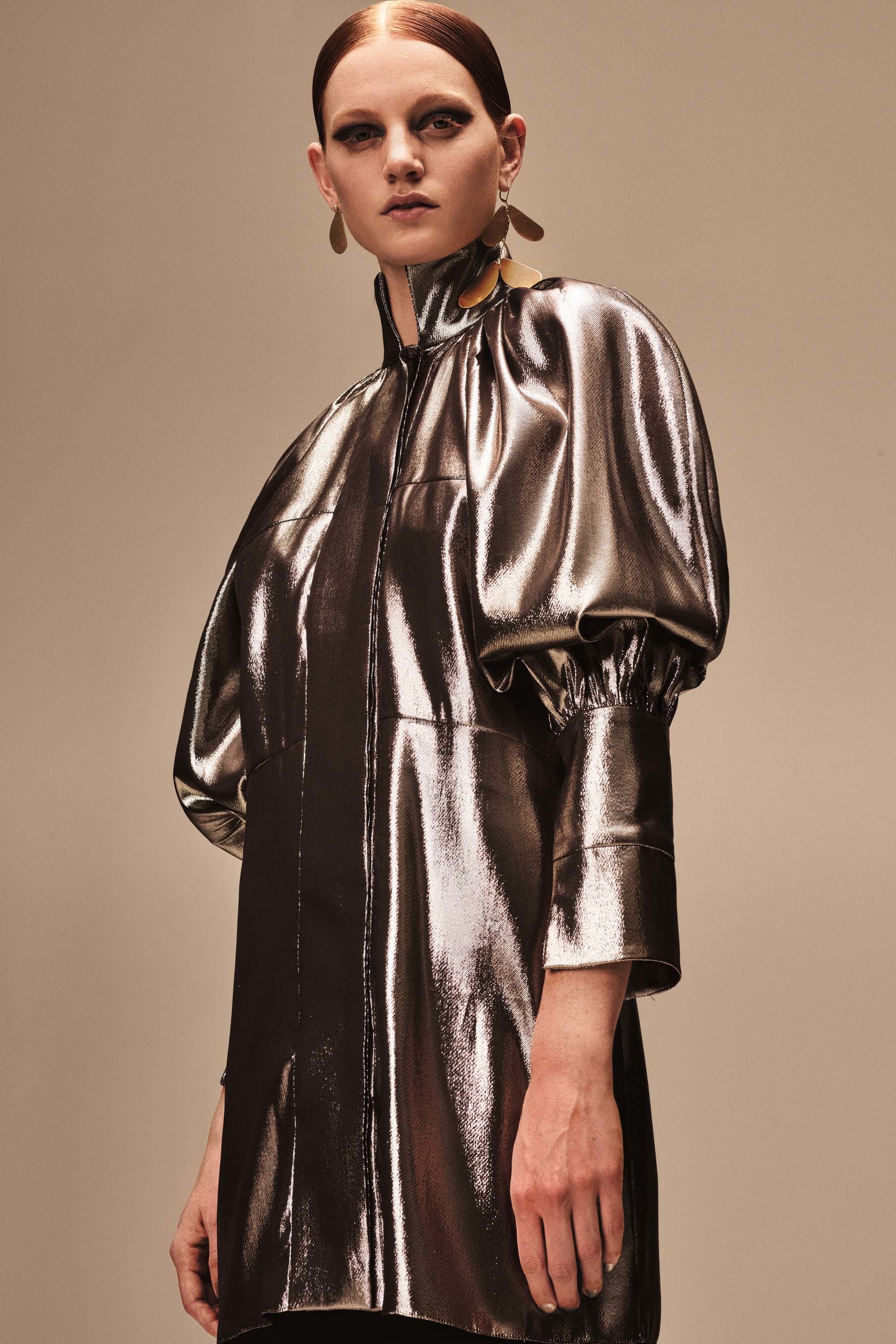 Ellery Resort 2017: Courtsey of Ellery
Silver Metallic Spring 2017
As with all trends when it comes to a color, they come in all different shapes and styles imaginable. Some more popular than others with silver going full on for shoes and skirts, mainly. I'm not sure who began the shoe trend in specific, but I know Stella McCartney did a chic pair a few years ago and some of her shoes are trending again. Like the platform sneakers with a metallic top. Balenciaga's silver boots are also major atm and Saint Laurent has also done some goodies. As for the skirts, the pleated midi skirts in silver are trending and trending high. Every other fashionista seem to work them or crave them. Jackets and bags are also major for silver metallic!
What To Think About
One of the most fun things to style is texture, or items in a statement material. I'm talking about denim, (faux) leather and suede but also neoprene, (faux) fur, lace and also shiny metallic fabrics. I love the ability of playing wih the material of a clothing piece and contrast it with other fun statement materials, colors or details. And as you've might have guessed, silver metallic (as it's trending right now) is a fun material to play with. I'd say that it works with about anything as the silver color works as a neutral and the shiny feature is subtle enough to go with anything.
Match material
If I were to say one thing to think about though, it would be to focus on the contrast. Denim and silver, lace and silver, also leather and silver to mention some. Especially lace and silver as lace is soft and delicate while silver metallic is more edgy. Denim is often considered to be a more edgy fabric too, but softens up with the silver metallic. I'd go for a darker denim to get a chic contrast. To make the silver pop even further I'd add accessories that highlights the shiny feature. Like statement earrings, a clutch or rings. Accessories are btw great if you're unsure about the trend and want to start small. Try a baseball cap in the metallic shade or why not go for a belt?
Match Colors
As for the colors, the silver will highlight about anything and will therefore be your friend. I'd even state that silver is one of the best shades to match with other colors. Try blush, lavender, forest green, dove blue, lime green or yellow and you'll see how they'll pop. Neutrals as black and white are also chic to do. If I were to avoid some colors I probably wouldn't go for brown and silver metallic. Just because a brown color in any shade is normally warm and the silver metallic is cold and that could clash in a non favorable way. But hey, on the other hand, I can definitely see a tanned leather jacket work with silver, so perhaps ignore that suggestion – after all.
An Outfit That Works
And as always, here's an outfit that works: The balance of elegance and edgy in this outfit is genius. The pleated skirt, the shoes, the hat and the clutch are all very elegant whilst the silver shade, the belt and the cut out top are all edgy features. The length of the skirt gets some height with the heels and the silver shade in the skirt gets highlighted by the metallic belt. Black never gets boring as the black is always featured with a twist as the striped hat, the Chanel clutch (question though: might it actually be a book?) and also the crop top. Lesson here: you'll get pretty far (and stylish) by only going for a silver skirt and a black top. Dare to add some metallic accessories to highlight and if you want to go elegant you can always go for the hat!
Folks! What do you think about silver metallic spring 2017 and how do you plan on working it? Xx
Did you like this post? Hit the share buttons below!