Trend Alert Series 2017: Ruffles | Green(ery) | Silver Metallic | Blue/White Striped Shirt | Statement Sleeves |
---
Long time readers of The Fashion Folks knows that I love different materials and how to style them. It's a fun contrast to mix different textures and creates a subtle yet effective statement. So next out in the series #TrendAlert is patent leather 2017!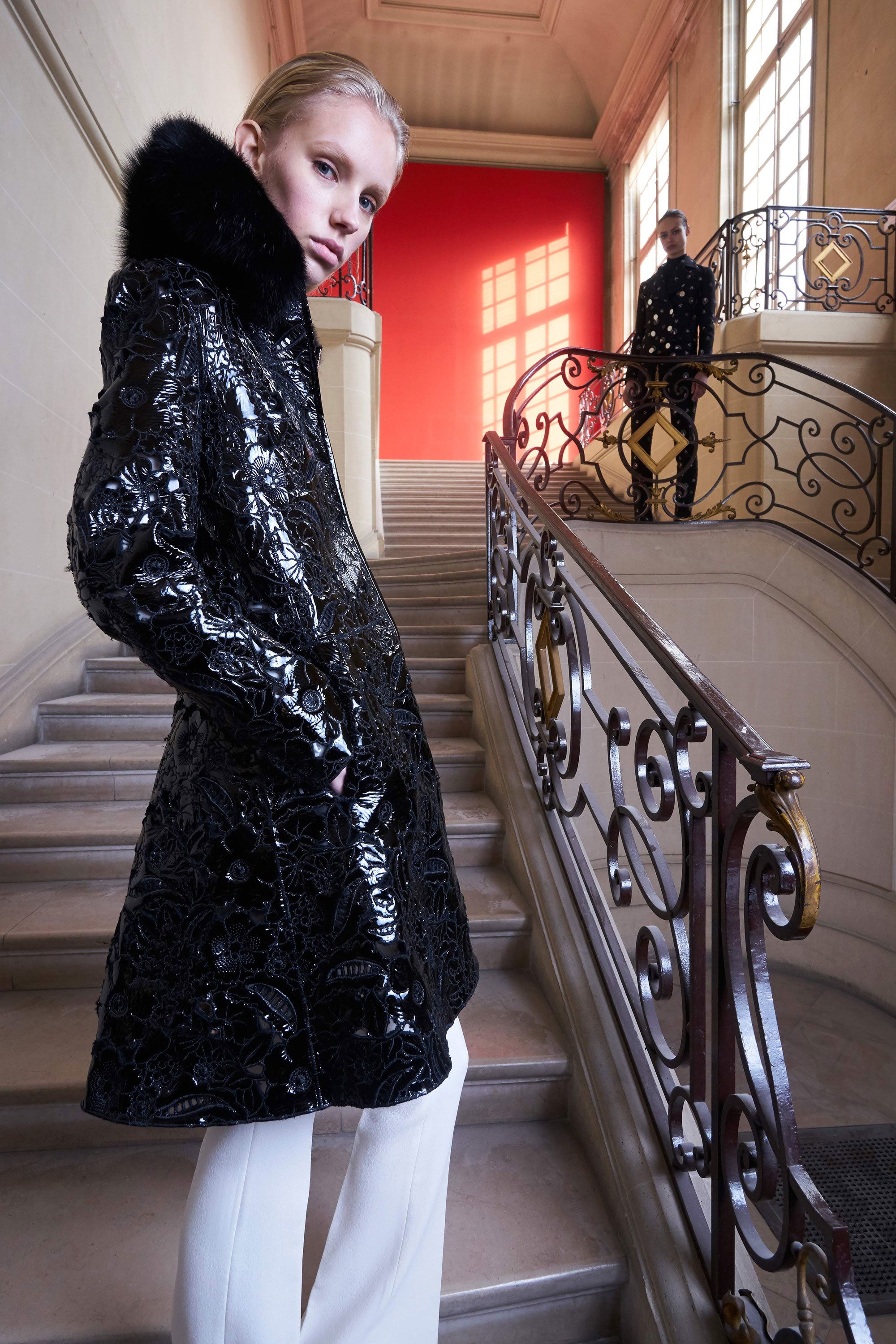 Courtsey of Giambattista Valli (Pre-Fall 2017)
Patent Leather 2017
When I first wrote about patent leather months ago I honestly thought it'd be a bigger trend by now than what it is. It'll hardly grow bigger now as summer is soon arriving and patent leather + hot temperatures is not a favorable combination. Perhaps it'll hit big in the fall? However, patent leather is partly trending and I'm happy about what we got. Patent leather has undoubtedly been big for shoes, a lot of OTK but also regular and Chelsea boots. Also, a lot of pants, mini skirts and accessories! The pants have mainly been regular cigar pants or even some culottes whilst the skirts have mostly been done in short version and with "edgy" details as zippers and studs. I feel like patent leather has so much more potential though and would be fun to see as a coat, a pleated midi skirt or why not a structured t-shirt? Patent leather 2017 feels like a great alternative to the well-worn leather pants as they're similar in their appearance. Patent leather with its more shiny feature feels like one step further though, as it reflects the light even better.
What To Think About
As with any match of material the one thing to keep in mind is: contrast. Contrast the materials you're working with a counterpart. As patent leather is quite the heavy material, and has some edge, lighter and softer textures will do. Why not patent and lace, or match with crochet? A knitted sweater to a patent skirt sounds terrific. Or denim and patent leather is interesting as denim is mattifying and patent leather is luminous (yup, I just went makeup terms). To all of you who love and are familiar with leather pieces (as skirts and pants that have been trending) keep the same styling hacks in mind but apply them to patent leather. There's a reason why leather is in the name of patent leather: they're that similar.
If you're unsure on how to incorporate patent leather in your everyday style, the key figure is to keep it toned down. As stated above, the material can be quite the shiny one, so keeping it toned down can make it wearable for more situations. For instance, if you're working the patent leather pants, add a long coat or cardigan to cover a bit of the shine. Or go full on knit oversize to make the contrast more about the mattifying feeling of the knit rather than the statement material you're working. Contrasting pieces, that are typical for the situation you aim to work patent leather in (like, for the office), are a great way of keeping it on the right side of the style. For instance, add a more preppy blouse or a blazer to keep it office-styled. Or go for a preppy top as in ruffles to keep it sweet. It's all about knowing what you want to communicate and adjust the styling thereafter.
An Outfit That Works
I know I've showed this outfit before, but it's too genius not to bring up again. I think it's a perfect example of how one can dress simple but yet remain fashionable and a matter of statement. The outfit is really just a sweater and skirt which sounds kind of ordinary. But the statement here lies within the material of the skirt, patent leather, and the fun details of the sweater. It's a great contrast of materials that highlights the best of one another, as talked about above. To  be noted is also the denim of the bag, which adds another fun layer of material. This outfit works perfectly for spring too as there's a balance of short skirt/warm sweater. I think the shoes works well too as they add a detail of leisure as well as connecting the colors. 
Folks! If and how are you working the patent leather 2017? A yay, nay? Drop a line or two in the comment section! Xx
Did you like this post? Hit The Share Buttons Below!