Folks! I don't know if you've noticed it but one prominent trend in specific that has emerged the past couple of months is the pantsuit trend. I must say that I have a major crush on this trend as it comes with the popping shades a d prints. Also terribly stylish with the more or less monochromatic style and a few details. I mean, it's a major YES! Anyways,  here's a #Trendalert on the pantsuits spring 2018: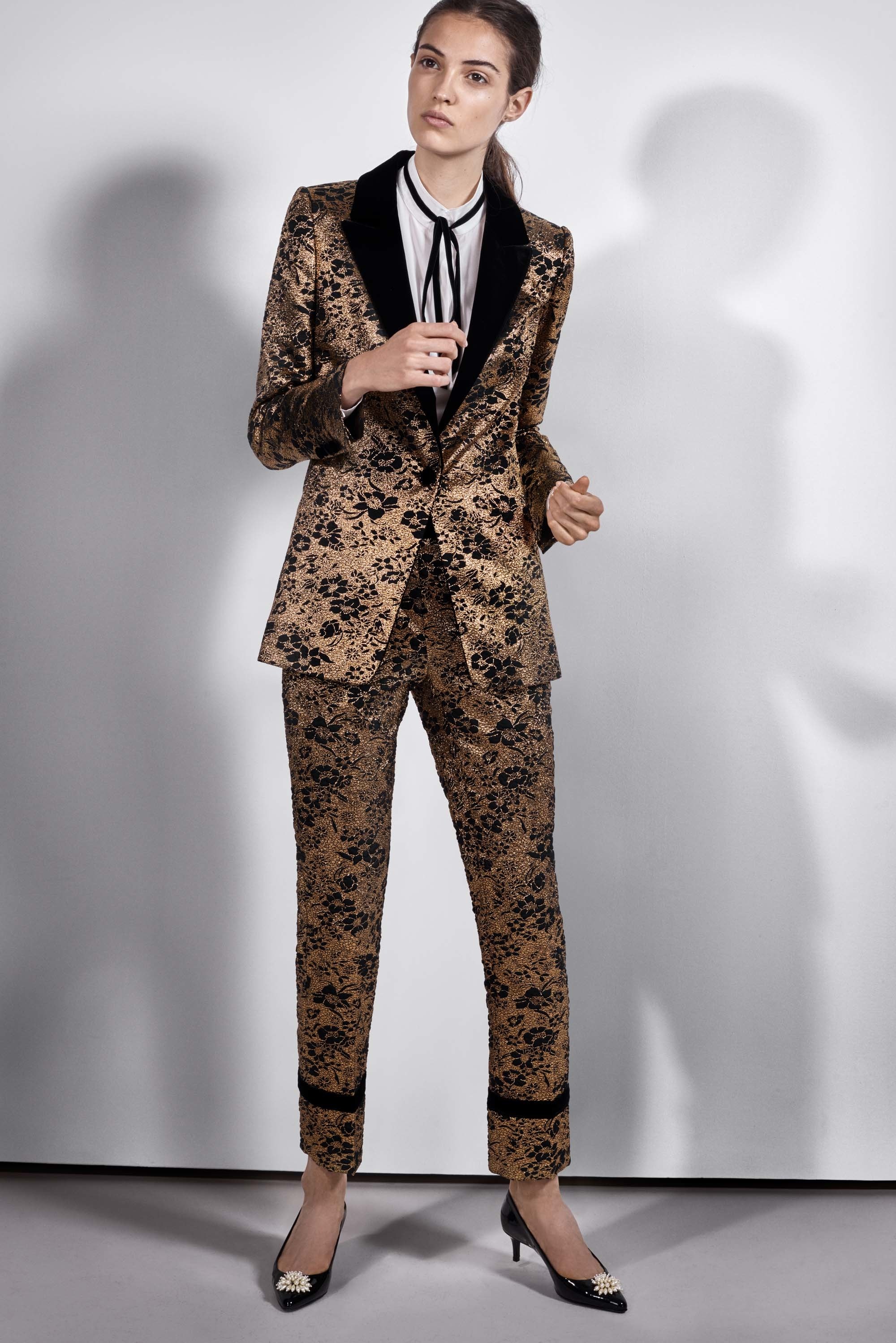 Courtsey of Lanvin | Resort 2018
Pantsuits Spring 2018
With the 1980s trend going strong, it's only logical that the pantsuits have done a full fashionable comeback in the last months. There's been plenty of different styles of the pantsuits on the runway, though many have been centered to bright colors as red, pink, pastels and bold 80s shades. The pantsuits have also been popular in prints, mainly with the check pattern and floral print being popular go-to looks. With a nod to the 80s there's been some emphasis on the oversized shoulders, but the navy style of the sailor blazer has been popular too!d The pants have either been about the cigarette style or flared. Victoria Beckham, Dolce & Gabbana, Altuzarra, Jason Wu, Tom Ford, Ralph & Russo, Dior and Céline are some designers that presented the pantsuits for spring 2018!
How To Style The Pantsuits
I personally think that a matching set of a blazer and pants is a wardrobe staple that everyone should have. The look is easy to style as most of the outfit is already done and is also great for more formal occasions. You can either dress the pantsuit up with a shirt/blouse and some refined shoes, or go more casual with a t-shirt and a pair of sneakers. Perhaps a black pantsuit, a grey or one in a neutral check pattern, are neutral options that you'll never get tired of. I think however that a floral pantsuit or one in your favorite color, are great options that challenges your comfort zone. As I've already said, the majority of the outfit is already done so you don't really have to fuss that much with how to match colors or prints. If you have a floral pantsuit, pick a color from the print and go for it as the top. If you have a colorful pantsuit, match it with a similar color, go for a neutral or contrast with a popping shade!
I think going for another texture, like lace or something else that's delicate will make up for a nice contrast with the often heavier material. As for shoes, the only shoes I'd avoid are boots that are higher than your ankle. Ballerinas, sneakers or heels are all great and fun options to the pantsuit. It all of course depends on what situation you're working the pantsuit in!
Some Inspiration
Here's some inspiration on how you can wear the pantsuits spring 2018. I, of course, adore all the colorful sets. They add a positive energy which is something we all need more of, right? I think the first look is lovely with the balance of the bright colors. The fourth look is also a chic one with the embracement of the office wear and the check pattern. See the look with the all red? Great way to mix materials and colors this spring!
Folks! What are your thoughts on the pantsuits spring 2018? Do you own one? Let's chat in the comments! Xx