Okey, frankly speaking, I don't know a time when oversized knitted sweaters haven't been trending. but here we are and the sweaters are kind of extra trendy this year! This is most likely due to the 1) 1980s fashion that's trending and 2) it's fall and people live in oversized knitted pieces basically. So here's a proper trend alert on the oversized knitted sweaters fall 2017!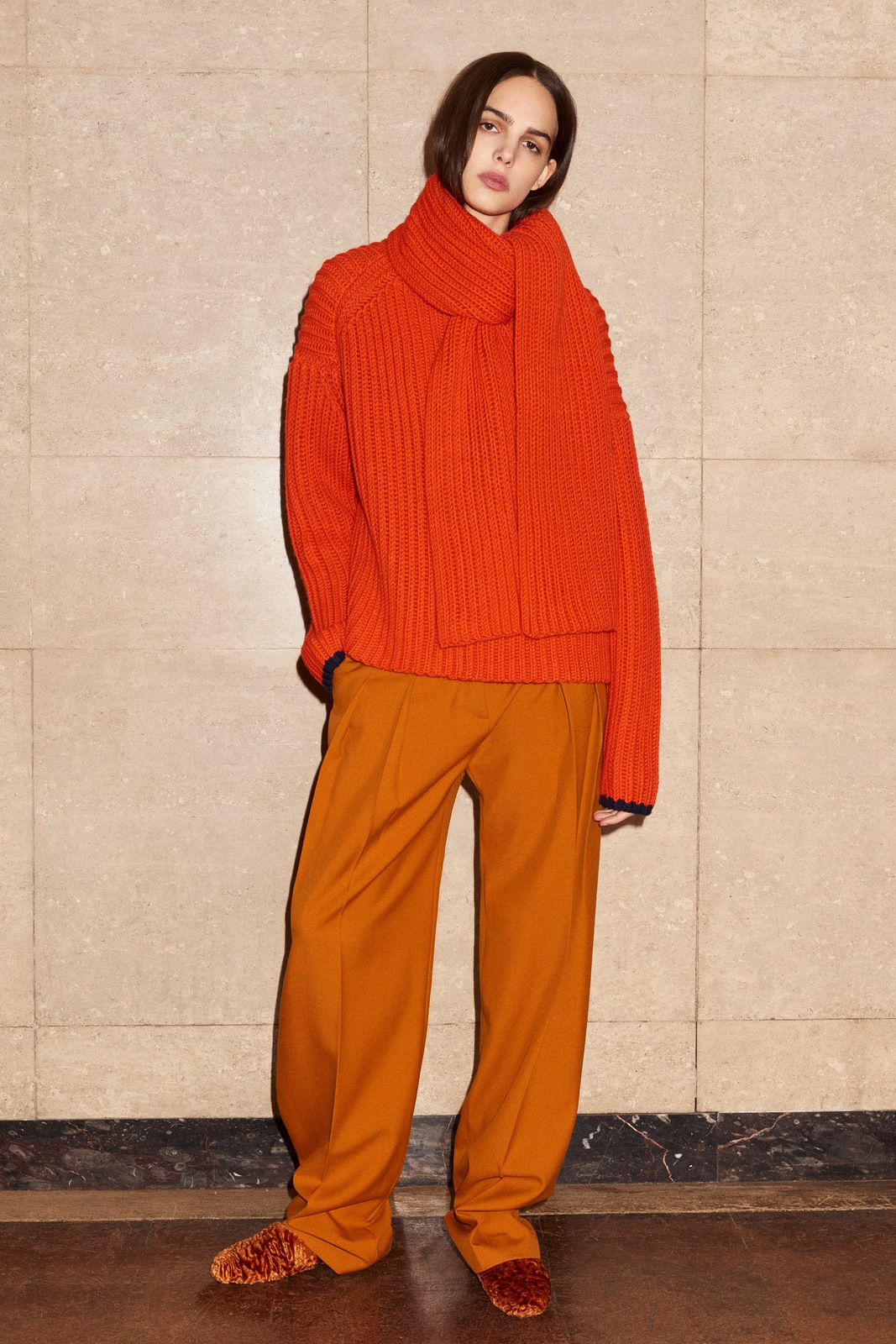 Courtsey of Victoria Victoria Beckham | Pre-Fall 2017
Oversized Knitted Sweaters Fall 2017
The oversized style for this fall season is mainly done in the sweater dress style, going a bit longer length wise. As knitwear is a rather neutral material and works well in different colors, the color of the season usually decides what the color the sweaters have. The hottest shade of fall 2017 is red, the red oversized sweaters are everywhere. Also other fall colors as burgundy, navy blue, forest green and mustard yellow are done in the style (lol, I'm wearing a mustard yellow oversized sweater as I write this!). Dries Van Noten went for the style and so did Sportmax, Emilio Pucci, Chloé and Sonia Rykiel.
How To Work The Sweaters
For better or worse, the idea of working the oversized sweater look is that you're kind of hiding your figure. This is cozy but also creates a figureless look which is not always what one wants to achieve. The main thing to be aware of regarding this is to contrast the outfit with more defined pants or a skirt. This will create some definition and balance all the fabric the sweater adds. If you want to go for culottes or a midi skirt, try to define the sweater with a belt to create a favorable silhouette. If the weather allows it, you can match your sweater with a mini skirt or shorts, that will also balance the silhouette. A simple way to create some definition is also to tuck in the sweater, at least partly in the front.
Another thing to think about is the statement the knitwear material adds. Surely it's a subtle one but it's definitely more notable compared to a simple cotton tee. As the knitwear material is soft and cozy, balance the style with other statement textures such as leather (faux) or patent leather. It adds a nice contrast. Catch this post if you want to learn more. To get even more specific, you should also, as always, think about what color or print your sweater is. Perhaps catch this post to match your fall colored sweater with a sweet breeze of summer?! 
A Stylish Outfit
Lastly, here's a stylish outfit!  I adore this outfit from several perspectives, it's trendy, chic and highly wearable. Also quite the easy one to try yourself as it only consist of two elements. The main idea behind the outfit is to contrast the textures of the clothing pieces. Match the soft texture of the sweater with patent leather. This outfit also shows that it's a good idea to mix textures when going monochrome as it makes the colors appear more dynamic. Don't forget to tuck in the sweater slightly to keep the casual look intact. As stated, you can easily recreate this outfit yourself. It's trendy and wearable. You have the trendy red shade, you have the patent leather and you have the monochromatic style. 
Folks! How are you pulling off the oversized knitted sweaters fall 2017? Are you going for the cozy life or are you keeping it trendy? Let's chat in the comments! Xx