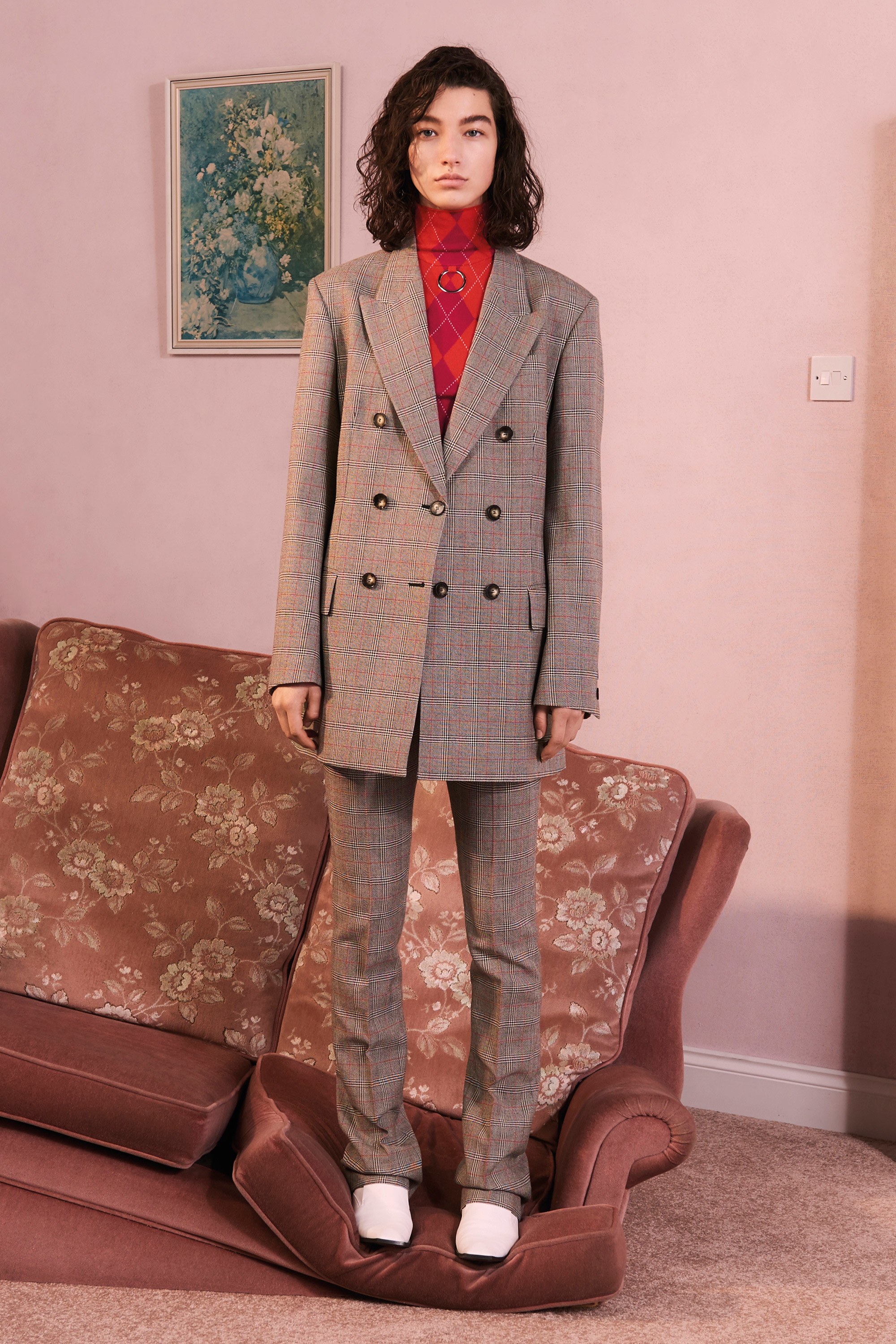 Courtsey of Stella McCartney | Pre-Fall 2017
Time to start talking more precisely about the fall fashion trends 2017 (catch the full guide here). One trend that seems to have exploded the past weeks (!) on social media and amongst fashion bloggers is the oversized check blazer. It was, of course, displayed on the fashion weeks in February/March but seems to have reached street style level too! Here's a trend alert on the oversized check blazers fall 2017:
Oversized Check Blazers Fall 2017
Just recently in the fall guide did I talk about the check blazers and what they were styled like for the runway shows. Jason Wu went for a full set, matching blazer and pants. Stella McCartney went for an office look and Alexander Wang added a touch of street style. Let alone that the blazers feels a bit 80s, most designers further emphasized the style with loose clothes and 80s details. Think 1980s power woman with voluminous hair, gold earrings and a turtleneck? There you go!
How to style the check blazers fall 2017
Don't be afraid of the old dusty print nor the statement shoulders with this piece, it's a fun piece to style! There are things one should think about though, like the details mentioned above. The statement shoulders can create an inverted triangle look. This means that you should think about the styling tricks when working that specific silhouette. To start with, add some volume to the lower part, or definition. Either go for high waisted pants with a tucked in top or a voluminous skirt. Flared jeans or 70s statement will also do, just don't forget to add the heels! Cigarette pants can also be a great alternative as well as culottes if you want to go for a loose silhouette.

Regarding colors/print, the traditional style of the check blazer (which is the one trending) has a tendency to look a bit posh, dull and dusty at the same time. So to awake the look it's about contrasting with unexpected colors and materials. Denim is, as you've probably have guessed, a great contrasting texture with its street style and youthful touch. Patent leather is a bold and statement making one, perfect to dare!

For colors, go discrete with the same colors used in the check pattern. Beige, a subtle orange, green and grey are some shades usually used! Fall colors are also a terrific match and obviously perfect for the season. White is a great contrast and so is red! To avoid a complete 80s disaster I'd skip pastel shades. If your oversized check blazer is grey, neon shades can be a fun and exciting contrast!


A Chic Outfit
Is it even possible to say no to a full set of a check print? Uh, think not! That's mainly where the geniusness of this outfit lies, as the print reaches its full potential when it's done top to toe. The colors of the print is rather dark, which the crispy white tee contrasts perfectly. The red wine bag complements the darker fall colors of the set, which highlights the colors further. Also notice how the sleeves are styled, adding a more casual vibe to suit! Conclusion from this look? A check blazer with matching pants will definitely have you covered style wise this season.
Folks! What are your thoughts on the oversized check blazer fall 2017? A yay or nay for the trend? Drop a comment below and have a darling weekend! Xx