So the sweet life of the suits are back in full force this year too! The best thing about suits is that they're fairly easy to style, creates a proper look instantly and are fun to work with more casual elements. This year the suits should be cohesive in color, or print, so here's a trend alert on the monochromatic suits 2019!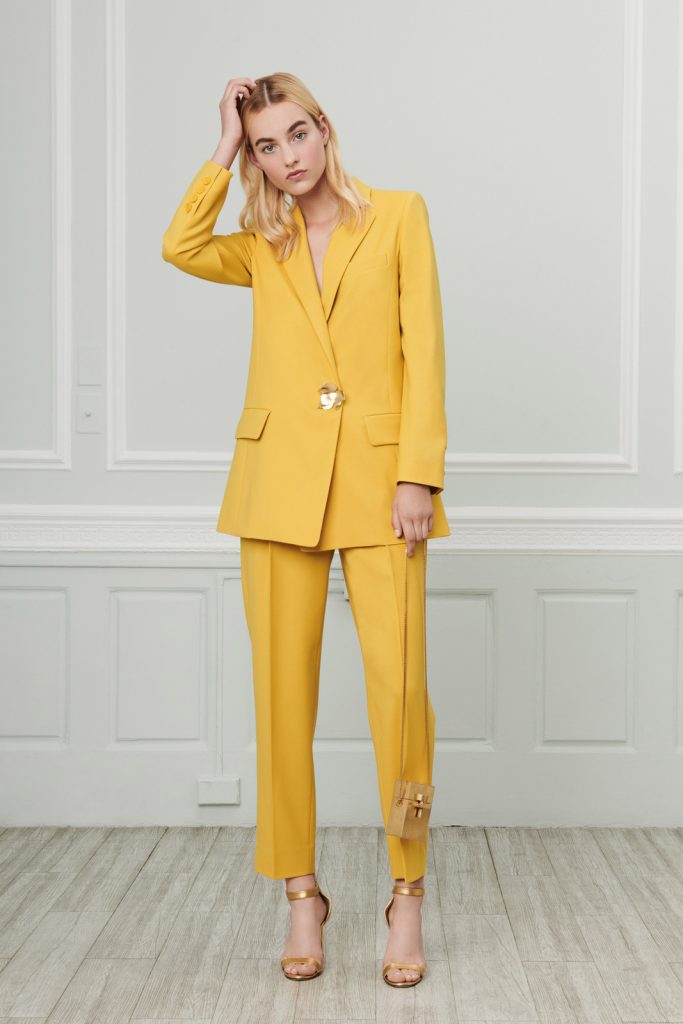 Monochromatic Suits 2019
There's nothing like embracing one print or color from top to toe and this is exactly what should be done this year. The monochromatic suits are all about going for the colorful life. The colors we're seeing this year is mainly red, yellow, purple and pink but more classic shades of grey, white and beige are also popular. Pastels for spring will also be major, for sure. The prints are more unspecified, but a good ol' polka dot print á la the 1980s is a trendy one as well as going for more retro geometric ones. A more subtle print will surely make it more classic as you probably won't grow tired of it as quickly. A check pattern can therefore be a stylish alternative. The suits can favorably be done in a more silky material or a velvet one!

How To Style Them
There are so many fun ways you can style the monochromatic suits 2019! You can either go classic with a shirt under. A white will contrast well whilst a colorful fun will make a good contrast. Going for a simple t-shirt and some sneakers will make the outfit more casual whilst a blouse and some heels or embellished shoes will give a preppy touch. You can also go for a bralette if you want to make it more glam. I suggest choosing a silky material or lace to make the contrast enhanced and by doing so, create a more dynamic outfit. Adding some boots are a good idea to make the outfit a bit edgy and appropriate for winter too! As stated above, the suits are easy to style! From a sustainable perspective you can of course also use the blazer and the pants separately which will give you even more outfit options.

Street Style Inspiration
And here's some street style inspiration to get the inspo going! Love the purple check pattern and the casual way of pairing with a simple white t-shirt. The second look is really chic with the retro pattern and preppy with the blouse. Love how the pink highlights the pink in the pattern. In the third outfit the printed shirt adds a nice dynamic to the blue suit, a great fashion hack to do if you want more energy in your outfit. The pastel shades in the two last outfits feels so fresh and relevant for spring. A great way of embracing the warmer season but still do it with layers!

Folks! What are your thoughts about the monochromatic suits 2019? Let me know in the comments! Xx