I can't think of a better way to start December than with a trend alert on a very festive clothing piece; the metallic skirt! The metallic skirt 2019 is a glam fashion statement and one that surely will light up the December mood. Read more about the metallic skirt below and find more trend alerts here!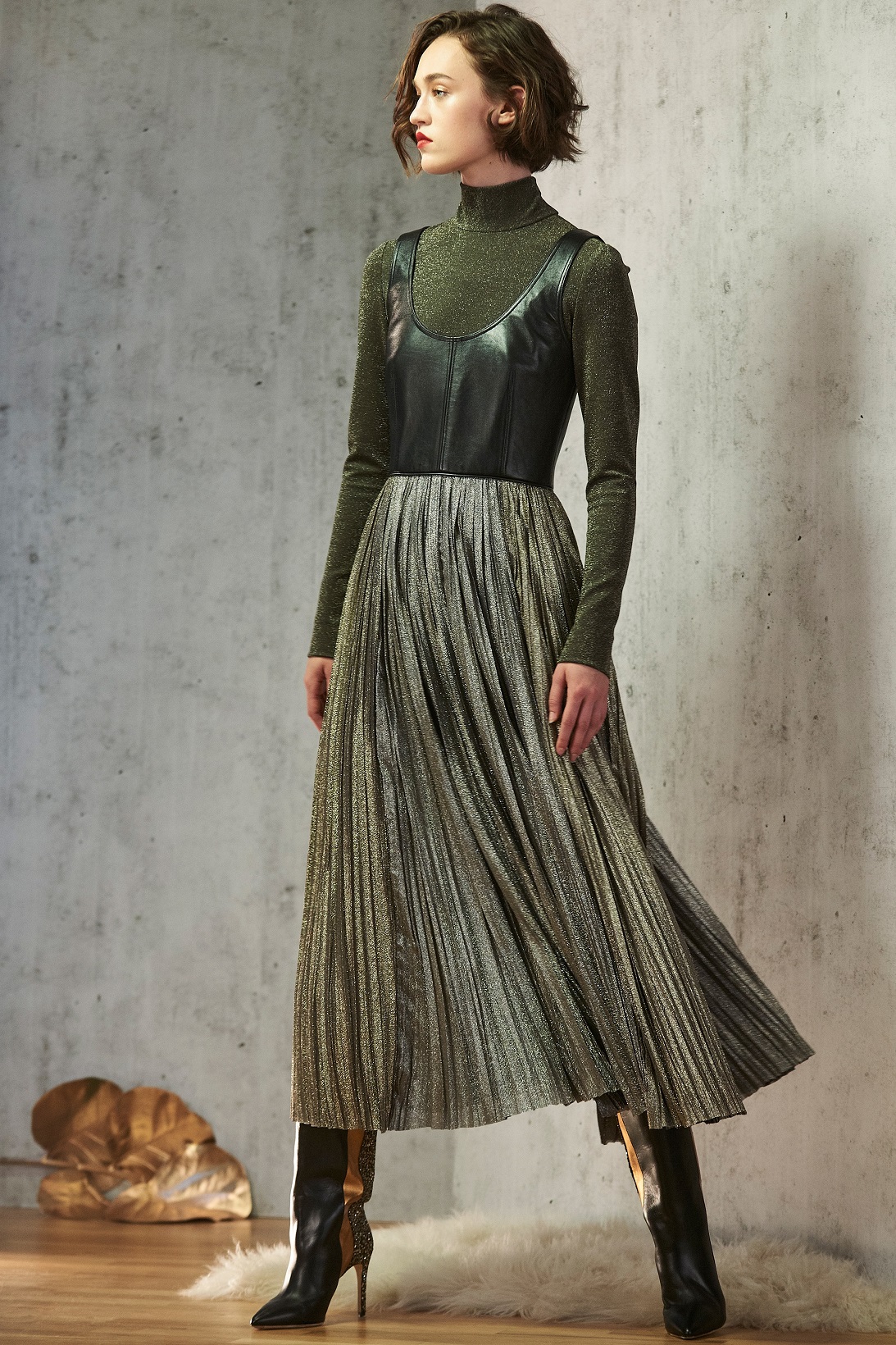 Metallic Skirt 2019
So this glam clothing piece is quite the artsy one and perhaps not for the everyday life (unfortunately)! The statement of the metallic fabric, or the shiny sequins, the skirt often comes with, is a fun pop of fashion. Especially when done in vibrant colors such as pink, yellow, purple and green, which is the case of this season! The metallic skirt 2019 is often midi length too, which makes the fashion statement even bigger. The silhouette has often been done traditionally straight or like a classic A-line. I've also spotted a lot of skirts done in a pleated style. 

How To Wear The Metallic Skirt
I understand if a statement piece like the metallic skirt can feel a bit overwhelming with both a loud fabric and color, but I must say that they're easier to style than what one might think. First of all, when you're styling clothing pieces that are vibrant, you have to balance them. You can do it by a color, structure or level of informality. In case of the metallic skirt, it can be chic to pair it with a simple white t-shirt to "neutralize" the glam level. A college sweater can also be fun and unexpected, whilst a knitted sweater is chic from a material perspective. The metallic skirt can also be stylish to do with more light, transparent clothing pieces, such as organza. A leather jacket will add a bit of an attitude whilst a blazer will add a nice structure.  If you want to elevate the glam look, go for a blouse with statement sleeves or one in a fun print! But above anything, if you were just to focus on one thing: pair the metallic skirt with an informal clothing piece (t-shirt, sweater, leather jacket etc). 

Street Style Inspiration
And here's some stylish outfits from the streets! I love Olivia Palermo's outfit with the nice contrast of the sequin skirt and the jacket. The second outfit is really chic too. Love the voluminous blouse with the pink sequins. The navy blue color is really chic with the pink skirt in the third picture. I also love the pop of yellow in the fourth outfit. It contrasts the silver colored skirt in such a stylish way. Love the intensity of it and the glam attitude of the skirt. The fifth outfit is really fashionable with the floral metallic skirt, so casual chic with the shirt! 

Folks! What are your thoughts on the metallic skirt 2019? Let me know in the comments below! Xx