One of perhaps the most unexpected trends this year are the knitted vests. Not mainly the knitted vests that are open in the front, but the version that looks like a sleeveless sweater! The knitted vests 2020 are all about that casual, preppy, look. Find more trend alerts here.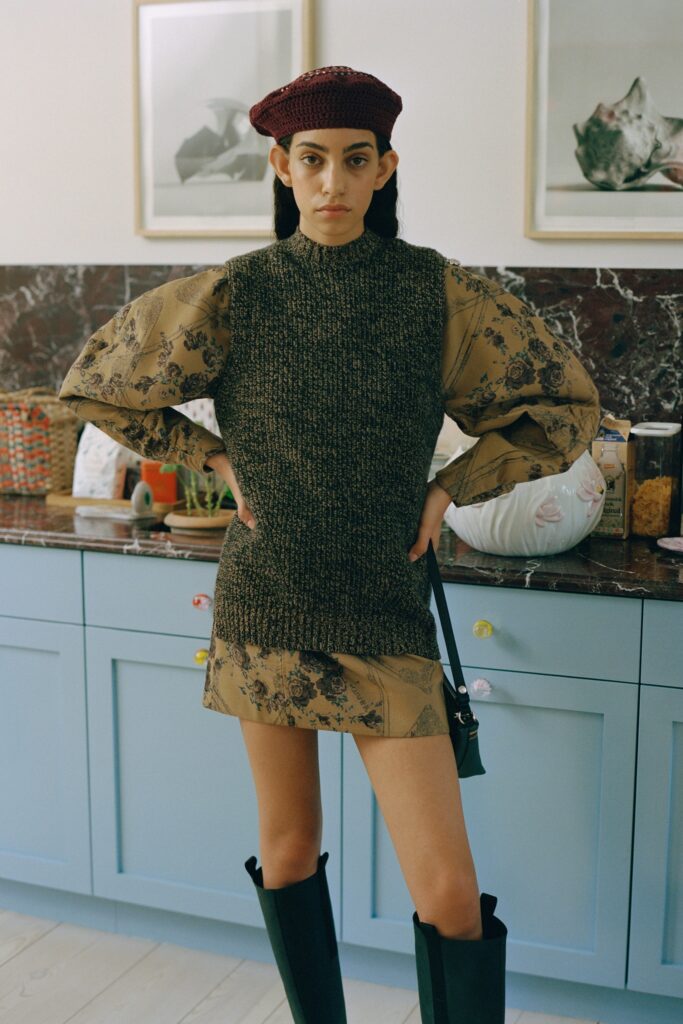 Knitted Vests 2020
The knitted vests 2020 are all about that late 80s/early 90s vibe. They're often cable knitted, comes in bright shades and sometimes patterned. White, beige, and grey are common colors. A romb pattern, or some kind of check pattern, are rcommon as a pattern. The knitted vests are often a bit oversized and hitting around hip-length. Some vests have also been done as dresses, often hitting mid-thigh, or even longer. 
How To Style Them
It's been common to pair the knitted vest with shirts. The shirts are often semi-unbuttoned and also a bit oversized. I'd say this way of working the knitted vests have been the most stylish one yet. Some people have been layering the vests over t-shirts and dresses, but going for that casual preppy look with the knitted vest and shirt has been the go-to look. The color scale has often been quite bright with either light blue or white shirts. This duo has in turn been paired with skirts, OTK boots, jeans and high-waisted pants. I think indeed it's chic to go for the shirt and vest duo, it's something a lot of people can recreate. I also like the idea of just layering the vest with a fitted long sleeved top. Doing the vest over the shirt dress can also be chic. With this said though, I don't think this trend is here to stay, so if you're not completely head over heels – perhaps skip it! 
Street Style
And here's some street style inspiration, as always! Gorgeous how the first vest reconnects with the rest of the outfit through the blue color. Absolutely love this outfit. Love the white on white combination in the second picture, really chic with the casual, oversized outfit. The third look is such a fun statement. Love that the outfit is kept fairly neutral but the sweater vest is making a pop. The colorblocking in the fourth outfit is also really entertaining. Gorgeous with the contrasting colors, that are kept pretty minimalistic sans the details. The last outfit is way more advanced but it works with the white color being present in all parts of the outfit. Love the maximalist vibe!
Folks! What are your thoughts on the knitted vests 2020? Let me know in the comments below! Xx