I've already talked about the knitted dresses on here several times, but this one is about the knitted dresses 2023! What do they look like? How should you work them? Are they worth the investment? Here's a trend alert on the knitted dress 2023: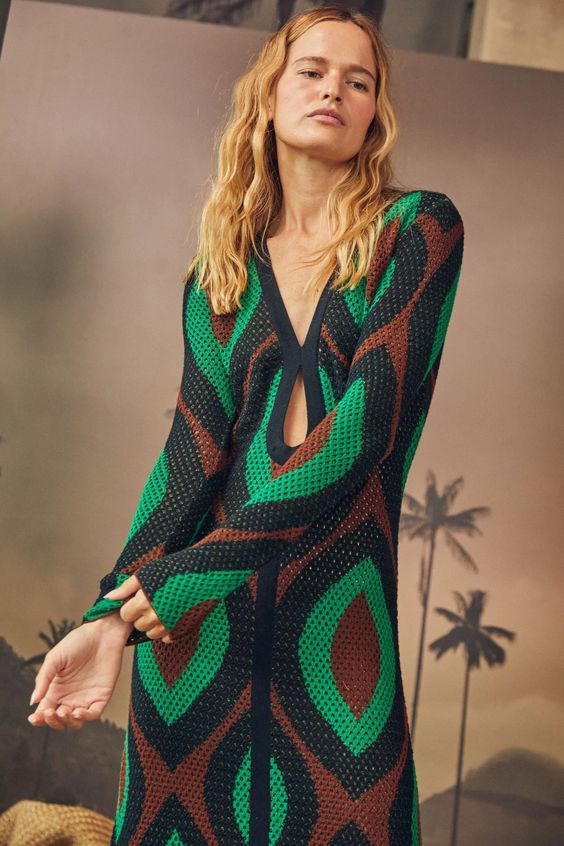 Knitted Dress 2023
The knitted dress emerged as a popular item 2–3 years ago. I'm not fully sure what is due to its success, but the love for knitwear resurfaced during the pandemic, so it's logical if the knitted dress is an extension from that. There's also a 1970s connection to its popularity, which is might what make it popular again. Anyway, the style of this popular item has mainly been about the midi length and long sleeves, but lately we've seen versions of cropped dresses as well as sleeveless looks. Overall there's a classy and bohemian vibe over the dresses, with the silhouette often being pretty defined and fitted. I'd say basic shades such as beige, white and black have been the go-to colors, but lately hues of blue, pink, purple and green have been used. 
How To Style It
As with anything knitted, it's sort of a semi-statement with the texturized look. That's why knitwear is stylish to pair with other statement materials such as denim, faux fur, leather or organza. A leather jacket over a knitted dress is a pretty good start. Also focusing on the accessories, such as adding OTK suede boots or a faux leather vest over will also do your look good. It can definitely be favorable to add some more glam details, such as earrings or a statement necklace, to avoid the casual look of knitwear. And as always, make sure to maximize the color of the dress. Either by contrasting it or to maximize it in a monochromatic look. 
Street Style Inspiration
And here is some street style inspiration! I love the vibrant style of the first dress. Even better that the orange hue in the stripes is elevated with a matching handbag. Also love the sunglasses, very trendy but chic. The layered look in the second pic is a great example on how to work knitted dresses that are transparent. Love the chunky sandals for a fun contrast. The third pic is very pretty with the off shoulder look, love the simplicity with the black accessories as well. As for the fourth outfit, the pattern mix with the sandals and dress works so well with the blue color in common. The final look is very chic with the matching green set, and love the contrast with a chunky patterned clutch. Perfect way to balance the cozy style of a knitted set!
Folks! What are your thoughts on the knitted dress 2023? Let's chat in the comments below! Xx