One of the best things about fall fashion is the focus on different materials. The summer fashion is more limited due to warmer temperatures whilst fall fashion is explorative with the layering and warm materials. Fabrics that keeps you warm have been essential in fashion history.  Back in the days, fur, leather and suede could be the difference between life and death (how dramatic it may sound). Anyways, back to the point – fall materials are fun to explore and one material that's made a comeback this year is corduroy. So here's a trend update on corduroy fall 2018: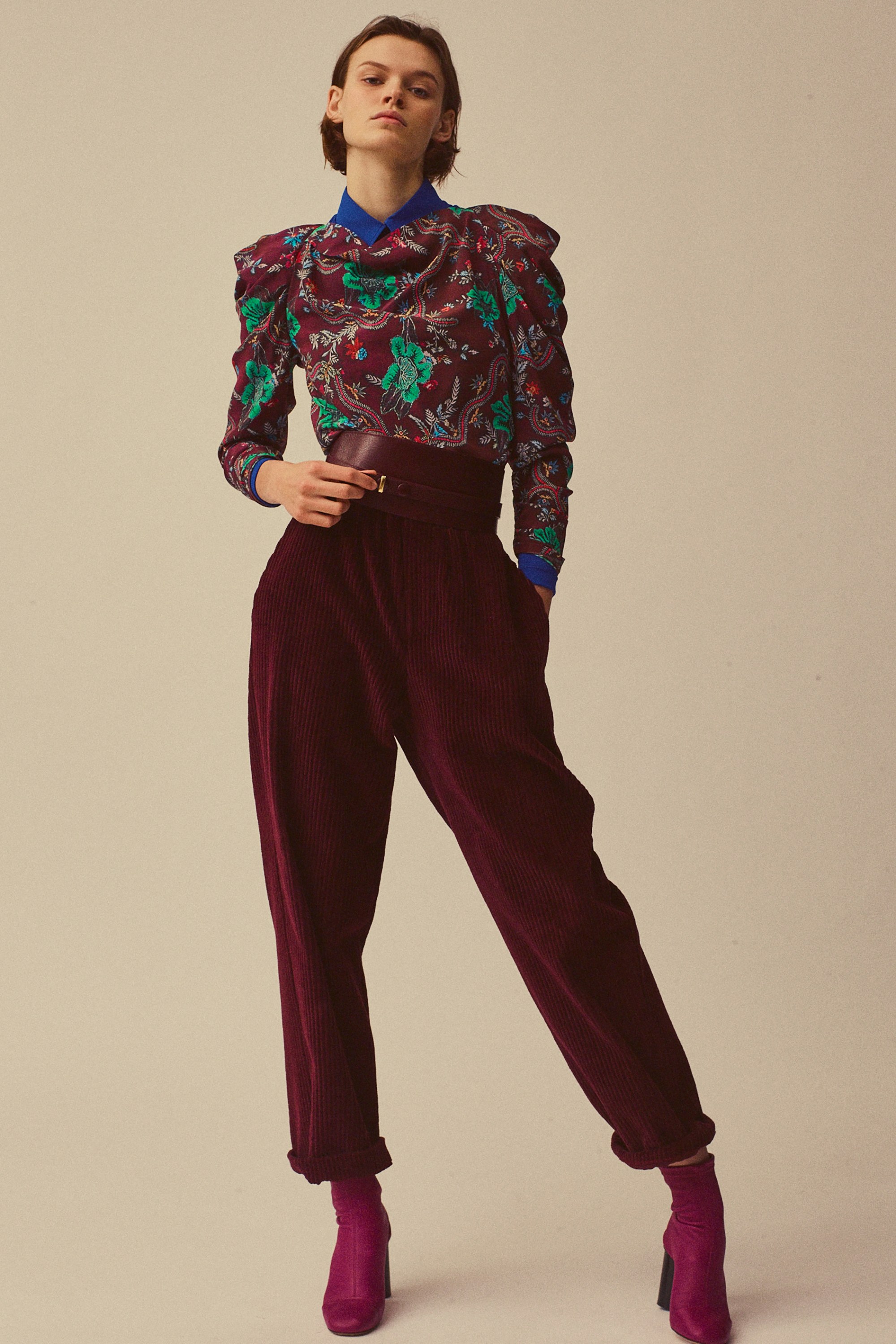 Courtsey of Isabel Marant | Pre-Fall 2018
Corduroy Fall 2018
So corduroy found its way back to the fashion scene through the revival of the 90s fashion. The history goes way back though and the material is also associated with the 1960s fashion as well as the 1970s. Skirts, pants, jackets and hats are all popular items to work in the material. Shades of blush pink, camel, tan, black, white and red are colors that are usually used, at least in this revival. The material undoubtedly has a retro vibe to it, especially when done in brown as it is closely associated with the more bohemian fashion of the 1970s. Imagine an outfit with brown high-waisted corduroy pants, a brown/orange colored paisley blouse, a pair of platform blouse and a bakery boy hat. There you have a pretty accurate image of a typical outfit of the 1970s. The corduroy fall 2018 embraces a similar vibe, but is naturally going for a more contemporary and edgy look with trendy details such as statement sleeves, patent leather and sheer fabrics.
How To Wear Corduroy Fall 2018
The best way to work corduroy fall 2018 is to focus on materials. Mix and match different materials in one outfit and don't be afraid to stick to one color. Like camel colored corduroy pants with a brown leather jacket for example! As the material can feel a bit dusty, it's also a chic one to level up with a more preppy look. Like a sheer blouse, a nice silk top, some lace details or a turtleneck – just to create a better dynamic in the outfit. A faux fur jacket will be a fun retro statement as well as a baker boy hat. Also love the idea of pairing corduroy fall 2018 with dusty/dove colors such as camel, copper, dove blue, mustard yellow, dusty pink and a soft orange. This of course depends on what color your corduroy clothing piece comes in, but if you're working a classic in camel/brown/blush – try the dusty shades. The fall colors are for that matter also an interesting match, especially the darker and colder shades of teal, forest green and navy blue!
Street Style Inspiration
Lastly, here's some street style inspiration with corduroy! First of all, how cool isn't the jumpsuit in the first outfit? Chufy is so stylish. The monochromatic looks in the second and third photos are also really chic, with a crispy white tee that works as a nice contrast. The orange color in the fourth outfit is really cute and so is the green and pink one in the fifth outfit. See how the texture of the knitted sweater pops better with corduroy? Perfect way to mix different textures! Xx
Folks! What are your thoughts on corduroy fall 2018? How are you wearing that item? Let me know in the comments! Xx