Dis the season to be jolly and also colorful! I've written quite a lot about the statement sweaters this past year. Statement as in creating an it-effect, statement as in chunky or statement as in colorful. Today's article is all about the latter, what the colorful sweaters are about and how you can style them this winter. To get started though, read the article on the chunky sweaters here. Here are the colorful sweaters winter 2018: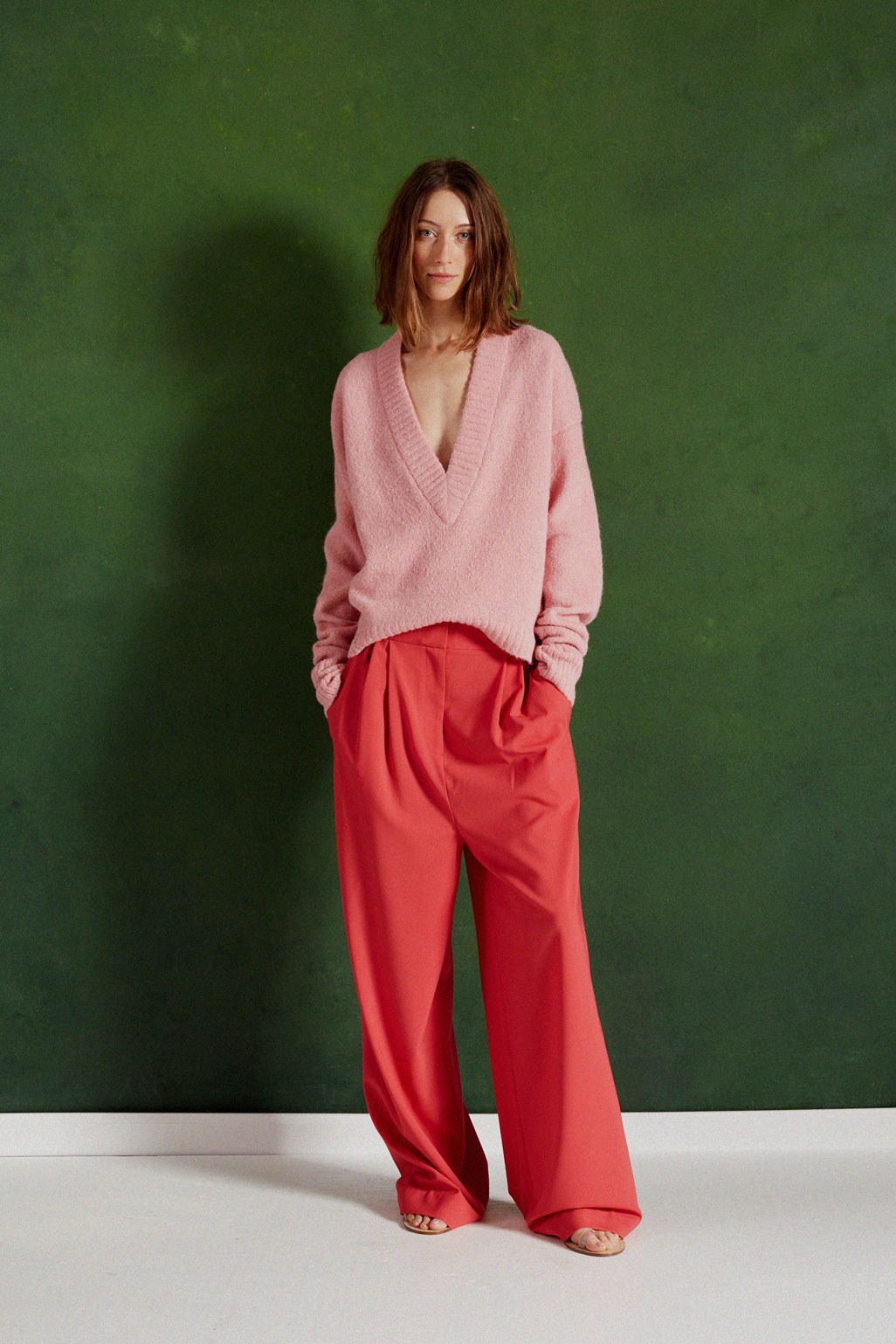 Courtsey of Tibi | Pre-Fall 2018
Colorful Sweaters Winter 2018
The fall and winter seasons might not be the most colorful ones. When the temperatures drop its easy to turn to black and grey, warm jackets and just layer everything up. What we all need more than anything though during the darkest months is color. Colors possess an amazing ability to change one's mood and interpretation, which is why we need to use that in our favor. Color psychology when done in sweaters this winter can be all about the typical fall colors, but also copper, mauve, neon shades, apple red, lilac or just anything that makes that pop! This is also, truly, the best part about this trend as it's flexible and highly likable that you'll find a shade that you enjoy and love to wear. To give it that interesting touch, don't be afraid to choose a sweater with some interesting details (like a nice knitted pattern, some bows, statement sleeves), or just be sure to match it with interesting materials (find some ideas here). To keep the holiday spirit alive, why not go for a bright red or cute one with a seasonal motive?.
How To Style Them
It's difficult to give generalized styling tips when the trend itself is pretty undefined. When it comes to working statement colors, it's all about balancing – or enhancing – that shade. One way to balance is to match with neutral colors (like grey, black, white and beige) or to match in the same color scale. If you're for instance working a dove blue sweater, it's a good idea to pair it with navy blue and other blue shades to "neutralize" the intensity of the dove blue. If you want to enhance a color, or just make a color-statement out of it, pair it with other popping shades. For instance, red and pink is a really interesting duo. A Klein blue and an emerald green is also a good combination. Read more about awkward (aka interesting) color combinations here, here and here.
Another thing to keep in mind when working sweaters, especially statement ones, is that they can be a bit chunky and voluminous. That's why it's a good idea to pair them with defined pants or skirts to give the outfit a good balance. You can also tuck the sweater in in the front to give the outfit some structure. Read more here about the statement sweaters.
Street Style Inspiration
Lastly, some inspiration to get this trend going. The first outfit is really chic with the combo of the chunky sweater and the skirt. Gives a good balance of two completely different textures. Love the sleeves in the second outfit, a really chic match with the distinct yellow and simple black skirt. Way to go to keep it basic and wearable! The third outfit is a cozy one for fall with the different textures and the stylish boots! Note how you elevate the fall feeling by adding fall elements (such as the boots). Love the fourth outfit with the all red look, a great way of emphasizing the color! The last one is done in a similar way and incredibly chic too!
Folks! What are your thoughts on the colorful sweaters winter 2018? Let me know in the comments! Xx