I was going to save this post for later this month, but I feel like fall needs to be welcomed and what's a better way to do that than a post on the chunky sweaters fall 2018? I want them knitted, colorful and done in the voluminous style. So here's a trend alert on chunky sweaters fall 2018: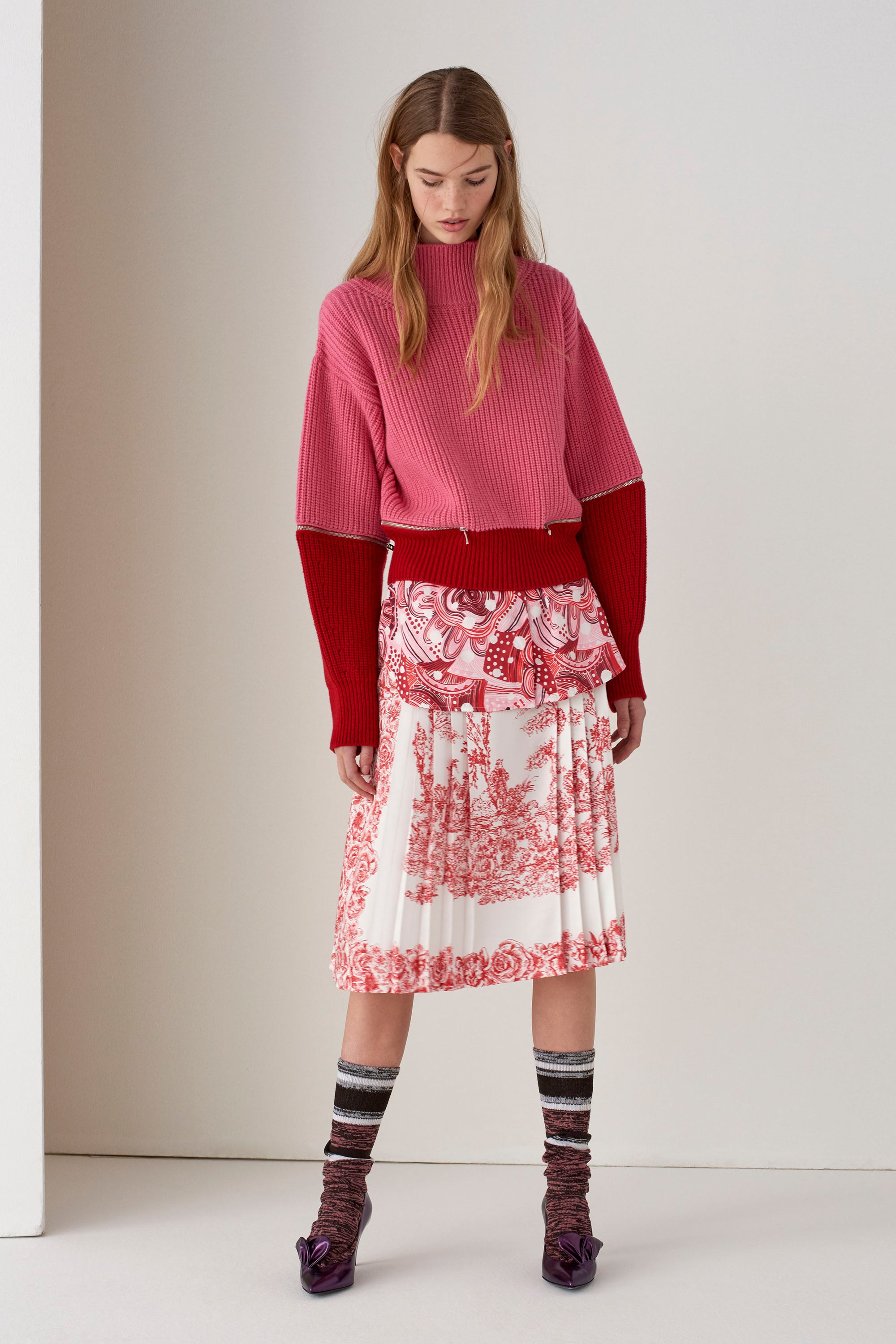 Courtsey of Dondup | Pre-Fall 2018
Chunky Sweaters Fall 2018
The 1980s fashion is not everyone's cup of tea, but I'm sure we can agree that some of the trends that have re-emerged through the revival of the 80s are more than welcome. One of them is the chunky sweater that's likable, wearable and functional. Everyone loves and probably owns a good sweater. It keeps you warm, it adds the cozy feeling  and it works with anything. The chunky sweaters fall 2018 are more than just a regular, defined sweater, but often oversized, knitted, with a turtleneck and voluminous sleeves. The most popular colors are purple, red and blue but other colors are quite frequent too. Think the primary colors of the 80s as well as the pastels. The main idea is that the color of your sweater should be anything but neutral! You can also go for a sweater in a funky print or one in an animal print if you want to embrace the 80s trend.
How To Work Them
As already stated, the chunky sweaters are wearable which means that they're easy to style. I know that the voluminous style can be unflattering, but that's also sort of the point with the current trends. Fashion is not only about working what's flattering, it can also be about working what's comfortable or fun. As I wrote in this article, the fashion trends this fall is about letting it be awkward (as an example, see the resort look from Dondup pre-fall 2018 above). The chunky sweaters should be paired with the midi skirt or the culottes. It can be layered with a shirt or paired with statement-making accessories. If you want to keep it more neutral, go for the skinny jeans or an high-waisted style to balance the volume. If you want to keep it trendy, mom jeans or skirts of longer lengths will do. As for the colors, dare to match with the fall colors or go for the awkward color combinations (find some inspiration here).
Street Style Inspiration
Lastly, here's some street style inspiration for the chunky sweaters fall 2018. The pink match of sweater and skirt is adorable in the first look.  Love the bold color combination in the second look, so chic to go for a bold green and yellow. The blue statement is also really chic of the edge when you match a bold blue and a classic black. The fourth look also demonstrates the awkward style that fashion should look like fall 2018, layered, voluminous and colorful!
Folks! What are your thoughts on the chunky sweaters fall 2018? Let me know in the comments! Xx