I don't know if this #TrendAlert is properly or so, as classics aren't really trendy, but always there. You know? Well they are a bit trendier than usual every now and then and this time the camel color seems to be everywhere! I've talked about it a lot lately too and I'm surely in awe of the classic shade as well. Here's a trend alert on the camel color: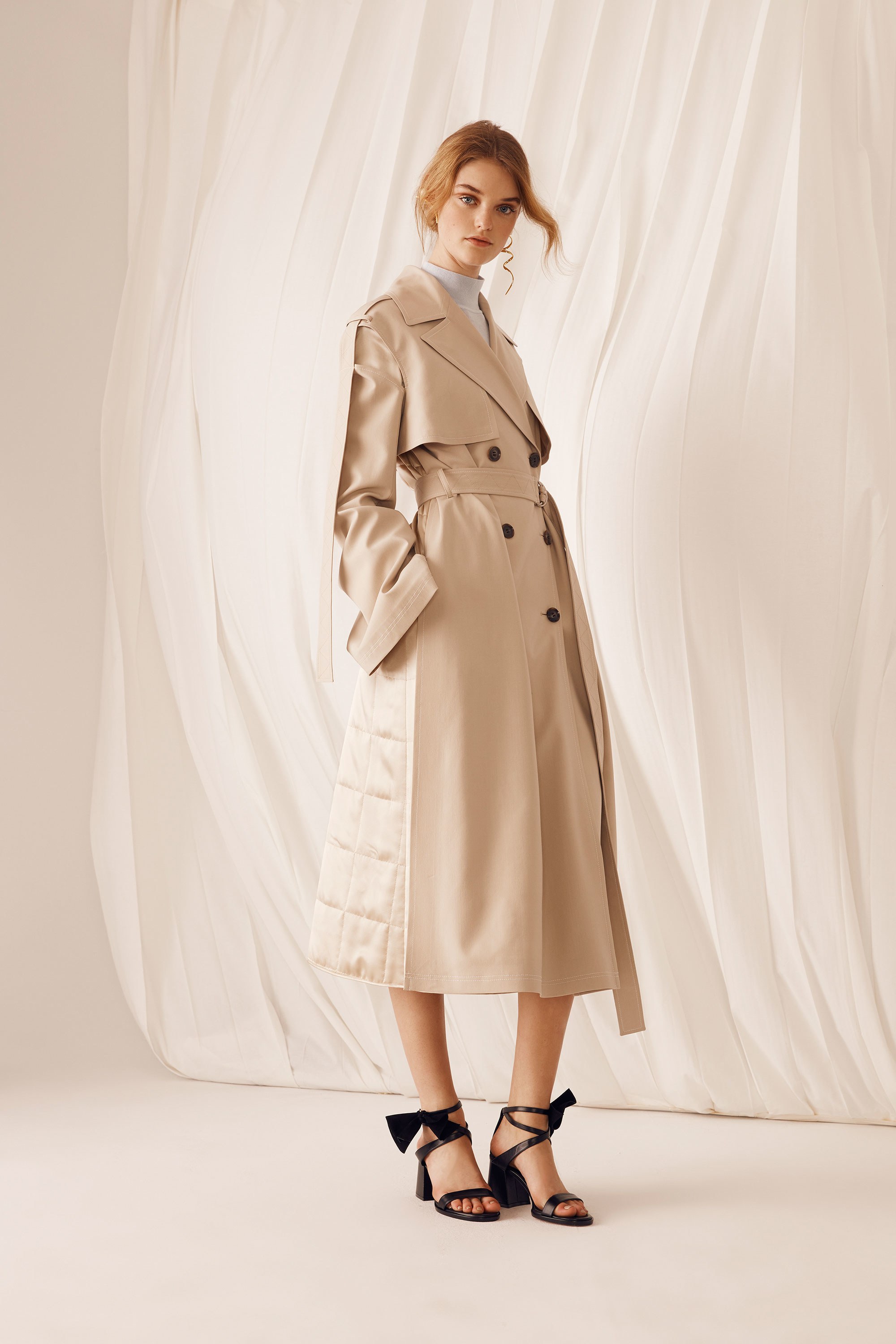 Courtsey of Adeam | Resort 2018
The Camel Color 2018
If you think about one clothing piece that the camel color is mostly used for, I'm sure the majority of us can agree that it's either a coat or the trench coat. As both of these items have been increasing in popularity the last seasons, the camel color have naturally followed along. There are of course other ways the popularity of the camel color in 2018 can be explained, but the outerwear is definitely in focus. The color has also been widely used for sweaters and is also common classic when used for shoes, belts, bags and hats. It's simply a neutral and classic to count on! Max Mara worked the camel shade for pre-fall 2018, going for a full monochromatic look. Thom Browne went for a cape style in camel, Jil Sander went for a knitted turtleneck dress. Céline, Alexander McQueen and Valentino all went for the trench coat style for SS18!
How To Style Camel
I honestly think camel is one of the most fun and challenging colors to style, though it's "only" a neutral. One of the main reasons behind it is probably due to the kind of awkward way camel matches with the popping colors. Surely a Klein blue or red works with camel, but the combination is awkward indeed. The cold, intense, blue of Klein blue doesn't really match with the warm, mild, shade of camel – but clashes. That goes for other popping colors that are intense and have a cold tone. You can work them, but know that they're a statement. I think the only exception to this is orange that blends elegantly with camel. 
Camel is on the other hand terrific when it comes to matching with other earthly shades. Camel with olive green is magic and so is a match with copper, brown, off white and a pale blush. The pale camel is also a great one with navy blue and forest green. If you want to go monochromatic this spring I think camel is one of the best colors to do so with. Match and contrast the look with darker and lighter shades of camel and you have a fashionable look! Black and camel surely works, but brown and camel is an even better match. Why not a camel trench coat and brown cigarette pants? It's a match!
If I were to avoid camel with one color, I think it'd be yellow and all shades of it. They are weirdly enough too similar yet opposites. In other words, quite some styling effort is required to pull it off effortlessly!
A Chic Outfit
Lastly, a chic outfit. I honestly don't think you can get a look trendier than this one atm. You have the trendy clothes: trench coat, turtleneck and the OTK boots. You have the colors of camel and red, you have the monochromatic style for the coat/top – like, this is a real trendy gem of winter 2018. The key thing in this outfit is to match the top with the coat to create a coherent look. The outfit would look rather dull if the boots were in the same tone, but is contrasted nicely here with the red boots. I think brown boots would have worked stylishly too! So if you have a camel coat/trench at home, try to pair it with a top or dress in a similar shade and contrast it with the boots/shoes. Easy and a great way to stay trendy and stylish. A trench coat is one of the wardrobe staples, undoubtedly!
Folks! What are your thoughts on the camel color 2018? How are you working this classic shade? Let's chat in the comments! Xx