Folks! Today's a big day on The Fashion Folks (or not at all actually) but we're gonna talk about the color brown today. Long time readers of this site (and readers with a good memory) perhaps know that I never really speak that much about brown. Or I often suggest using camel, beige and tan which are lighter shades of brown but never talked about the color in its entirety.  But as brown is finding its way back as a popular color, in all its shades – it's time for a trend alert on brown fall 2018!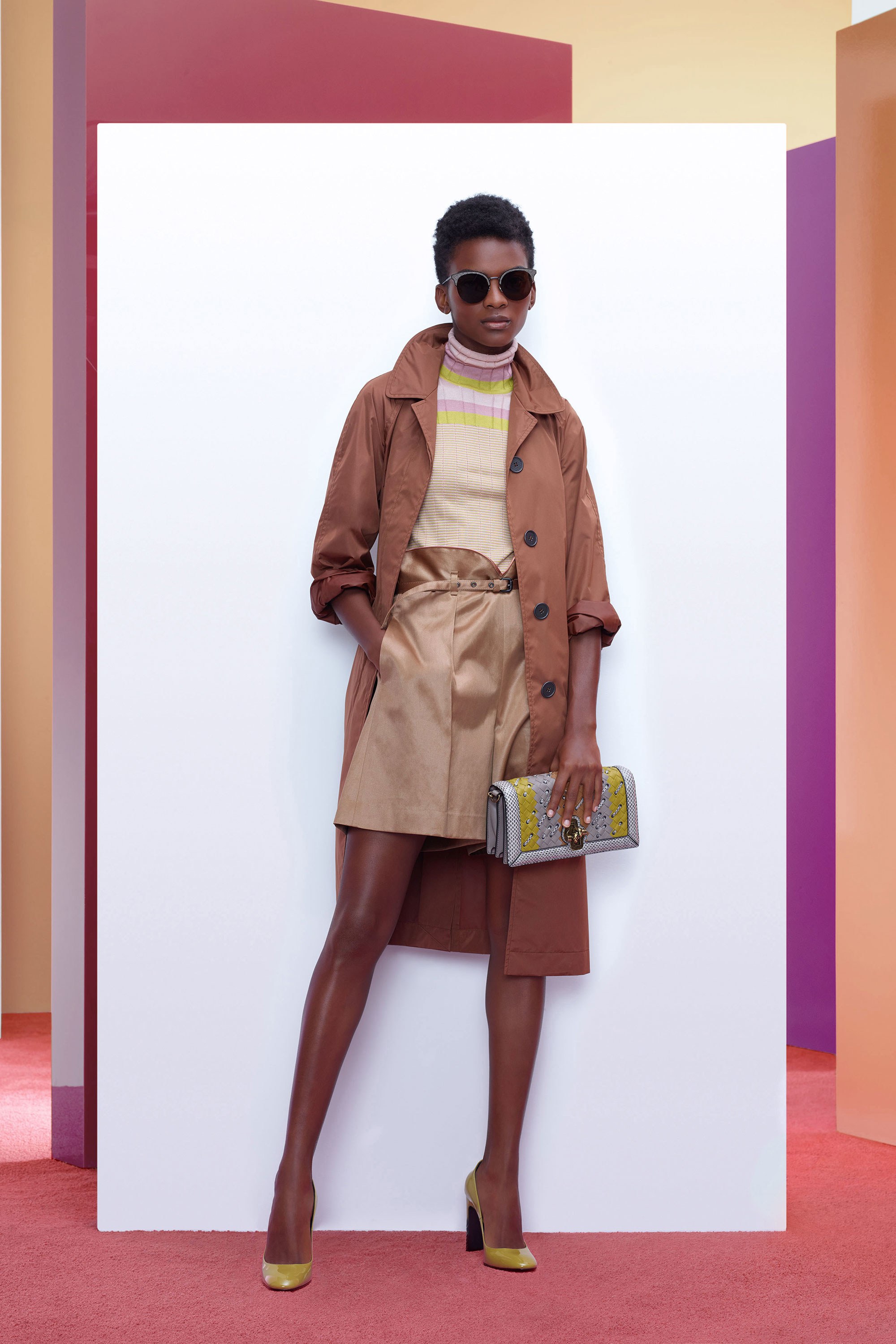 Courtsey of Bottega Veneta | Pre-Fall 2018
Brown Fall 2018
So brown is a neutral color, a classic shade that shares many similarities with how black, grey and white works with other colors. It can easily highlight a color as well as neutralizing an outfit. What's interesting with brown is that it comes in so many different shades (camel, tan, cinnamon, chocolate, beige etc) and you can all style them in similar ways. The neon colors are a really interesting match with beige as well as chocolate, though they exist on different ends of the spectrum. This way of styling the color is reflected in how people wear brown fall 2018 – not really fussing too much with the matching. Brown fall 2018 is mainly about the tan color, but also camel and beige. Darker shades of brown have been in the periphery for years now, but is quite popular this fall. With focus on fall materials too, brown is a useful choice of leather, suede, fur, knitwear, corduroy and even patent leather. Brown has also been commonly styled monochromatic which is really favorable. The color has also been done a lot with copper shades, orange, yellow, green and red.
How To Wear Brown Fall 2018
I don't really have that much to add to styling tips as I'm really fond of the way brown fall 2018 is done. The most popular look, the monochromatic one, is really simple to recreate yourself and doesn't give the same statement as other monochromatic looks (like when doing blue or yellow for instance). This is mainly due to its neutral shades, but also the fact that shades are fairly distinct in association and (obviously) appearance, which gives a good balance of contrast. To make this combination successful, pair a darker brown with a lighter one. To perfect it even further, choose shades that are warm or cold to give a more cohesive look. If you want to implement more brown in your daily life, brown when done as leather or suede (keep it faux) is really timeless and definitely something that's worth investing in. A brown moto jacket is never wrong nor a camel colored wool coat. To challenge you, I dare you to add pops of neon to your brown outfit or the pastel shades. One of this year's most popular shade is lavender, which is a really pretty match with brown, especially if you choose a darker shade. The fall colors are also working well with brown, making them a good alternative if you want to keep it more basic. An idea for the holidays is to add golden accessories to your look if you are wearing a darker shade of brown. It's such a good match!
Street Style Inspiration
As always, some street style inspiration to show some concrete looks of how brown can be worn fall 2018. In the first two outfits, the balance of different shades of brown is done really well. The snake boots in the first look breaks off the look and same goes for the crispy white in the second look. The warm orange in the third outfit looks really glam with the brown, a nice and warm combination for fall. The fourth look with the yellow is another charming look for fall, especially if you're reaching for a retro vibe of the 1960s/70s! Neon is a statement in itself, but perhaps more so when done with brown. Neon green is a challenge, but a way you undoubtedly can push the fashion boundaries with!
Folks! What are your thoughts on brown fall 2018? Let me know in the comments below! Xx