---
Trend Alert Series 2017: Ruffles | Green(ery) | Silver Metallic | Blue/White Striped Shirt | Statement Sleeves | Patent Leather |
---
Another week and another trend deserving the spotlight in the #TrendAlert series. This time it's the lovely shade blush that should have some extra love. Here's blush 2017:
Blush 2017
I think there are several reasons why blush is trending, and trending big, in 2017. It is a perfect compromise of a color and a neutral. It passes within the same "color" neutrality as grey and beige, but still a step bolder. That's why it works so well for all the fashionistas that prefer neutrality, as well as the ones that like the splash of color.
Blush 2017 comes in any form thinkable. That's usually how it is with colors, as they're so easy to transform to whatever shape a designer thinks is fashionable. I've mainly seen it done for tops and accessories though. A lot of blush tees, dresses, sweaters, crop tops, but also shoes, bags and caps. The statement version of blush has been in the texture of (faux) suede, as the two of them is quite the lovely combo.
What To Think About
As blush counts as a neutral color, it's both quite friendly and specific to match with. It works perfect with more faded and less intense shades as emerald colors, grey, beige and white. Especially blush with forest green, mustard yellow, navy, and even dark brown, are fun and exciting combinations beyond your regular black & grey look. The one thing to think about, try to match color with the same intensity frequency as blush to avoid colors to clash.
That means that neon shades, or other popping colors, might be a bit awkward to do for a blush shade. But hey, I love to be challenged with color combinations. So a bold red and blush might be something that can work. Pink in the bolder shades and blush is another combo that can happen. I'm having a hard time seeing blush and neon orange be a hit, but within the world of fashion everything is possible. Two other combinations that I'd love to see is blush and silver metallic + blush and tan. Quite classic but also quite bold.
A look that works
I usually take an outfit that's a street style, as they're easier to relate to, but I think this styling from Isabel Marant's Pre-Fall 2017 collection is brilliant. The blush shade of the top is a bit darker than the the one trending, but a gorgeous one nevertheless. Love the layering of the striped shirt and the top. Lovely to let the collar + sleeves + length pop out. The stripes looks slightly pink too, which is intensified by the blush color. The pink shade connects to the shoes too, as they're in a similar shade. Just a great outfit that demonstrates how one can go layered, bright and fresh for spring (even though this is "a look for fall").
Folks! How are you working the blush 2017? With love or skepticism? Drop a comment and have a lovely week babes! Xx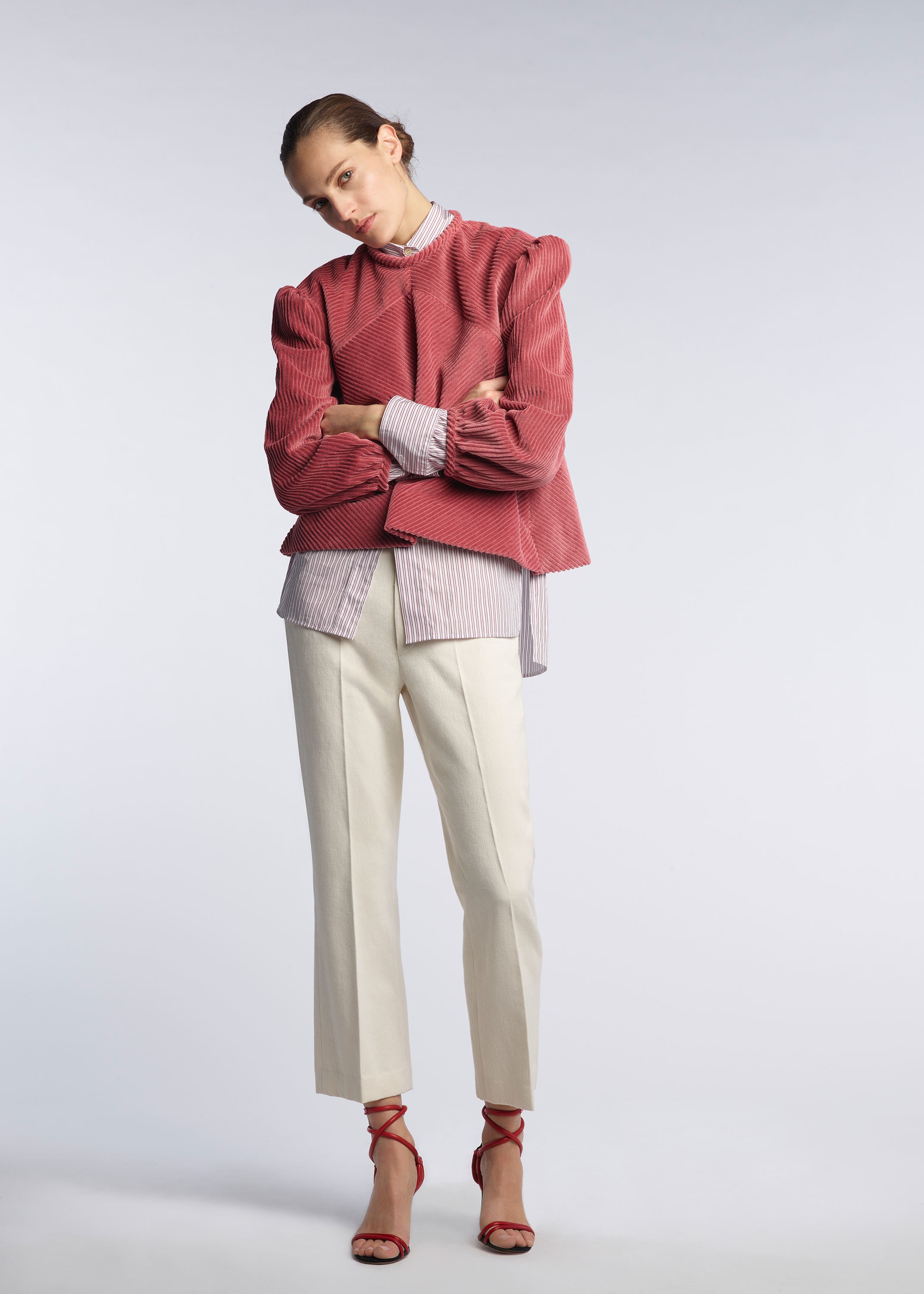 Courtsey of Isabel Marant (Pre-Fall 2017)