Folks, I do talk about trends every now and then (quite often perhaps) but how about turning it into a series (#Trend Alert)? Perhaps 2-4 times a month do a trend alert and gush a bit on styling tips and overall features? Let me know in the comments! Anyways, here's a trend alert on Blue/White Striped Shirts 2017: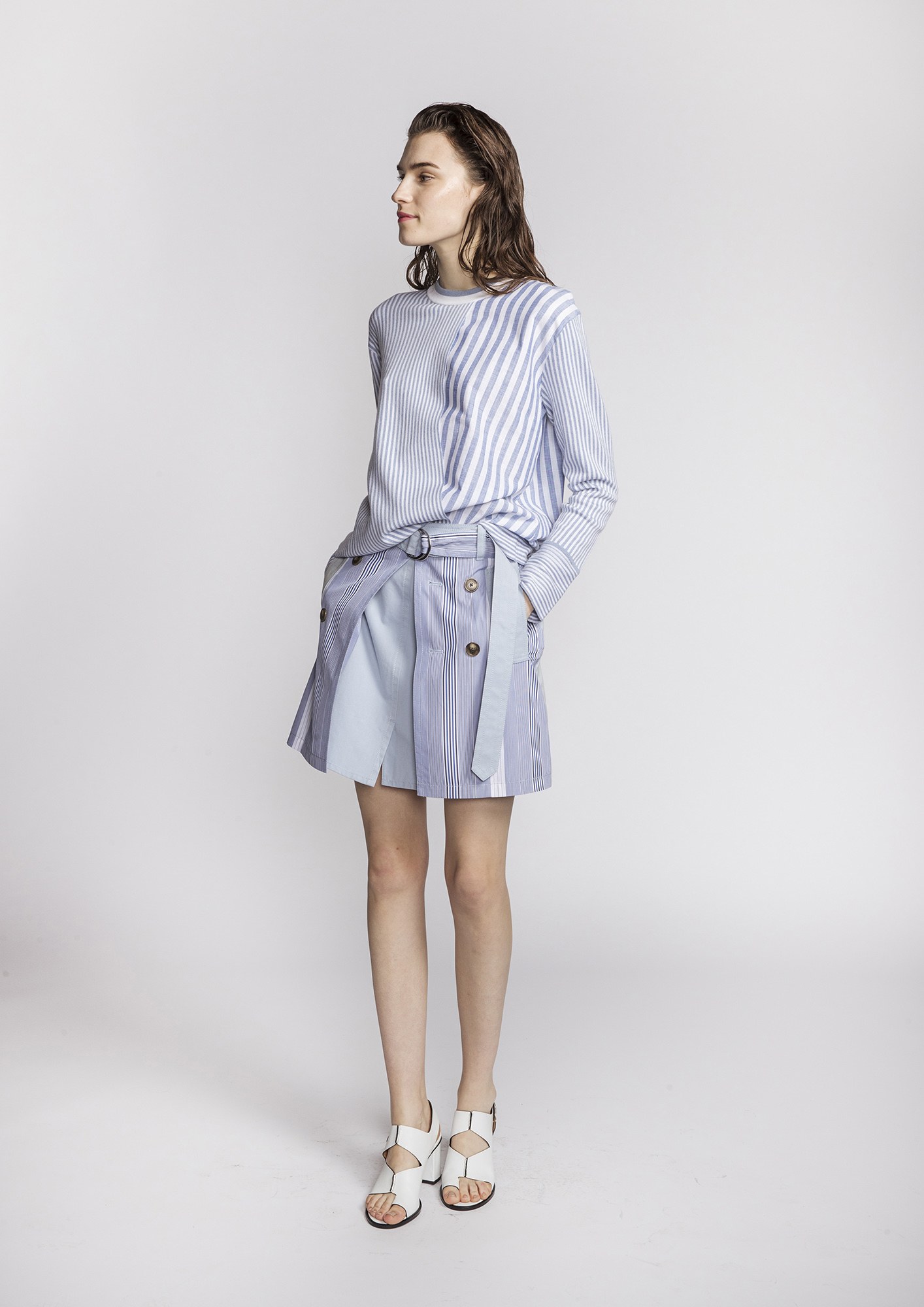 Thakoon RTW Spring 2017: Courtsey of Thakoon
Blue/White Striped Shirts 2017
I know that blue/white striped shirts might seem more like a fashion classic to count on (and I agree with that perspective), but – they are also trendier than ever. With the rising popularity of shirts, blouses, off shoulder tops, ruffles and statement sleeves, they ought to emerge in different styles. As for 2017, the blue/white striped shirts (or blouses) comes in the shapes mentioned. Done oftenly as off the shoulder tops, or with ruffles or statement sleeves. The blue is kept rather subtle and very light, giving a subtle sophisticated vibe to them. As the stripes are so subtle, they kind of work as a neutral piece, yet an elegant one. That's why they are so chic with the edgy denim, embroidery and fishnet as they either highlight or contrast the features depending on soft or edgy qualities.
How To Style Them
As mentioned above, the blue/white stripes are rather subtle and soft, which makes them keen to pair with almost any style. They work perfectly with the edgy style as in leather jackets and raw denim. The overall key here is to not be afraid to play with the buttons or sleeves. Try the buttons half undone or the sleeves rolled up or the other way around. Here are some concrete styling ideas for different styles:
For an edgy look
Go for contrasting pieces as a faux leather jacket, a faux suede skirt or a pair of distressed jeans. Try sharp sunnies to contrast the preppy vibes and don't be afraid to add bold colors as red, green and orange to make it pop. 
For a classic look
Add the classic trench coat and the bright colored denim or pants. Tan (faux) leather or a tan shade in general is the classic way to go. Don't be afraid to tuck in your shirt. Either for a high waisted skirt or jeans. To mix things up a bit: add a print that clashes with the outfit. It works as the stripes are rather subtle. Try an embroidered bag or a leo belt. Navy is also a classic go-to shade to the blue/white striped shirt/blouse.
For a fashionable look
If you want to go for a fashionable and unique look, you have to add something that's unique to your style. Impossible for me to say what that is, but you probably already now as you're reading this. Other than that though,  push it outside the comfort zone by adding unexpected elements. Add a statement necklace if the style allows. Try to pair the shirt with patent leather and see the effect. Go for a fun print or a fun color. Perhaps the style of the shirt is a statement with exaggerated sleeves? Go for details that make your style your own!
An Outfit That Works
Folks, do note that I try to choose an outfit that is easy to recreate and approaches as many as possible. However I think this is a simple yet chic example of how the blue/white striped shirt can be worn. Great to contrast it with black leather to make the outfit more "heavy". Also love the blazer on the shoulder aka "stylish fashion blogger who never moves her arms". The gold details as in the belt, the earrings and the sunnies works well to the blue/white stripes and the blazer. Great way to add a luxurious feeling!
Folks! How are you styling the blue/white striped shirt? Anyone of the suggestions above or something else? Leave a comment as always, Xx
Did you like this post? Hit the share buttons below!