So the holidays are upon us which doesn't only mean food, family and events, but also shopping! Successful shopping though, is not as easy as it sounds. I've been  so guilty of buying without consideration and ended up with clothes I've never worn. So, here are some shopping tips when buying clothes!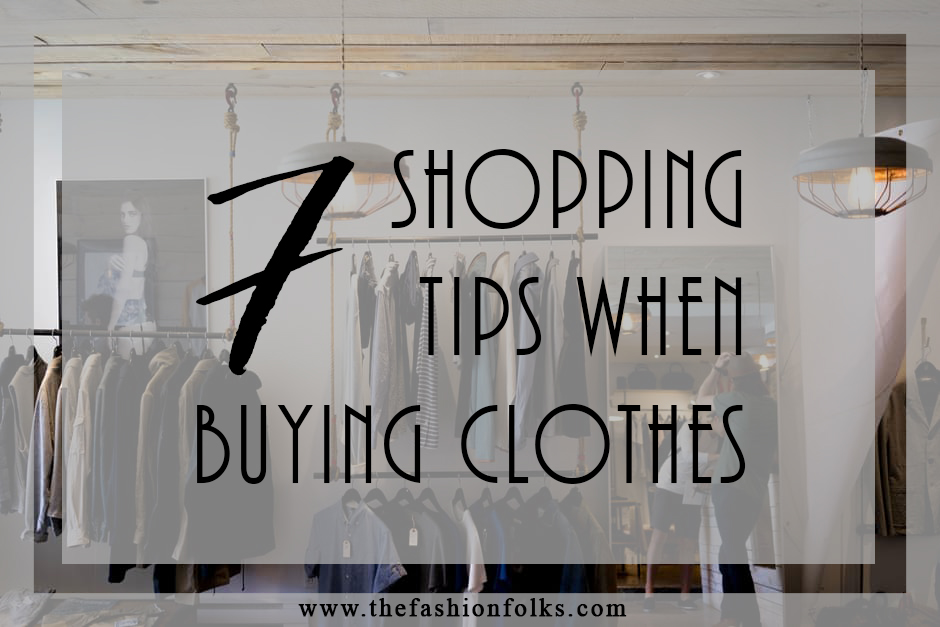 1. Know that you don't know
What I mean by this, beyond its very obvious statement (lol), is that you have to know the pieces that don't work for you. Even if you might love the tunics, they might not be your style. The way to find out what works for you and what doesn't is actually by organizing your closet. When you have a decent pile of clothes you no longer want, take a thorough look at them and notice the similarities. Perhaps they are all in bright colors? Perhaps the clothes are all in transparent materials? Remember this and keep it in mind next time you go shopping. Even though that top is adorable, it might be similar to the ones you just rejected from your wardrobe. So know that you don't know what you don't want. 
2. Know what you're looking for
This is not only a time saving factor, but will also give you a better chance at finding pieces you really want and will wear. Knowing what you're looking for will minimize the risk of spontaneous buys, which frankly speaking, are often the one that disappoints in the long run. To do this, scan websites, blogs and social media before heading out. Then you'll get a better grasp of what you want. You can also take a look at your closet and figure out what pieces you miss. Write them down and begin the search.
3. Leave it and come back to it
If you're uncertain about a piece, leave it for the rest of the shopping tour and come back to it if you can't stop thinking about it. If you've already forgotten the piece, pretty sure you won't miss it in the future either.
4. Put together some outfits
It's easy to just buy a piece for the qualities on its own. Remember though that you should probably have more options than just one outfit to do a successful buy. If I'm uncertain about a clothing piece, I normally try to come up with at least five outfits I know will work with it. If these are outfits that are representative of my style too, I know the piece will be a hit!
5. Move around in it
This might sound silly but gosh is it true! When trying a clothing piece, whatever you do, move around in it properly. Too many times have I bought a pair of jeans only to realize that I barely can sit in them. Or that the skirt goes up way too high as soon as I begin to walk. Not to forget, all the off shoulder tops that are no longer off shoulder or the tunics that shows a bit too much when leaning forward. So move around in the piece and put it through a dance test.  Unless you want to stand still like a mannequin with your new piece, all day and every time you wear it (which you don't, pretty sure about it).
6. Style or Trend?
I know, it's more fun to buy trendy pieces than pieces of style. Even though a black dress will save you way more often than an off shoulder top in an animal print, the basics are not the most fun to buy. What it comes down to though is the price tag and what is reasonable to splurge on. What I'm trying to say is that you should splurge on the basics that will last and save on trendy pieces you won't wear in a year. It's up to you though to decide what pieces you believe in, but try to remember what pieces always saves you and what is just a phase.
7. Why do you want it?
The last point for shopping tips and the question I ask myself is why I want it. Is it because I need it? Does it fill a function in my wardrobe? Is the style pretty? Sorting out why you want a piece is key for finding out if it'll be a hit or a miss in your wardrobe. If you find yourself wanting it because of wanting new clothes, perhaps it's not reason enough to buy it? There should be more than just the idea of a piece. If you want it because you feel beautiful in it, go ahead you and work that fashionable little piece!
Bonus tips:
Lastly though, remember that shopping should be fun and it should be for you. As you are the one that will wear the piece, you should have pretty high criterias when it comes to the piece. It should suit your style, it should be of quality and it should be a piece that only lifts you higher!
Folks, what are your best shopping tips and why do you swear by it? Leave a comment! Xx