Every now and then I like to bring up fashion rules/guidelines that are applicable in a more general way. Not specific rules on how you work a statement blazer in a chic way, but timeless fashion rules that are to live by in your everyday life. Here are some fashion rules that have been on my mind lately: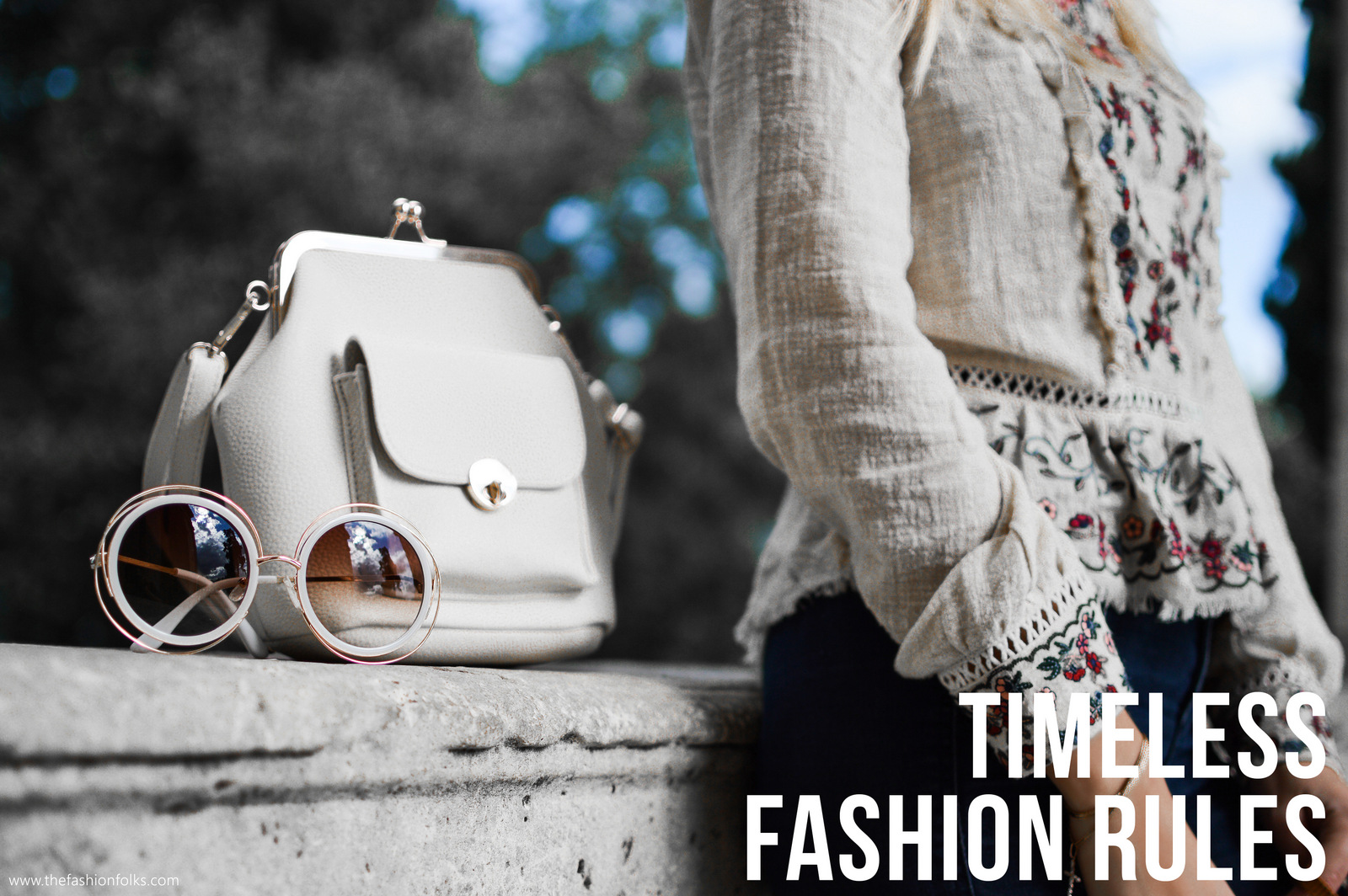 Photo by Pete Bellis on Unsplash
Timeless Fashion Rules
Don't Compare To Others
I know this one is easier said than done, but it's essential that you don't compare yourself to others. I mean, life in general but also when it comes to fashion. Don't get me wrong, it's great to be inspired by others but don't take it as far as comparing yourself with their fashion game. To begin with, we all look different. That means that an oversized blazer on your friend won't look the same on you. Everything from height, body type to hair color (and more!) affects what the clothing piece will look like on you. And that's not a bad thing! If anything it challenges you to find what style suits you. Perhaps it'll be about changing the color or the style of the blazer? The thing to remember is that be inspired by others but always make sure the clothing pieces suits your style.
Style More, Shop Less
This expression has become a favorite of mine to say, as it couldn't be more true. When you learn how to style your clothes you'll notice how your need of buying new clothes decreases. By learning how to style better, your wardrobe will expand in size as you'll have a whole lot of new outfits to wear. That means that there's a likability that you won't buy new clothes to the same extent, as there won't be a need to buy new clothes for new looks. The environment will be happier (oh well, almost), your wallet will thank you and your brain will be happy for the challenge of styling (or something).
Be Comfortable In Your Outfit
There's this ridiculous idea that the more fashionable your outfit is the more uncomfortable it feels too. Perhaps it has something to do with fashion as an art form, and artsy elements in fashion are often not made to be comfortable. But let's bring this down to your everyday life and all the times you've worn uncomfortable shoes, an itchy sweater, jeans that are too tights and…you get it! I'd say that the majority of a good outfit is about being comfortable in it. Away with all the elements or details that are annoying you and instead put focus on working an outfit that make you feel empowered, bold and fierce! This also comes back to knowing what clothing pieces that works for you and what clothes that make you feel extra chic. Perhaps it's an off shoulder top or high-waisted jeans? You are the only one who knows this!
Don't Think About Size
Though looking at the size of your clothing piece is an easy way of kind of knowing if the clothing piece will fit or not, it's not the end of the world if you need a size bigger or smaller. Don't be preoccupied with the size of your clothing piece, but more with how it fits you. There are different systems around the world and the measurements differs between stores too. A medium at H&M might be too small at Zara or the other way around. Sometimes you might want the fit of the clothing piece a bit more loose and will choose a larger size therefore. The point is to not feel bad if you can't have your regular size in a clothing piece. It's not about you, it's about the style of the clothing piece or the measure system of the brand. Judge the fit of the clothing piece, not the number of the size. Okey? Okey!
Rely On the Staples
A final timeless fashion rule that's been on my mind lately is to rely on the staples. With a good base of classic, wearable and versatile clothing pieces, you're fashion game will be so much better. It'll be easier to style as you'll have neutral clothing pieces to always go for if you don't want to experiment. It'll also be easier if you're in a hurry as you'll have several, simple, outfits already ready to be worn with a little styling required. By relying on the wardrobe staples you'll save time, money and energy as the basics will always have your back. They are perfect when you need to neutralize and reliable when you need to layer an outfit. Make sure that your fashion staples are the core of your wardrobe and you're pretty much good to go!
Folks! Which one of these timeless fashion rules do you live be? Let's chat in the comments, would love to know your opinions! Xx