Folks, back today with the first Stories of 2018, which will be part 2 in the series about what defines fashion – past, present and future. Catch part 1 in this series in this article. Part two of the series will be centered to dealing with current things that are defining fashion. How we view it and how we live it. As stated in the previous article, there are different things that are defining fashion and this article is only bringing up a part of it. Here's three things that are defining fashion.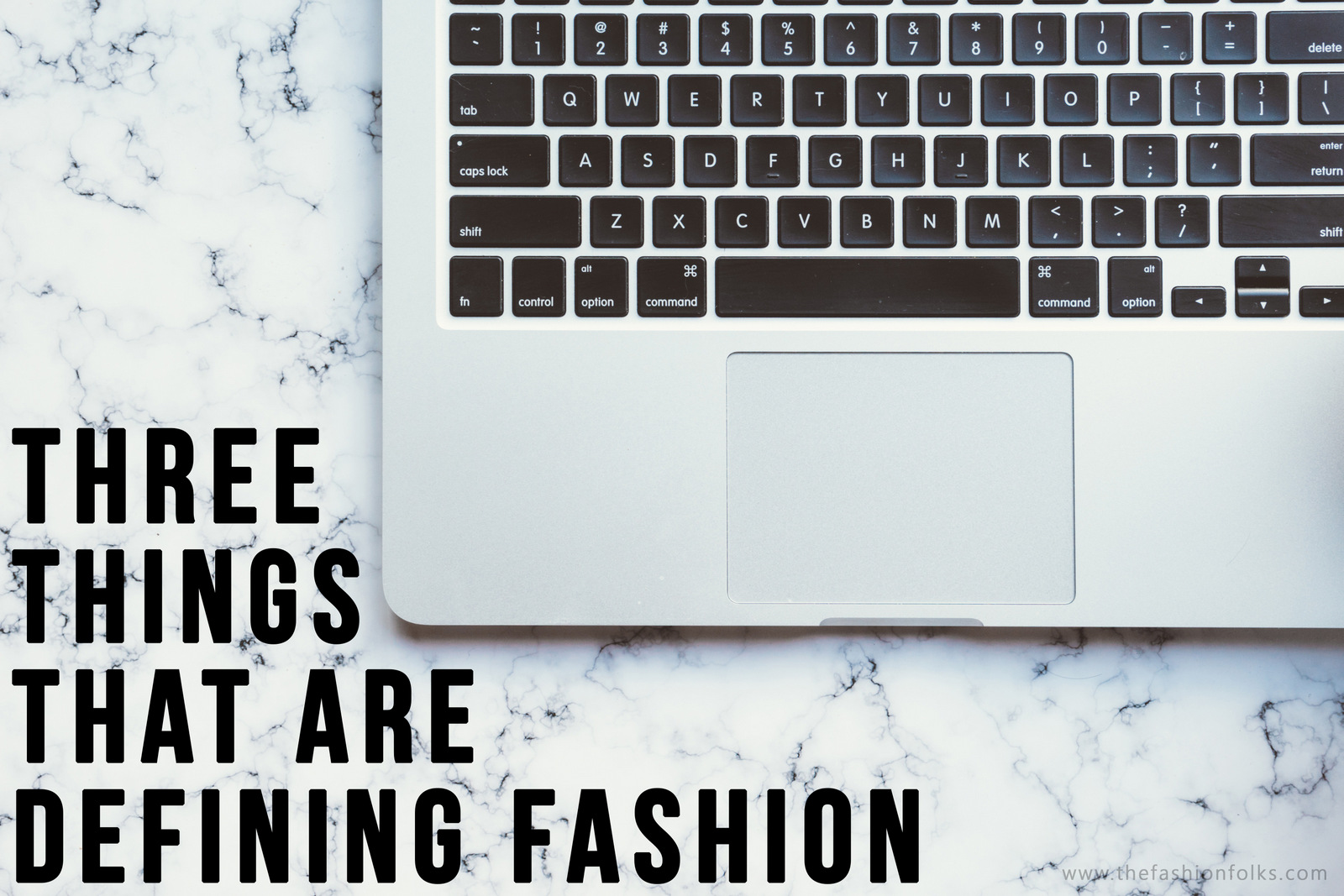 Photo by Scott Webb on Unsplash
1. Influencer and Social Media 
The digitization of fashion has undoubtedly changed how we dress, why we dress the way we do and how we consume fashion. With the development of social media, the platform of communication in a fashion context has changed. It's still about internet and digitization, but the tools we work with have gone from blogs and internet magazines (just kidding, I'm still here), to Instagram and Pinterest. We communicate fashion quicker today than ever before. Instead of having to visit 10 different blogs to get a dose of inspiration, you can get those 10 blogs in your Instagram feed.
The celebrity fashion has changed to influencer (read: blogger, profile)  fashion. You don't look at the paparazzi photos of what your favorite actress was wearing the other day, but you look at your favorite influencer. There's still a high correlation between the two and many celebrities have successfully made the transition from celebrities through the eye of paparazzi and media, to an influencer in charge of their own platform and public image. But the influencers are dominating. You have Chiara Ferragni, Aimee Song and Chriselle Lim whom reaches millions and millions of people with their style, brands and lifestyle.
There's also another level of democracy with social media. You can be anonymous and still change the fashion image, you can have a minimum budget and still contribute. You only need a good sense of style (or you only, really, need to know how to buy trendy clothes) and a mobile camera to capture the outfits. Perhaps some editing in an app and then you're ready to post the picture and become a part of someone's feed. That's where the most fundamental impact of fashion lies today, not what an editor at Vogue (with all due respect) writes.
2. Gender Fashion
As talked about in part 1 of this series, I discussed how parts of the gender fashion were created. The foundation was partly laid in the early 19th Century where "typical" male attributes in a context of appearance were defined. Colors, prints, embellishment and rich details were left for women to embrace. Men were expected to dress accordingly but not exceed expectations of how a "real" man was to look and act like. Expressionless, proper and somewhat functional with clean lines, dark colors and kind of comfortable clothes. You couldn't really be a foreman and run around in a pink petticoat with a corset AND a crinoline. I mean, right?
This gender structure is perhaps not as distinct and done in a "do or die" sort of manner as it was back in the days. But it's still heavily present. You don't see men casually walking around in ruffles, skirts, bold patterns and crazy color combinations. Same goes for delicate materials as lace or typical "female" attire as floral prints, embellishment and heels. It happens, and it should, but far from being done in the same extent as women "dressing up" in "typical" male clothes as pants, blazers, shirts, boots and dark colors. It's because it's a patriarchal world where it's okay to be a man but not as valuable to be a woman. A man who "breaks the norms" is shamed for dressing "like a girl", a woman who wears a tuxedo gets comments like: cool, edgy, fierce, bossy. If you think there's nothing wrong the way we subconsciously express ourselves through clothes and how society view and judge us thereafter, you haven't understood the problematic structure of the concept.
Why is it okey for women to dress like men, but not okey for men to dress like women? Wouldn't it just be easier if we all dressed like people? Ya hear me?
3. Fast Fashion
Lastly, a third aspect of the fashion today is the fast fashion we're living, breathing and embracing. One trend in, another trend out. Weekly, if not daily, letters from your favorite fashion brands about a new clothing piece in store. The way we consume fashion is insane as it 1) aren't enough resources to keep up the pace in a sustainable way and 2) are people paying our cheap price with their lives 3) and there's also an unhealthy view and societal pressure to dress like everyone else and wear a certain type of clothes. When wanting something more than you need it becomes a permanent mind of state in a cycle of consumption, things begin to become really problematic.
There are several things that are contributing to this way of consumption. One aspect is the seasonal fashion where designers present different trends and looks depending from which season it is. You can't wear last year's winter coat this year too, right? Another aspect is the influencers, of which many seem to have a need of wearing the latest trends and also creating new trends. This means that you have thousands of people that are constantly buying/receiving new items that are in their turn inspiring millions of people to buy and copy the look. It creates a wheel of "buy and toss" and it's doing so in an insane tempo.
A third aspect is that the quality of the fast produced clothes is poorly. This means that you have to buy a new sweater way more often than you should have if it was produced more sustainably. There are several more, problematic, aspects of this issue but far too many to fit into this post. They're all connected to each other in one way or another and the answer demanded requires a precise and effectful complexity. Here's another article on sustainable fashion and here's an article on the fashion of the future and how it needs to be sustainable.
Folks! Do you agree that these three things are defining the fashion of today? What are three things you think defines today's fashion? Let's chat in the comments! Xx