Holy guacamole folks, are you ready for this? I am quite excited to share this post and encourage us all to step up the fashion game! I talk a lot about colors and how one can mix them in different ways. To create a contrast or to blend. I did a post on unexpected color combinations here and a post on awkward color combinations here. Some of you have loved the suggestions and others have dismissed them instantly. However, to my defence, I've only talked about two combinations, so how about three? After all,  there are some hardcore fashionistas that believe that three colors is the magical rule for any outfit. So here's how to pull off three colors in one outfit! They're not awkward but rather fierce if I may say so, which I may!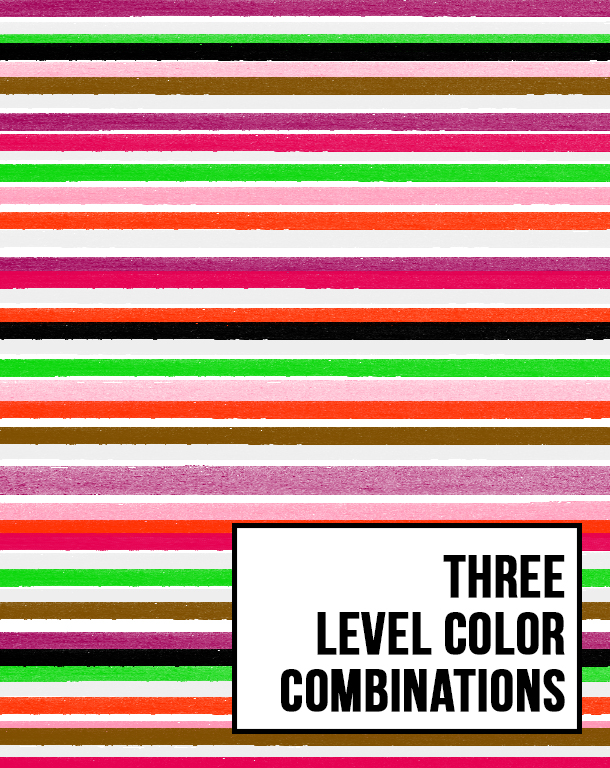 Three Level Color Combinations

Navy Blue, White and Gold
Let's start easy with a color combo that is beloved and frequently used. The three cornerstone colors of the navy style is navy blue, white and gold as an accent shade. This is exactly what you can do for your outfit too. Go for navy blue pants, a white blouse and accessories in gold. Gold works well with navy blue as the two creates quite the luxurious look. Same goes for white and gold which is a classic for the ages. White and blue is a great alternative to the classic black and white, where navy blue is a bit softer. This makes the three of them a combo of timelessness, elegance and navy vibes. A navy blue blazer with gold buttons to a white dress is another great example of a stylish and simple outfit. If you want to try the three colors as all clothes, go for a print consisting two of the colors and let the third one be a neutral. I think white and gold as a print and navy blue would be the best version with the first two being similar in color.
The best part with this color combo though is that all the three shades works well alone and with one another. What this means? You can literally mix and match however you like with clothes, jewelries and accessories as the combination is foolproof!
Pink, Red and Purple
This one is not for the faint of heart in a fashion context. If you love colors however, or at least two of these, I dare you to do this color combination! There's no longer a surprise that pink and red works well together. Pink and purple is not a statement combo either, and barely is red and purple. It perhaps gives some awkward 1980s vibe, but the pink easily neutralizes this. The key to create this look, and do it successfully, comes back to choosing the three colors in the same intensity. Either go full on pastels on all or intense. Another thing to think about is to colorblock the outfit. This will let each color shine on its own, but still complement the relating color. Let the third color be an accessory not to create too much of a mess.
If you're still not convinced that this is a combo to try, try to find a print containing all three colors. That way you'll see how the colors blends rather well. Why they harmonize is partly due to red's presence in both pink and purple. One could roughly say that pink is a warm version of red and purple is a cold version of it. Not completely true, but generally speaking this works!

Forest Green, Orange and Gold
This trio of colors is a perfect one to try for fall. I already stated in this post the genius nature of orange and green. Forest green and gold works similarly as navy blue and gold, gold accentuates the color in a luxurious way. Orange and gold is a gorgeous combination where the both shades complements each other. So for fall, don't be afraid to go for a top in one color, pants in another and gold to make the outfit pop. Or if you dare (and own a piece in gold), let that be the statement and contrast the outfit with the "heavy" forest green and warm orange.
There's a risk this outfit looks like a Christmas decoration, which underlines the importance in choosing an orange that is more bright and neon rather than red! Think forest green and orange as a tropical flower with its leaves and gold to add the elegance. Do remember though that gold can be a subtle color too (kind of sand), like below, which is perfect to anyone who wants a more neutral outfit!
Folks! Which one of these three level color combinations would you love to try for yourself? Let's chat in the comments. Haha these color combination posts are honestly the most fun ones to hear your reactions to! Xx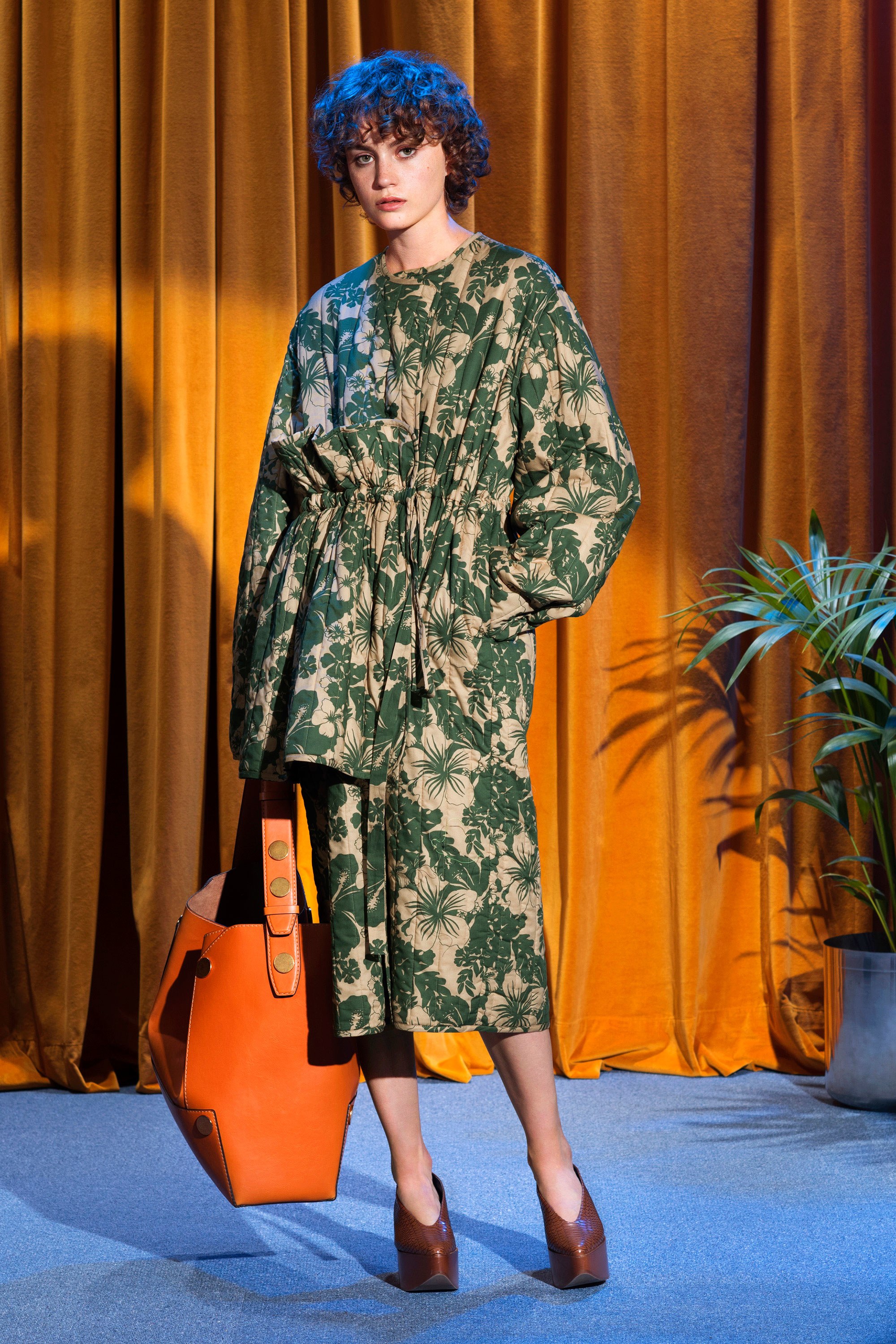 Courtsey of Stella McCartney – Resort 2018