I know this sounds dramatic and everything, but even the most dramatic things have simple solutions sometimes! This one fashion secret you need to know is definitely one of those simpler solutions, I'm of course talking about…..c o n t r a s t s!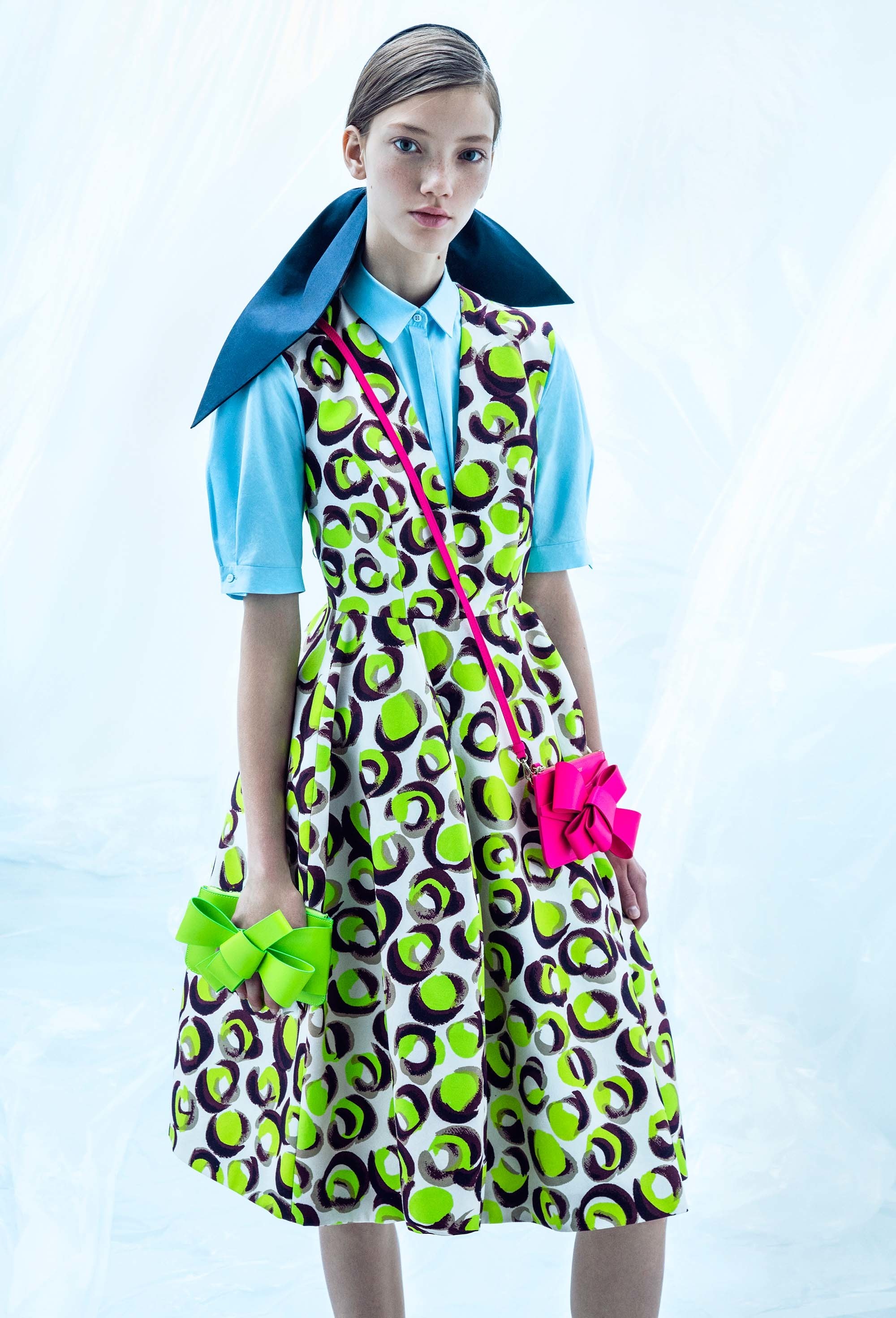 Courtsey of Delpozo (resort 2018)
The one fashion secret
A contrast is not really a specific thing but, as it tells, a matter of principle. Contrast is when two things are opposing. Opposing things, in a lot of areas, are creating a balance. Like plus and minus, left and right or weak and strong.  The opposing factors are meeting in the zero, center or middle. The opposing forces are balancing each other in a way that eases and complicates our lives.  It's far more complex than what I write it here, except in fashion.  

In fashion contrasting an outfit is a way of creating or adding balance to your outfit. If there's too much or too little of something in your outfit, the solution is to add a contrasting piece. This will make your outfit look better, your style will be better and your fashion efficency will improve remarkably. It'll be easier to get dressed and easier to achieve the style you want.  It's magic!
How to use it
The way to use it is to know what the contrasts are. I can't possibly write them all here, but only mention some common contrasts in the world of fashion. Remember how I talked about the basic principles of a clothing piece? That's where you can begin when talking about the areas of contrasts. For your reminder, the basic principles of a clothing piece are: print/color, volume, texture and silhouette.
Print/Color
Print and color are two more or less separate things and can be used together or individually to create a contrast. A plain clothing piece and a printed one is a classic contrast duo, where the intensity of the print is neutralized by the plain look of the one color. Contrasting colors are about picking opposite colors, or colors with a striking contrast. Blue and orange, red and yellow, black and white etc. You can also do colors of the opposite scale within the shame shade, something I talked about in the post of fall colors during summer.
As for prints, contrasting prints is definitely a simple and chic way of creating a balance. Pick prints that are unlike one another. Geometrical prints works great with unstructured prints as florals or other vegetative ones. Geometrical prints are also favorable with one another as the contrast of the different shapes are creating a somewhat disharmony within the balance. Polka dots with stripes or gingham with stripes!
Volume
If a piece is voluminous or detailed, I often give the styling tip to structure the volume. How this is done? By contrasting of course! If you are working a voluminous dress and it looks like you're drowning in all the fabric, add a belt to give the piece some structure. If you're working a clothing piece with a lot of 3D details, keep the accessories simple and minimalistic. The minimalist styling will balance the lively details of the piece. It creates a balance and adds harmony to the eyes. To be noted though is that volume doesn't necessarily need to be styled with "no volume", adding more volume can also be another way of creating that balance. For instance, if you're working a good pair of 70s, add a blouse with statement sleeves and you'll get a balance in the volume of the outfit. Contrasting the heaviness of the jeans with some heavy sleeves at the top: creating balance with contrast.
Texture
Texture is undoubtedly one of the most interesting and fun ways to create contrast and balance outfits. I often talk about mixing textures and this is what it comes down to. As the most common textures are quite different from one another, this one is pretty easy to do. One thing to think about, how silly it may sound, is to reflect over what charachter the texture has. If it's leather, the texture feels edgy, tough, sharp and fierce. If it's a knitted piece, it'll feel cozy, soft and warm. A suede feels both edgy, boho and soft, which makes it a great alternative to leather. Denim feels edgy and soft as well. Lace is pure and delicate – and so it goes!
You've probably already realized that you take opposing qualities of the fabrics and match them with one another. Lace with leather is a striking combo. Knit and denim is another classic duo. Suede and crochet feels rather boho and fun! You contrast the different feelings of the textures, something that will create a balance. Nothing will be too sweet or too edgy. It'll be balanced!
Silhouette
Now, working with the silhouette is quite the classic one and often something bloggers and magazines comes back too. You've probably googled body shapes and scanned on Pinterest what the best clothing pieces for your shape are And what are those pieces? Well clothes that are contrasting your body shape or enhancing it. If you're pear shaped, you'll be told to go for more voluminous tops to even out "the volume". If you're inverted triangle, you should add some ruffles by the hips and high waisted skirts to balance the silhouette. It's about contrasting what you got with your clothing pieces. Now, I'm not going to talk abou this today as this is way too big of a subject to write just like that. But I'll come back to it later! As for now, google your shape and then search: shape + clothes and you'll get tons of results.
No balance is also balance
Does this post mean that you always have to balance everything in your outfit? No, not at all. But fact is that you are probably already contrasting your outfits subconsciously, as that is how our minds work naturally in this matter. If you think your outfit is too sweet, you'll add a clothing piece that will reduce the sweetness. If you think your outfit is too dull, you'll probably add a statement accessory.
And know this: something in your outfit will always be balanced. Seldom is an outfit completely without any contrasts. If you're working a monochromatic outfit, the silhouette will probably be balanced or the accessories will contrast the outfit by being in a different colors, materials or style. Perhaps you're working an all maxi dress, it'll probably come with details that contrasts the straight and simple style of the clothing piece. If you're going all lace, perhaps the contrast will be in the choice of shoes or the simple bun to even out the detailed impression from all the lace. This happens without you being aware of it. Even if you go all in on one style, like the bohemian one, the elements within that style is already contrasted with the crochet, leather, suede etc. Good luck creating an outfit without any contrast or balance, I have yet to find a chic one!
Bonus: An Example
As a bonus I thought I'd also just point out some contrasts. Just to awaken your eye for detail in the life of contrasts and balance. This look below is from Diane Von Furstenberg's resort 2018 collection. The amount of contrasts is insane! You got the color contrast as black/white + camel/black + red/white + neon/camel. You get the print contrast with the printed blouse and the rest of the outfit being sans print. You have the silhouette balance with the A-line skirt contrasting the statement sleeves of the blouse. You have the suede of the bag contrasting the leather details, and the whole bag on its own contrasting the soft texture of the outfit. The knee high boots are contrasting the black skirt leaving only some skin bare. The geometric and structured style of the belt is contrasting the print and flowy style of the blouse. The glam earrings are contrasting the office, daywear, style of the look! I could go even deeper but I'll leave it there. Crazy but crazy fun with this fashion secret? Yup!
Folks! Did you know this one fashion secret? What do you think about it, agree, disagree? Let's talk in the comments! Xx