So many have already written about sweaters this fall, but I'll join that line of bloggers as sweaters are too good to ignore. So let's keep things cozy today and talk about 'em sweaters! Folks? Here is the sweater weather post!
Why Sweater Weather?
Well, I'm pretty sure I don't need to list the obvious here, but how can't you go sweater weather? Sweaters might be one of the best items of clothing there is (not sponsored by the sweaters, lol). They are knitted, comfy, cozy, warm and terribly charming. Sweaters during fall and winter expand beyond just a piece, but kind of embraces the whole coziness of the season. They come in every color or shape you wish, and they work for almost anything. Depending on the style you choose, they can be worn home or for the office! With the Holidays coming up too, seasonal sweaters might be the cutest thing ever. You know what they say, a sweater a day keeps the bad things away (lol).
Sweaters This Seasons
As always though, sweaters also get their fair share of trend touch. This season, the sweaters  are definitely a reflection of the current trends. They're popular in metallic tones, mostly centered to jewel colors. Sweaters with turtlenecks are also favorable, or just a high neck overall. They also come as off shoulder, but obviously easier to pull off in warmer areas. Sweaters with lacing is also growing big and judging by the fashion bloggers, people seem to adore this one! As for colors, they seem to be most popular in colors such as grey, beige, green, burgundy and similar hues that are closely associated with fall. I'm always down for pastels during fall too though, they make a perfect mix with the darker shades of fall. And Folks! Statement sleeves x sweaters are also a go!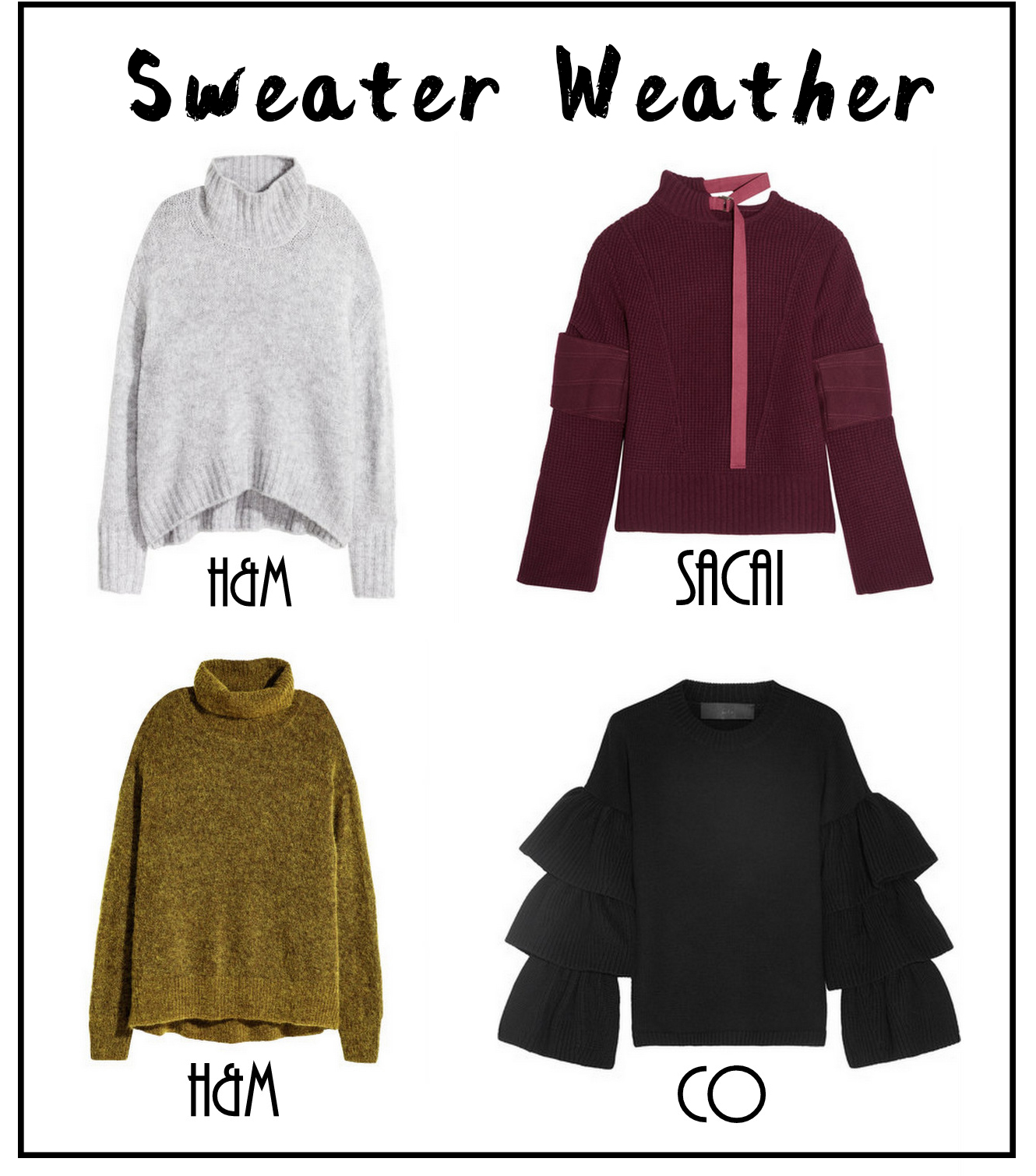 How To Style Sweaters
I don't think I need to give styling tips on this one, but here are some ideas that might step up your game! One of the keys for doing up sweater weather better than others (you know, bring the a-level fashionista game), is to match it with contrast pieces. As sweaters are often knitted, it's easy to go low key on the other pieces in your outfit. Like jeans or simple pants. It's nothing wrong with that, not at all, but sweaters have the potential of doing so much more. So next time, pair your sweater with faux leather, or faux fur or any other fabric that's more of a statement. Especially the edgy leather paired with the cozy sweater is a great combo. Sweaters are also perfect for layering with a shirt under! Final idea: invest in a statement sweater, they are too fun to be ignored! Just see Sacai or Co above!
Folks, I know a lot of you are missing summer, but I promise that an embracement of sweater weather makes things a bit easier to say at least! Just add a hot beverage, go for the comfiest sweater and be jolly and bright!