Believe it or not folks but that is a wrap on fashion month! We're far from being done with it though, but this is our last full recap on a fashion week. We'll sum up it all throughout October, and will definitely come back to the trends when it's time for spring. But as for now, this is our summary of Paris Fashion Week!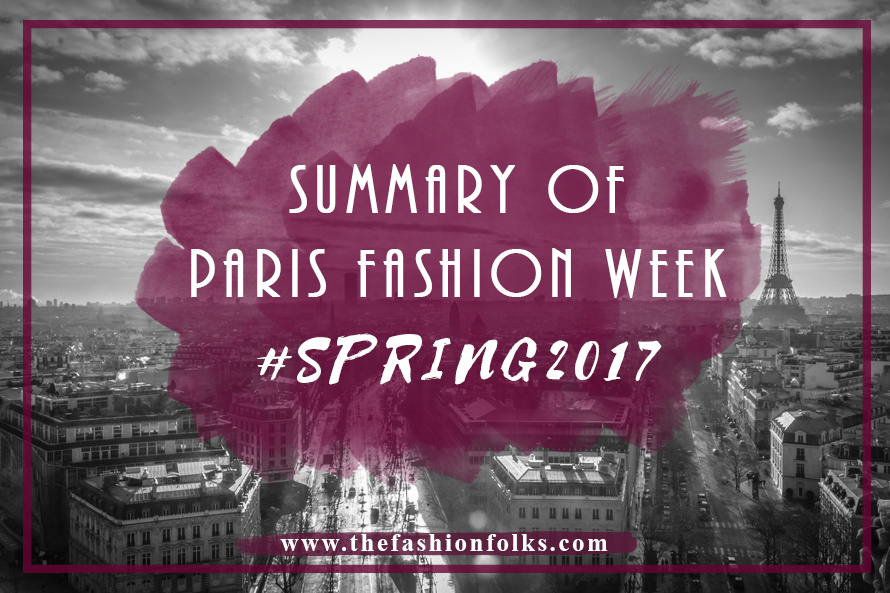 Notable Shows
Valentino
So for hardcore fashion fans, you might know that Maria Grazia Chiuri left Valentino for Dior this year, leaving her designer partner Pierpaolo Piccioli on his own. So of course the new look of Valentino would be kind of a deal. But he more or less stuck to the same design principles and remained with the refined, renaissance-ish, boho look. The color scale went a bit more pop  instead of the normal earthly tones. There's one pink dress in specific that had me all swoon, I don't know if I want to live in it, die in it or just look at it. But hey, it's a gorgeous one. See the full collection here and read the short review below!
Givenchy
Another fashion brand that went bold with the colors is Givenchy. Riccardo Tisci wanted to embrace female power by going nature. Even if he kept to the same dark vibe of his designs, he experimented with some prints and darker colors. The first three look in specific felt new to the collections of recent years. We're not going to review it, but it's always fun to see people's interpretation of equality and people's fight for it in the way of clothes. See the full collection here.
Dior
So Maria Grazia Chiuri headed to Dior as the first female creative director, which is kind of awesome. As Dior is one of the most iconic and defined brands out there, there is quite naturally big shoes to fill! The collection was classic, with a lot of black and white, focusing on sheer fabrics, and featured a surprisingly lot of wearable clothes. The star of the show, however, was the famous quote of Chimamanda Ngozi Adichie that was printed on a t-shirt. "We should all be feminists". Which we really, truly, should. See the full collection here.
Fashion Trends
All Denim
All denim is one of those sneaky trends that always seem to be in style but only worked by a few. Nevertheless, Emporio Armani and A.P.C. are two designers that worked the all denim life for spring 2017. Even if all weren't denim on denim looks, a lot of denim was featured, often in darker colors and quite on the sophisticated scale.
1980s colors
It feels like we always comes back to the 1980s, and yes, the decade is trendy! It's often been about the silhouette or the makeup, but this time, it's about the colors. Balenciaga, Nina Ricci and Céline all worked some 1980s pastels, often paired with each other. One, probably already, iconic look from Balenciaga was the lavender purple top paired with red (somewhat) leggings. It could have been a shirt with the text 1980s written all over it and it would have been the same kind of. That's how much 80s it was!
Star Power
Another detail that was featured was the use of stars. Elie Saab used stars for several looks and included them both in clothes as well as in accessories. Even though some looks were on the verge of childish, I like this idea. Stars attached to transparent fabric is quite the chic one. And for once, I do love the metaphor in dressing as a star. Star power it is! See how chic it is below!
Beauty Trends
No makeup
People don't seem to care about statement makeup looks any longer, which is okay considering that no one wears it, but boring not to dream nevertheless. Stella McCartney (below), Balenciaga and Céline all kept the makeup minimal, almost not visible. No makeup is always a welcoming thing in contrast to all the trendy techniques (strobing, contouring, highlighting, overlining, fading, I don't even know). But we miss the fun and experimenting days!
Subtle but defined
Hands down to Valentino for bringing the most subtle but chic makeup look. With the eyes being intensified by some shadow/liner below, they got a nice look. Doing it in a color close to your skin tone, you'll get a subtle but nice change that will define your eyes. Also, add a bold lip for the ultimate look!
Spotlight
So I'm not even going to try to hide my crush for Valentino. It's just something with the balance of fashion dreams and reality that the brand constantly comes back to. Even though this wasn't the most refined and precise collection, it still had some golden (or pink tbh) looks that are just too charming to ignore. As always, the collection consisted mostly of dresses hitting maxi length. Often with light and flowy fabrics in a sweet color or a pattern. The color scale stretched from black, pink and olive green with some touches of matte pink, red and white. Seeing Valentino always feels like seeing a fairy tale in the shape of clothes. Kind of Red Riding Hood going more fashion and more modern.
The majority of Valentino clothes are not for the everyday life (kind of wish it though), but more a dream of red carpet or fine dine events. All of the looks are more or less wearable though, just that some touches life of elegance more than others. I LOVE the pink/red looks, the color combo is a favorite and it performs really well in dresses and when played with details. The black dresses are genius, and I'm pretty sure we all need one for survival. The collection hits its high points when Valentino sticks to the more dreamy dresses rather than everyday fashion. Overall, it's a typical Valentino collection that keeps the level of quality of the fashion house. And yes  I know I alreade freaked out once about the dress. But, ohhh, please yes, of course, absolutely, oh my god to the pink dress below! 
AND that's another wrap on a fashion week! As stated before, we'll go back for more fashion and beauty from the weeks in the upcoming months, but as for now. Mercí Paris Fashion Week!