Some people call Paris the capital of love, I don't know about that, but I do know that the city constantly cements its position as the fashion capital of the world. The last week of fashion month delivered a good mix of French style, refined classicism as well as trendy looks going youthful. Here's the summary of Paris Fashion Week Fall 2017!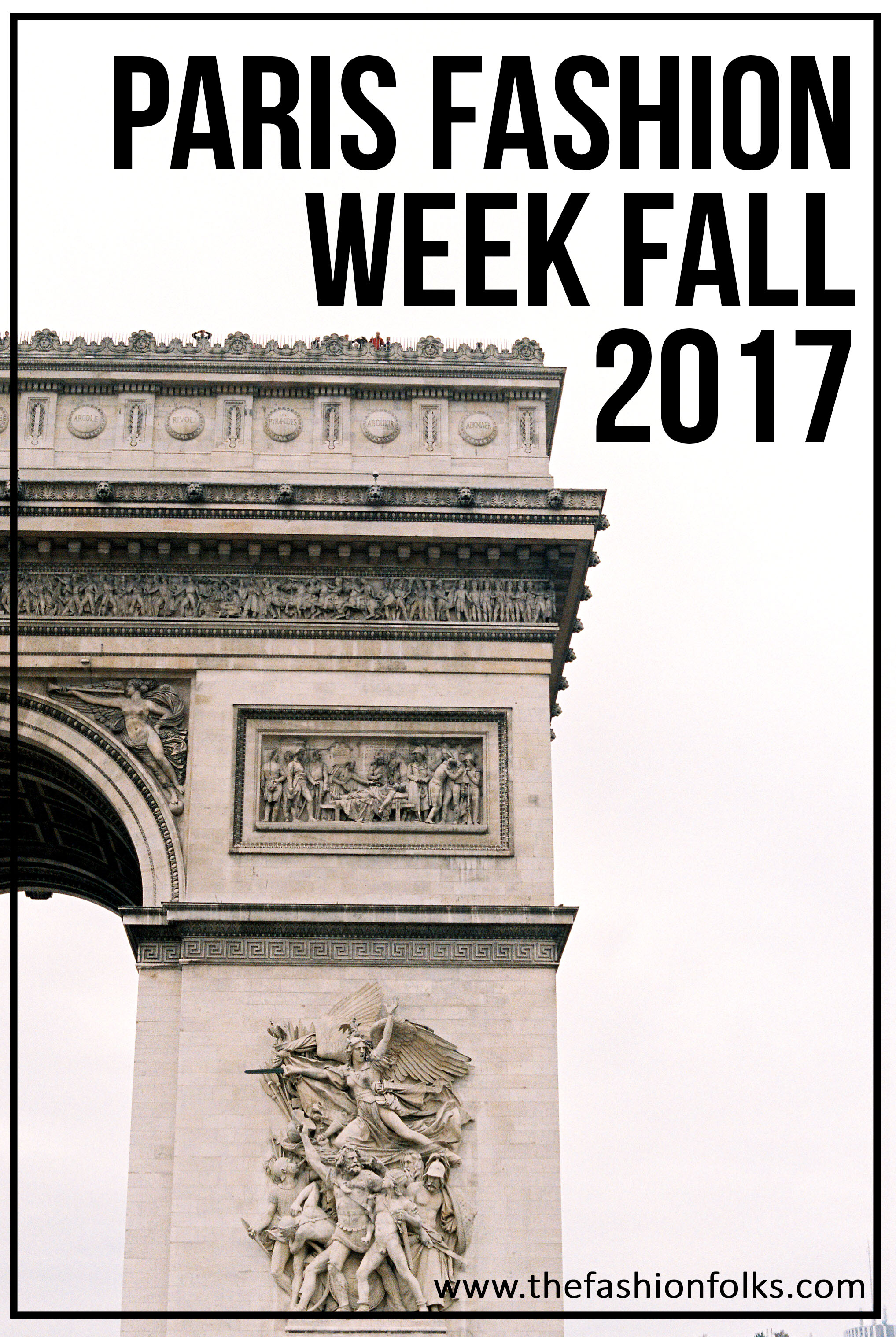 Notable Shows
Chloé Fall 2017
There were two shows in specific I pointed out as extra interesting this fashion month. One of them is Chloé, with this being Claire Waight Keller's last collection for the brand after 6 years.  Waight Keller has always kept her design for Chloé a bit retro, a bit feminine and practical. Her last collection might  not have been the best one, but a worthy adieu to an extraordinary run. It was a bit 60s, some 70s, it was floral, yellow and brown in combination, cute collars and looks that felt very Parisian. This cape also existed and if you ask me, it's pure geniusness and a piece that would justify life, you know. Mercí Claire! See full collection here.
Givenchy Fall 2017
The other one of the two anticipated shoes is Givenchy. It's the first collection without Riccardo Tisci and a collection of the Givenchy Studio (a successor has yet to be announced). The collection consist of earlier looks from Givenchy with one twist: everything is in red. It's the iconic Bambi sweater, but in red. It's the mermaid look (at least that's what I call it), but in red. And so it goes. The looks are some of the best from the Givenchy's catalogue and the color red might not make all the outfits justice, but a fun touch nevertheless. This is by all means not a hint of the direction Givenchy is heading towards, but more of a pause and summary of the work so far. See full collection here.
Trends Fall 2017
The trends from Paris are all, not so surprisingly, kind of vintage. We have the space vibe from Chanel, the lady life from the bigger fashion houses and a good dose of the 1980s. The eyes are bronzy and the lips are mahogany (very fancy stuff). It's a fall for blazers, tweed and dark shades of jewel tones!
Fashion Trends Fall 2017
Space – I rarely speak of Chanel, if not in terms of the brand's historical impact, as Chanel is a modern reflection of a chocolate box (with the descriptive pictures) – you always know what you'll get. This year the theme was space and 60s in one good mix. Still very lady, very Chanel and look after look that goes into one another. Anyways, let's go space with boots, glitter and shades of metallic, I'm here for it! See collection here.
Lady – Leave it to Paris to go full lady style for fall 2017. Or kind of lady meeting the 1980s but also lady style as in houndstooth, tweed, blazers and blouses. The only thing missing is a dog, a pair of red gloves and red lipstick. Chanel, of course, took it to the lady life. So did Stella McCartney, Louis Vuitton, Dior and Giambattista Valli. Ladylike for life? Perhaps.

1980s – If there's only one trend you should know about this spring and upcoming fall, it's the 1980s (cause I talk about it in every other post). The oversized clothes, the pastel shades and the power suits are everywhere this year. Balenciaga presented a gorgeous dress with a 1980s feeling. Stella McCartney also embraced the decade with oversized blazers and silhouettes. Isabel Marant touched the decade too, with layers, belts and shoulders in focus.
Beauty Trends Fall 2017
Bronzy eyes – Acne took it smokey with bronzy shades for fall. One or two shades of bronze and frame the eyes accordingly. Easy and so good! Also a great match with the darker colors of fall. Both jewel tones, but also the rusty shades! See close-up here.
Mahogany lips – I feel like I'm being very opinionated in this post, but I'm not the biggest fan of celebrity collections in fashion. However, Fenty x Puma hits some high scores every now and then. As for fall, doing a Mahogany shade for the lips is a homerun! Play with the depth of the color with more red or brown in the lipstick to find your precise shade. And yes, kind of chic with the sporty fashion. See below.
Designer Spotlight: Giambattista Valli Fall 2017
Ironically enough, Givenchy didn't give us the dark design aesthetic that Tisci often did, but – so did Giambattista Valli. If I didn't know better, I would have thought of this collection as Givenchy but more romanticized. Well well, a lovely collection nevertheless with quite a high level. A lot of floral, lace, ruffles, bows and classic shades of red, white and black. This look is one of the best from all the fashion weeks. This look might not be something new, but is done so well. I like the flamenco vibes as in this look and this one. Not too keen on this jacket, nor this look. But that are kind of the two distinct low points too. Valli might be trying new styles for his brand, but he is still playing rather safe with it. Nothing too unusal or innovative, but in line with looks that are likeable. It works of course, but it might not capture the fashion heart fully. See full collection here and more looks below!
Some thoughts
I have all the respect in the world for Elie Saab and his team. They've managed to win the hearts of millions of people around the globe, with different style preferences, in only a few years time. But c'mon, the runway's design was a disaster. It looked like the models were a part of the interior as they blended in too well with the floor, the colors, the front row people and the light reflections. Only I that felt this way? Stunning collection though, if I only could see it better, lol. See collection here.
Dior is continuing the line of a young Parisian woman in the 90s. This is kind of good though, as the brand need to approach the younger generation too (even though we definitely can't afford it, lol). Love the inspiration anyways. See collection here.
Except the Hermès bags, Hermès is not as famous for their clothes. But I liked them this season, kind of a Paris version of Burberry. Great play of colors, silhouettes and details. See collection here.
Even though this is the last summary of the fashion weeks, there are still posts left centering the weeks. So hopefully, you're not too tired of them, if not, I'll make sure that you are in a few weeks time, lol!
Folks! That's a wrap of Paris Fashion Week Fall 2017! Favorite looks, shows, hits or miss? Leave a comment! Xx
Did you like this post? Hit the share buttons below!