And the first, of the four major fashion weeks, is a wrap! New York delivered a wide range of collections, with a span from classic to street and a lot of eclecticism. We reviewed Christian Siriano's collection on Monday and on Tuesday we showed some love for street style wear. So today we'll just wrap the week up by talking about the collections, what happened, the buzz and some trends. This is our complete summary of NYFW (if we may say so). AND pssst, if you're still not sure what the circus is, read this post first!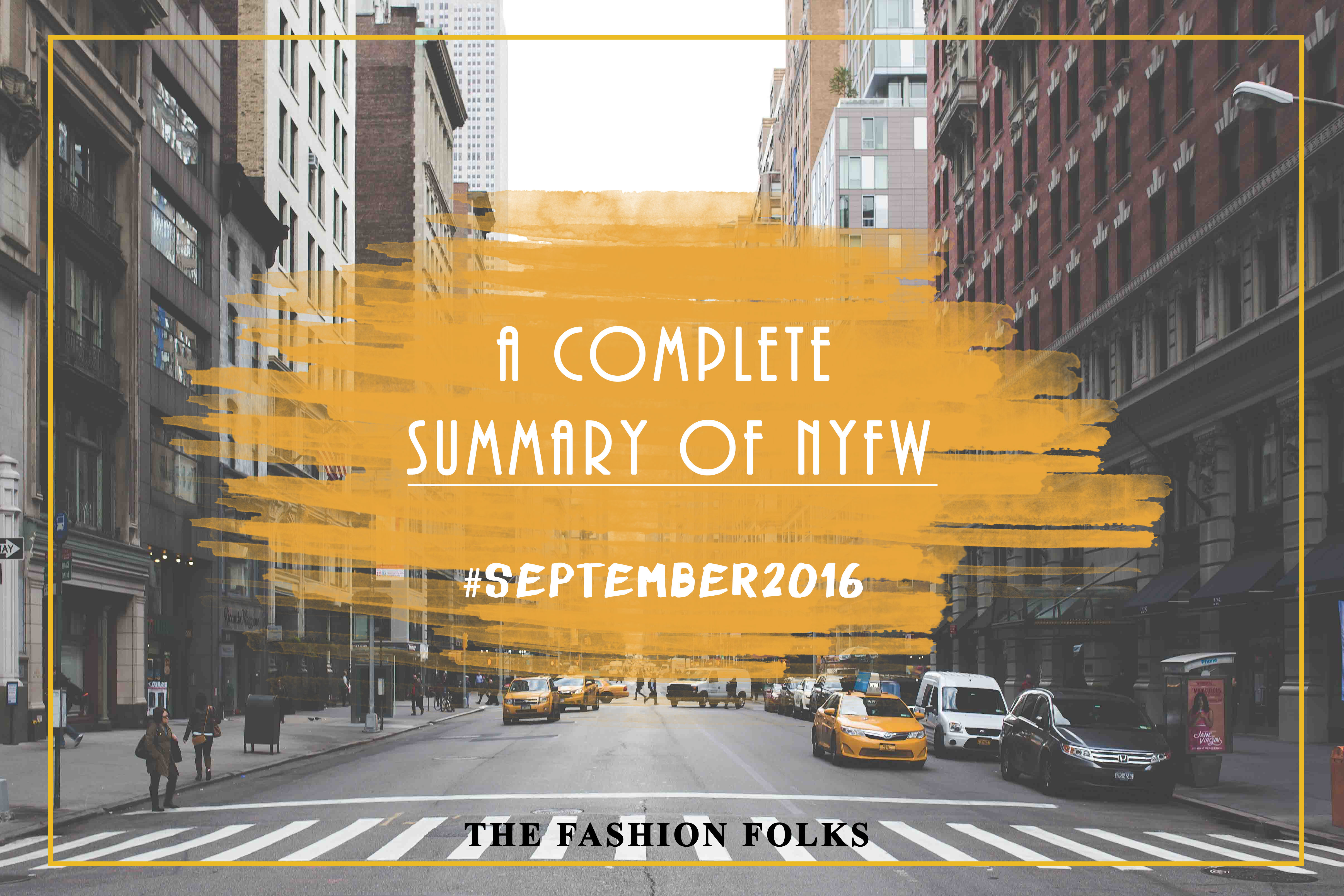 Notable shows:
Of course there were more shows worthy of attention (or everyone that is actually. Whether you like the collection or not, it's often fun to watch). But the ones below are some of the shows that got more attention than others for better or worse.
Tommy Hilfiger
With a newly launched collection with Gigi Hadid, the American designer's classic and nautical style got a big social media coverage. With a cosy touch, it featured turtlenecks, blazers and all things navy. See the full collection here.  And see Gigi below! 
Tory Burch
People (social media again, hello!) seemed to like Burch's preppy, wearable, clothes in vibrant colors. We did too, catch our mini-review below! See the full collection here.
Victoria Beckham
The British designer's show drew attention. Not for the clothes in specific, but for her use of young and skinny models (some said they looked unhealthy). Which is, unfortunately, not something new to the industry but nevertheless shameful. And weirder it becomes as young and notably skinny people, are probably not Beckham's (nor the industry's) main buyers. IT'S A WEIRD WORLD. But progress, (read: slow progress) is being made. Read about Christian Siriano's collection here. And see Victoria Beckham's here. 
Fashion Trends spotted:
Sleeves
Sleeves, sleeves and more sleeves. Almost no show didn't make a statement of the sleeves for spring 2017. Vera Wang, DKNY, Rodarte and Proenza Schouler to mention a few.  Often in shape of, off the shoulder and oversized in combo. Nevertheless, we like this trend! And yes, some have a certain resemblance to ham sleeves (And no, we'll never stop chatting about them).
Oversized
Talking about oversized, remember how we talked about the 80s being back this fall? Well it continues to "being back" next season too. With Zac Posen showing large dimensions and Proenza Schouler (see below) bringing the 80s vibe. It's kind of a fact.
Lace
Is lace really ever out of style? Nope. But next year, white lace dresses with a touch of history seems to be a thing. Rodarte showed them as well as Oscar De La Renta. And yes, we expect to see a lot more lace in the upcoming shows too!
Beauty Trends spotted:
Fresh Face
We're not sure why we say that this is a trend because it's not. The fresh face look is common to use and is basically a no makeup makeup look. Jason Wu did defined eyebrows, some light makeup on the lips and quite some highlighter. Monique Lhuillier did same but with a matte base and some light-rosy cheeks.
Bold Lips
DKNY (see below) is keeping the Bad Romance feeling for spring! Quite refreshing if you ask us. A neutral makeup look and then dark lips in colors of burgundy, red, black, and brown/gold. Rodarte also showed some darker lips! 
Spotlight: Tory Burch Spring 2017
Both you readers and I, talk about the importance of wearability. Even though we love to dream too (and when areas of art is explored), it's just not realistic to dream about hundreds of collections and thousands of looks. We want to wear them too (well, if one can afford it). Not have this wide gap between looks on the runway and things in store. HOWEVER, to the point: Tory Burch demonstrated wearability and likeability in her collection.
With vibrant colors, charming patterns, a touch of preppy and some nautical vibes, Burch summarized everyone's idea of a luxurious summer. Stretching from Hamptons to the Amalfi coast, we'd love to be wherever these people (that'll be wearing the designs) will be next year. She kept the silhouette classic, focused on playing with patterns and details, rather than defying body and silhouette laws. With a lot of wearable dresses and classic pieces such as blazers and sweaters, one comes a long way! 
Pssst, next stop is London Fashion Week!  Of course we'll cover it too! Any thoughts on our "complete summary of NYFW"? Hit us in the comments!